theartsdesk in Dunkirk: The spirit of FRAC |

reviews, news & interviews
theartsdesk in Dunkirk: The spirit of FRAC
theartsdesk in Dunkirk: The spirit of FRAC
Bold new gallery continues grand project to spread contemporary art throughout France
Wednesday, 27 November 2013
Angela Bulloch: 'Blowing in the Wind', 2013, commissioned spotlight animation for Collection Frac, Nord-Pas de Calais
Those French and their grand projects! Not the least of them is the division of the country into 23 areas who acquire their own collections of international contemporary art, supplemented by a national loan collection, all under the rubric of FRAC, Fondation Régionale d'Art Contemporain. This 30-year programme has just opened a massive six-storey gallery as a brand new public face for the regional collection of the Nord-pas-de-Calais in the slightly forlorn city of Dunkirk. Supported by FRAC, it has so far amassed some 1,500 works of contemporary art, French and international.
The seaside post-industrial city of Dunkirk remains best-known this side of the water for a military defeat that has also justly been perceived as a triumph, the astonishing evacuation of over 330,000 Allied troops across the Channel – Operation Dynamo - over six fraught days in 1940, when for a moment the war seemed almost over before it had seriously begun.
Dunkirk suffered extensive damage in the war: its banking on culture is perhaps a new Dunkirk spirit and the town - only a few miles from the Belgian border, half an hour by train from Lille, and looking across the Channel - is already co-operating with Margate's Turner Contemporary. The whole region is indeed capitalising on culture with various projects, including the late Sir Anthony Caro's magnificent and affecting Chapel of Light, in the restored church of St John the Baptist, in Bourbourg between Calais and Dunkirk, funded by the French government, the region and the city of Dunkirk, permanently installed in 2008.
A tripartite funding partnership commissioned this new museum and kunsthalle. After an open competition the architects Anne Lacaton and Jean-Philippe Vassal, were appointed: they are best-known for their inspired remodelling of the Palais de Tokyo in Paris, and their social housing projects which unusually are never imposed but involve intensive consultation with the people who actually live in the developments.
The result is surprising and enhancing. The original thought was to adapt – shades of Tate Modern – the abandoned but sole survivor of Dunkirk's shipbuilding past, a huge hollow hulk of a shed. The architects' original brief was a conversion, but they realised that in this case such a move would destroy the very qualities that made the relic so emotive. In an inspired leap of the imagination, they have built right next to the original hulking shell a Siamese twin in terms of its footprint, which is also a wholly modern hall for art – three floors of galleries, several of offices, lecture theatres, and so on – sheathed in ridged and gleaming semi-translucent plastic (pictured above).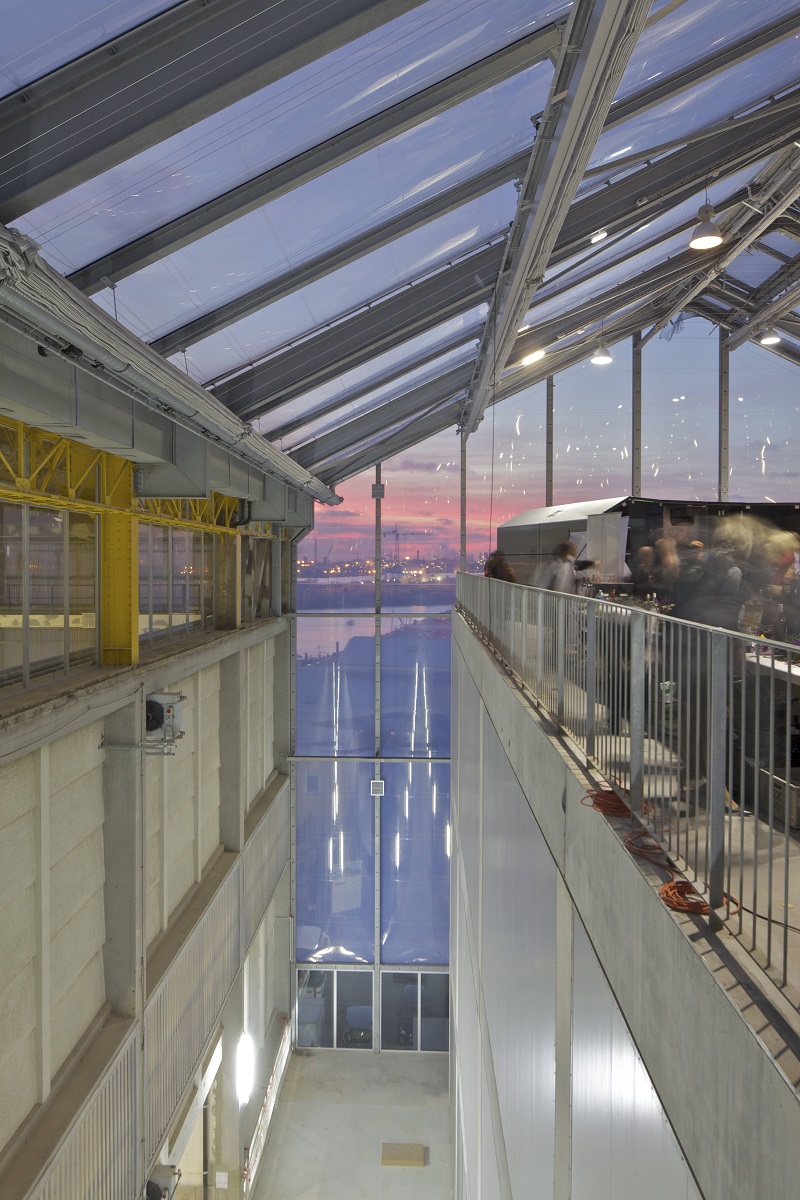 The result is exhilarating: glass-fronted elevators, balconies and views into the adjacent emptiness of the vast shell next door, which will be used for performances and happenings (yes, an uncanny echo of the success of Tate Modern's Turbine Hall) and spectacular views over the great beaches. Within FRAC itself the galleries, concrete floors and all, are up to the latest in light levels, atmosphere etc. all the better to house the international stars. The likes of Gerhard Richter, Marcel Duchamp, Dan Flavin, Lawrence Weiner, John Armleder, Andy Warhol, Bruce Naumann are included in the first show, accompanied by younger and lesser-known artists – Gabriel Kuri, Walead Beshty, Isabell Heimerdinger among them. The spectrum is wide from wall-hanging paintings to videos and installations, and there are a few surprises if you read the labels: the spots on a rather demure Miroir by Philippe Meste turn out to be the artist's own dried sperm.
The third-floor cinema currently houses an interactive video by Lorena Zillerulo, a younger artist from Chile who now lives in France. The spectator's movements affect the movements of a procession of a motley crowd, all sizes, shapes, ages, genders, but all working-class, in a vast warehouse, walking towards the viewer, or frozen in arrested motion. The crowd is not random: the two male workers and the nursing mother at the front echo a 19th-century Latin American painting by Giuseppe Da Volpedo, The Fourth Estate.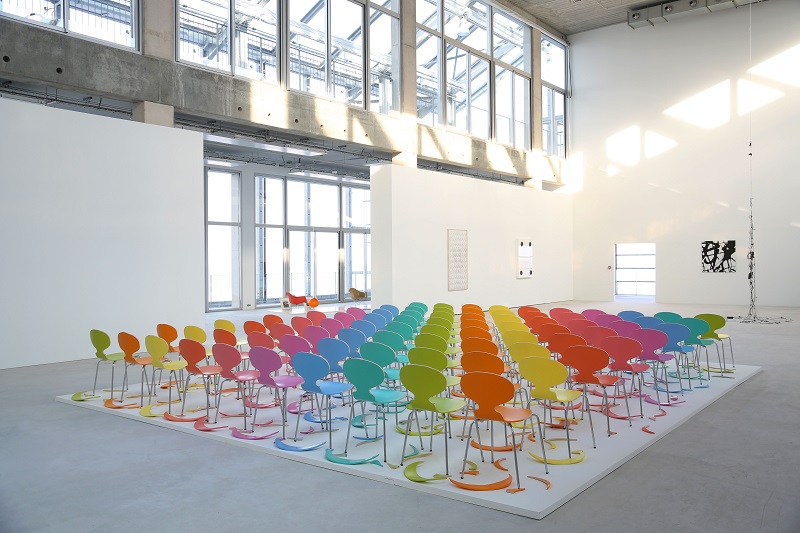 FRAC Dunkirk is interested in design as well as art, has its own collection of contemporary design, and in a witty riff on design classics is showing a fascinating compilation in the forum space on the fourth floor, looking at what artists have done to and with chairs of all modernist kinds. The Dutch artist Barbara Visser deconstructs and revivifies all kinds of modern classics – chairs by Eames, Aalto, van der Rohe and others, all found already injured in the streets – in a series of 14 photographs. The chairs become wounded but still jaunty creatures, beanbags lose their stuffing, others are upside down and nearly inside out. There are other plays on design history and design: a repetitive painting by the new darling of the American avant-garde, Christopher Wool, a wonderful piece of achingly bland wall paper; Gavin Turk's ironic bicycles; Donald Judd's minimalism which almost looks functional as he piles box on box. A host of serious visual jokes make up the show, poking fun at consumerism by making objects which at times seem unsaleable yet obviously are sold here to FRAC and other collectors. (Pictured above right: Superflex, Niels Staerk Contemporary Art Gallery)
FRAC has set up its own model for the way in which state support and subsidy bring the contemporary to a public beyond the art world; and here the enticement is a truly fascinating and unusual building which not only brings into focus the post-industrial heritage next door but is itself a truly intriguing and even seductive building, its translucent carapace hinting at mysterious treasure within. Its motto is Le Futur Commence Ici, and the building is an emblem for Dunkirk's seaside regeneration.
The spots on a rather demure 'Miroir' by Philippe Meste turn out to be the artist's own dried sperm.
Explore topics
Share this article
Subscribe to theartsdesk.com
Thank you for continuing to read our work on theartsdesk.com. For unlimited access to every article in its entirety, including our archive of more than 10,000 pieces, we're asking for £3.95 per month or £30 per year. We feel it's a very good deal, and hope you do too.
To take an annual subscription now simply click here.
And if you're looking for that extra gift for a friend or family member, why not treat them to a theartsdesk.com gift subscription?