theartsdesk in Oslo: From heritage to art now |

reviews, news & interviews
theartsdesk in Oslo: From heritage to art now
theartsdesk in Oslo: From heritage to art now
A dynamic art scene in Norway's capital is giving London and Berlin a run for their money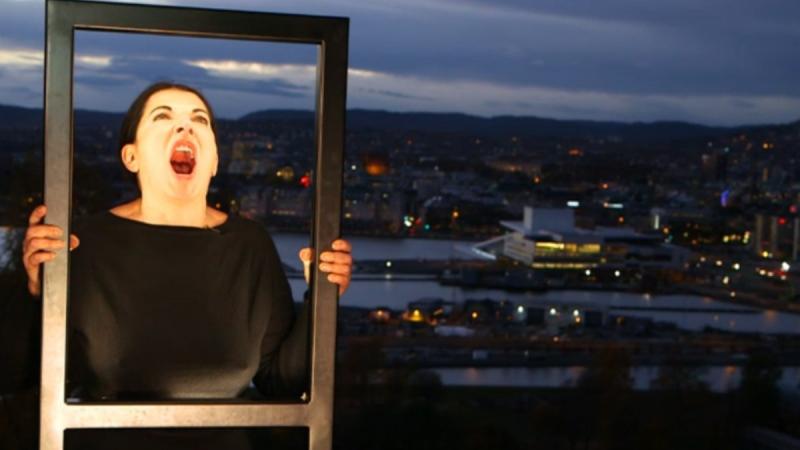 Marina Abramovič reenacting Munch's famous Scream at the Ekebergparken Sculpture Park
Things you might know about Oslo: it's expensive and the cost of a beer, wine, dinner for two – whatever your tourist yardstick – might make your hair stand on end (the cost of living is currently second only to Singapore city, according to a 2014 survey by the Economist Intelligence Unit); it's small (population: 600,000), yet it's also the fastest growing capital in Europe, thanks to both overseas immigration and the fact that many Norwegians are now moving to the capital; its most celebrat
ed son is, of course, Edvard Munch.
Luckily, it's art, not the beer or the exchange rate, that's proving to be a big draw to Oslo these days. As for Munch, the city's National Gallery, which is dominated by Norwegian and Scandinavian artists from the 19th and early 20th centuries, has a gallery dedicated to the artist and features some of his most important paintings, including one of two painted versions of The Scream.
Oslo's Munch Museum has the other painted version (there are a further two pastel versions) as well as 1,100 paintings and 22,500 drawings and prints. The museum's current temporary exhibition, which is travelling to Amsterdam's Van Gogh Museum in September, pits the Dutch expressionist with the Norwegian master of angst. It's been drawing big crowds over the summer, though on the day I visited it was the queue for the shop, which extended beyond the museum's lobby, that appeared to be the major attraction. Those Scream fridge magnets must be quite a pull.
Oslo has the greatest number of artist-run spaces than in any other city
No doubt the crowds will get bigger once the display moves to Amsterdam, but both the exhibition and the museum's popularity amply demonstrates how welcome the move will be to their new premises at the city's Bjørvika waterfront in 2018. Designed by Spanish architects Herreros Arquitectos, the building will be three times the size of its current premises and will increase the exhibition areas fourfold – and will no doubt have a more spacious shop. It will join the Opera House, designed by hot local architects Snøhetta, which opened along the harbour in 2008, and the Renzo Piano-designed Astrup Fearnley Museum (pictured below), which opened in 2012. Funded by private money to house an international contemporary collection, the Astrup Fearnley includes works by Jeff Koons, Maurizio Cattelan and Cindy Sherman and a number of Scandinavian and Norwegian artists, including the high-profile Elmgreen and Dragset (Michael Elmgreen is Danish, Ingar Dragset Norwegian, though both now work in Berlin).

Meanwhile, a new harbourside National Museum will replace the old 19th century building and will unify several institutions, including the National Gallery, the Museum of Contemporary Art and the Museum of Decorative Arts and Design. It's scheduled to open to much fanfare in 2017.
Art is a vital part of cultural life in Oslo, and, clearly, not only as part of a heritage industry. Contemporary art is thriving, fuelled in small part by a new breed of philanthropist (there is still as yet no culture of philanthropy in Norway and donors don't get tax breaks, but even without that obvious benefit things seem to be slowly changing) and, of course, public money. As you might expect, the arts are generously subsidised in Norway – indeed, public spending on the artistic economy is unrivalled. And Norway is a wealthy country, having discovered massive North Sea oil deposits in 1969. The oil revenue accrues in what is now the world's largest sovereign wealth fund, the so-called Oljefondet (oil fund) which operates under a strict budgetary rule: the government can use only four percent of the fund in each year's national budget. In a country that has a typically Scandinavian approach to public spending and social investment, the arts, particularly the visual arts, gets a big slice of that cake.
The Office for Contemporary Art (OCA) is one major beneficiary. A foundation created by the Norwegian ministries of culture and of foreign affairs in 2001, it was set up to develop collaborative projects between Norway and the international art scene and to act as a forum for creating intellectual discourse around contemporary art in Norway. It's helped artists such as Bjarne Melgaard, a Norwegian who now lives in New York (his Chair, his take on Allen Jones's 1969 Chair, which replaced the white mannequin with a black model, sparked controversy last year when art oligarch Dasha Zhukova was photographed in a fashion magazine sitting on it, whereupon it was dubbed "the racist chair") and Camille Norment, an American who lives in Oslo (a musician as well as a sound artist, Norment represented Norway in this year's Venice Biennale) to gain international exposure.
But what may surprise you is that Oslo also (according to the OCA) has the greatest number of artist-run spaces than in any other city, exceeding both Berlin and London. And although it's still the international market that major Norwegian collectors will primarily look to, the genuine excitement over the local art scene is in turn creating a climate for a robust international art market. In some cases, it's even fuelling the impetus to open major private collections to the public, often with a healthy balance between local or Scandinavian artists and international names.
This is exactly what the 61-year-old property mogul and long-time collector Christian Ringnes has done, and in the most ambitious way. In 2013, in partnership with Oslo municipality – and after negotiations that lasted a difficult 10 years – he opened Ekebergparken Sculpture Park, a 63-acre national heritage park set against the tranquil backdrop of the Oslofijord offering a panoramic view of the city at Ekeberg in south-east Oslo.
There are currently 35 sculptures criss-crossing the landscape, encountered in small clearings amid tall pines, oaks and firs. Since it's a city given to a great deal of rainfall, the ground is often treacherously muddy, so sturdy footwear is advised.
The eclectic mix of work ranges from bronze female nudes by artists including Dalí, Rodin, Maillol and Renoir to a site-specific glass pavilion by Dan Graham, an eerie animation work by Tony Oursler, an arrangement of multiple bird boxes mounted on a metal frame by Sarah Sze, now home to a variety of nesting birds, and an installation by James Turrell (an underground bunker with a ceiling aperture that allows rain and snow, sunlight and moonlight – the park is open to the public 24 hours a day – to filter through and the sky to change colour due to the changing light effects inside). There's also a strikingly ethereal Louise Bourgeois sculpture in aluminium: a man and a woman tightly twined as if spinning in a vortex, dangle from a big oak tree like glowing apparitions in the shaded light, reflecting the woods around them (The Couple pictured above).
There are also a number of lesser known contemporary Norwegian and Scandinavian artists, including Swedish artist Ann-Sofi Sidén, whose squatting bronze female is taking a pee in the woodland – every few minutes you'll see a trickle of water as she relieves herself; and Norwegian Per Inge Bjørlo whose hefty industrial pipe-like structure in steel appears to have polyp-like growths erupting out of its base. Like something living, it can be found hanging from the ceiling of a small, dank concrete bunker.
The latest additions to the park were unveiled in May this year: two sculptures by erstwhile YBAs Jake and Dinos Chapman and Damien Hirst. The Chapmans' Sturm und Drang, 2014, is an iteration of previous bronze sculptures to reference Goya's Disasters of War, and features a tree stump festooned with Halloween skulls with bat ears, dismembered limbs and skeleton parts (pictured below: Jake Chapman with Sturm und Drang), while Hirst's marble Anatomy of an Angel, 2008, is part heavenly erotic nude, part écorché.
Ringnes's original vision was to create a celebratory female theme for the park, which he describes as "the feminine in all its varieties", but this no longer seems to be closely adhered to, or at least is hardly obvious as a running theme. Part of the municipality's stipulation for the existence of the sculpture park was that Ringnes appoint an independent art advisory committee that oversees acquisitions, so that's possibly the reason why. When Chapman unveiled the work to the press he did admit that the feminine theme was news to him.
In addition to the park, a children's education centre and a tiny museum are also on site. In the museum you can watch a video work by Marina Abramovič in which a parade of 300 locals, heads poking through a picture frame, scream their lungs out. When the sculpture park was opened, Abramovič was invited to create an event for it, so she created her own literal version of The Scream (see main picture).
Munch, in fact, used to paint regularly here, and the park has been identified as the backdrop in his iconic painting. So perhaps like the fridge magnets it's a fitting enough tribute to Oslo's famous son. But unlike then, visitors today will encounter a far more confident, far more prosperous city, with visual art at the forefront of cultural, and economic, life.
The genuine excitement over the local art scene is in turn creating a climate for a robust international art market
Explore topics
Share this article