theartsdesk in Tripoli: Photographing a Revolution |

reviews, news & interviews
theartsdesk in Tripoli: Photographing a Revolution
theartsdesk in Tripoli: Photographing a Revolution
A new exhibition captures the complexities of a country seeking a new beginning
Libya post-Qadaffi: 'This society is like a new-born baby'
The most striking thing about the first photographic exhibition to specifically address post-revolution Libya is that there is no blood. Libya: A Nation Reborn is situated in the marbled ballroom of Tripoli's five-star Corinthia Hotel – a long way from the dust, sweat and blood of the streets – and poignantly lays out the reality of the revolution. And its costs.
The recent showing was the work of a new generation of Libyan men and women, most of whom had never even touched a camera barely a year ago. "It is now time the people of the world realised the new Libya," says one of the organisers, Rana Duzan, to resounding applause from the crowd.
The week-long exhibition could have been expected to show more fighting, more conflict, more death. Instead, this group of inexperienced young artists convey the cost of war not in a battlefield scene but in the face of a crying grandmother, a lost child, white funeral shrouds, and soldiers in the back of a truck, heads bowed and too exhausted even to walk; or in a woman's ink-stained finger, held up in pride beside a toothless grin to prove that she had voted in the country's first democratic election in living memory.
For most of the world, the defining images of Libya's revolution will always be the graphic scenes of the capture, abuse and execution of Colonel Muammar Qaddafi. But the reality is more than that. His abuse at the hands of his captors, or his body put on display in a Misurata store, are absent from this display. "This society is like a new-born baby," says Duzan. "This nation has had enough. The media and civil society are [involved] in the formation of a new, stronger society."
The exhibition was organised by 1Libya, a media project comprising various different donors, which provided training for people who a few months ago were students or in dead-end jobs. The photos are of ordinary Libyans or anti-regime fighters. There are none of pro-Qaddafi forces. The exhibition's 30-year-old major prize-winner, Aimen Ashur, is rapt. "It's like holding a camera is building something," he says, speaking in Libyan Arabic, which is translated through a friend. "We will win our freedom. I never thought I could build what I do with a camera."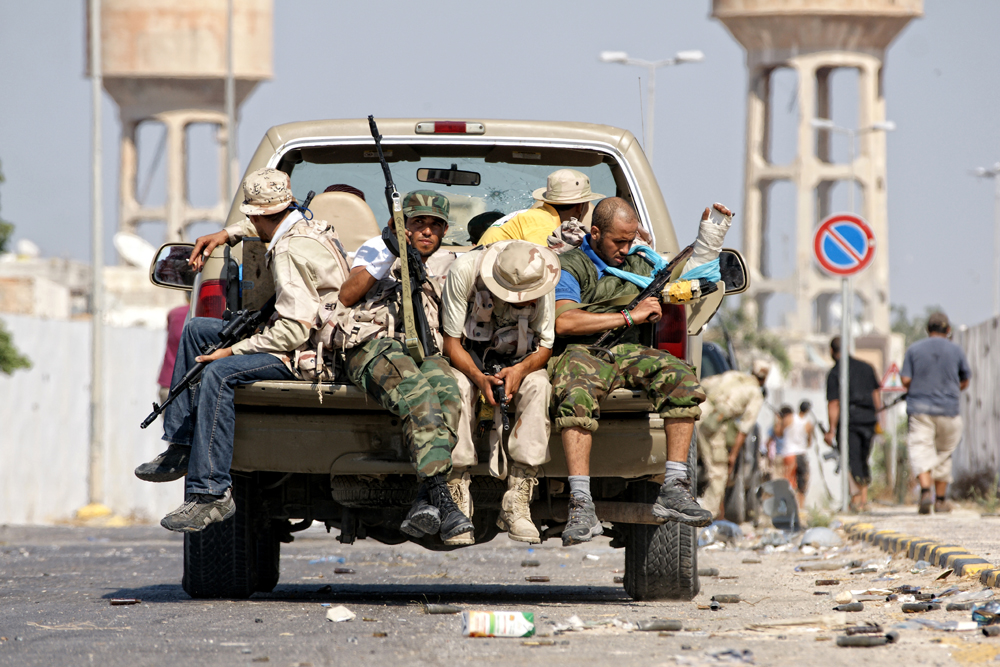 Before the revolution, Ashur had been jailed for distributing anti-Qaddafi leaflets. His winning photo (pictured above), taken from behind, is of a pick-up crammed with rebel troops, heads down, some with bandaged legs, heading through a Qaddafi-era triumphal arch in Tripoli. They are driving past the tangled wreckage of Qaddafi's main Ban Al Azizia compound. After his release, he chose a camera rather than a gun, despite having no firm job. "I just like telling the stories, the stories of my country and what has happened with a camera," he says. Now his work appears in several publications around the country.
Duzan says the work of this new breed of photographers played an important role in the revolution. "It's their pictures, their voices that created the international swell of support," she says. "They put out our message to the world."
Abdorahim Nwiji is a 22-year-old architect and engineering student at Tripoli university. He has been interested in photography since the age of 13 (pictured below, two examples of his work). "I want a new Libya, without injustice, and for people to live in well-being and happiness, young people in particular," he says. "In the past era there was much unemployment and not enough programs to help young people. We will all work for that."
Despite Libya's election, being a journalist or photographer can still be dangerous. Everyone here could still be taken away at any time of night by the militias, some of whom technically operate under the government, but with little or no supervision. If picked up, they face a month or more in unregulated, unsanitary compounds with no legal recourse. "We know what might happen," says another journalist in Tripoli. "But we are ready." Government efforts to disarm the militias have failed.
Since the end of the Qaddafi regime more than 100 new media organisations have started up across the country and across all media sectors – TV, radio, print and online. Many, of course, will ultimately fail, but in the short-term, developing the new media environment has attracted strong foreign funding, material and training support.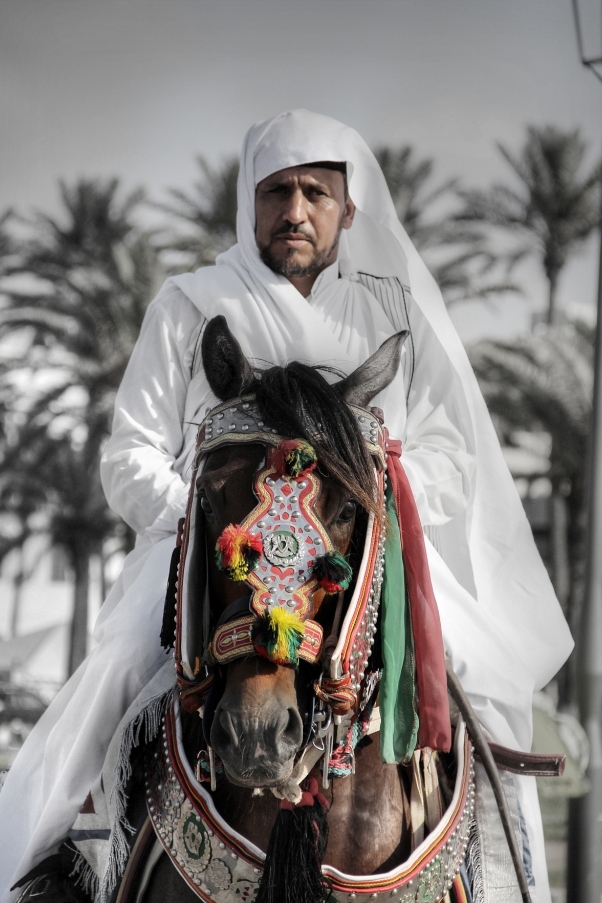 Libya has a high literacy rate - an average 90 per cent of men and women above 15 - and a young population, but the media work with no legal protection. At the same time, there is no clear defamation law or code of ethics to guide their conduct.
In many ways, the country is going through the same painful media transformation as neighbouring Tunisia and Egypt. Says Qatar-based Al Jazeera: "Although it's readily acknowledged that building Libya's new infrastructure will take time, some journalists are running out of patience by the inability to pass a law guaranteeing the media - especially state media - editorial freedom and independence. Journalists - and those who train them - shared their concerns over potentially being targeted by Libya's many armed militia groups. They also worry about the government, which says it supports a free media, but can revert to the old ways when reporters push for answers."
All photographs copyright of Aimen Ashur and Abdorahim Nwiji
Their pictures created an international swell of support. They put out our message to the world
Explore topics
Share this article