Tim Davies, Glynn Vivian Gallery, Swansea |

reviews, news & interviews
Tim Davies, Glynn Vivian Gallery, Swansea
Tim Davies, Glynn Vivian Gallery, Swansea
'Between a Rock and a Hard Place'
Wales doesn't figure high on the UK charts of art awareness, but one of its leading contemporary artists, 43-year-old Tim Davies, represents a generation who are producing significant, original work without approbation from the Hoxton or Shoreditch taste-makers, and often, attention comes from abroad. In Wales, of course, it's a different story: he was Gold Medal winner in the 2003 National Eisteddfod, and on the other hand the only British artist shortlisted for the prestigious international Artes Mundi prize in 2004. Davies' major solo show at the Glynn Vivian Gallery in his hometown, Swansea, is a thoughtful, exciting collection of mixed media projects linked, sometimes obviously, sometimes obscurely, always lyrically, to the shared title.
The seemingly simple beauty of Tim Davies' work often conceals complex and unexpected connections with politics, class and environmental issues. In 1999, he delivered to the vast Proustinia Land Art Park in Belize a 50-foot strip of parquet flooring now lying on the jungle floor and being gradually reclaimed by nature. The links to Richard Long are superficially acres apart: Davies's title, Returned Parquet, referred to its origins as a mahogany staircase in a Welsh mansion, its discovery at a recycling depot, and its return to a forest where, he believes, the wood was chopped down by slaves then sent to Bristol and on to Swansea.
Such looped concepts, spanning times and places, characterize Davies' work and are the framework of this magnificent exhibition. Using a variety of media (photography, video installation, recycled postcards, printed images), he explores the abstract space between The Rock and the Hard Place, an attempt, he explains, "to bring what might appear to be very different pieces together; they are all in some way connected to a place in between something, two states, a negotiated place, an uncertain place."
Figures in a Landscape, 2004-8, is a huge wall display of back-lit post-cards collected from around the world and featuring figures in national or local costumes. Davies used a razor blade to cut out enlarged outlines of those men and women, leaving their silhouetted spaces on each card.
Perfectly angled lighting throws shadows onto the wall of Welsh women in top hats, veiled women in Algiers, folk-dancers – ghostly presences in realistic landscapes. The significance of national identity through costume and dancing highlights links between home and away for the traveller, and via mail to foreign lands for the subjects depicted.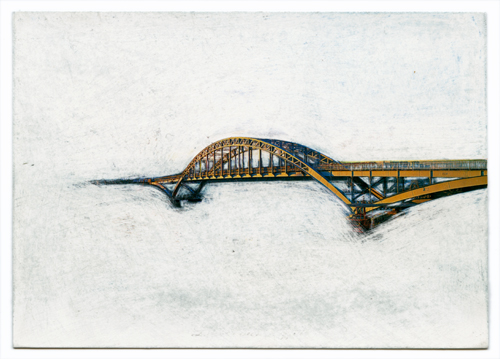 Bridges, 2009, is another painstaking and time-consuming collection, this time based on found printed images of bridges from around the world, including stepping-stones across rivers, the Mostar Bridge in Bosnia bombed in the 1990s war, and the architectural brilliance of the Clifton Suspension Bridge. Davies scrapes the surface with fine sandpaper to erase all contextual information surrounding the bridges. It leaves them floating in isolation against now white backgrounds, their fragility exposed and the focus on their function as links between cultures, religions, eras and geological periods.
"Unlike the figures I've removed from the landscapes," he explains, "here I've removed the landscape to emphasize the structures. A bridge is an important symbolic structure, one of the initial targets in conflicts. My fascination is how architecture or an architectural object connects one thing or place to another."
The show's two video installations share a combination of slow filmed imagery and a rapidly spinning camera's blurred view of the same scenes. Cadet, 2008, focuses statically on an army cadet standing solemnly at a Remembrance Day service, then the artist runs in circles, filming the poppies, the grey uniforms, and gold lettering on the plinth. The result possesses a simple poignancy, a prelude to the extraordinary artistic elegance of the site-specific Kilkenny Shift, 2009.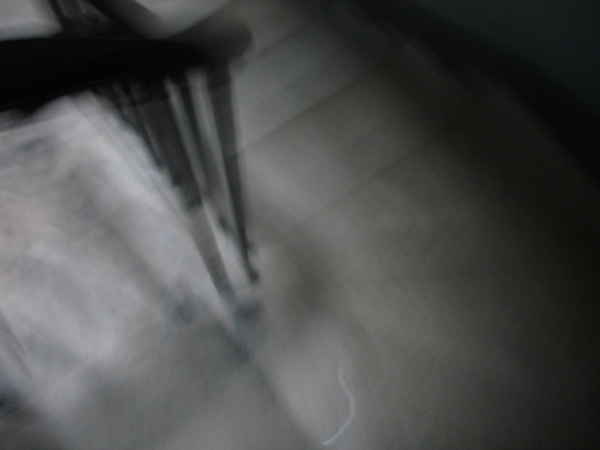 Recorded in Kilkenny Castle in Ireland, a former grand residence now open to visitors, it similarly moves from meditative stillness to frenzy. Davies turned down the offer of depicting the carpeted grand staircase in favour of the cold granite steps used by the servants and hidden from guests. Instead, he documented the abstract link they made between two worlds and two social classes.
"I made a portrait of every stair," he says, "Over a hundred, in a slow, intense, repetition of their daily grind; a kind of homage." The results fill the screen with incongruously beautiful, grey geometric shapes interrupted by the dark line marking the edge of each step like a Barnett Newman boundary. At the top of the staircase, the image dissolves into black as Davies pauses, then simulates the servants' rush downwards with full plates as the director records the blur of granite. What was previously a slow, hollow soundtrack is now overwhelmed by the echoes of rushing feet and whirling camera which accompany the sublime, misty images.
Subtlety and simplicity are Davies's trademark; but his works shine with considered layers of meaning. Repetition is obviously never on his agenda. But repeating the exhibition in London, and beyond, should be.
The exhibition runs to 6 December. Website for details, or telephone 01792 516900
In the same gallery, until 29 November: Eva Bartussek: Horse House.
Young, Swansea-based photographer Eva Bartussek applies a fine art approach to her documentary of a mundane but bizarre story of the domestic arrangements in a mansion housing its owner and her horses. Her surreal, dream-like photographs build a portrait of the woman through her possessions, clothing, décor, and the habits of the horses, avoiding direct depictions and simultaneously exploring definitions of documentary portraiture.
Explore topics
Share this article