Toulouse-Lautrec and Jane Avril: Beyond the Moulin Rouge, Courtauld Gallery |

reviews, news & interviews
Toulouse-Lautrec and Jane Avril: Beyond the Moulin Rouge, Courtauld Gallery
Toulouse-Lautrec and Jane Avril: Beyond the Moulin Rouge, Courtauld Gallery
Striking images of the French artist's high-kicking muse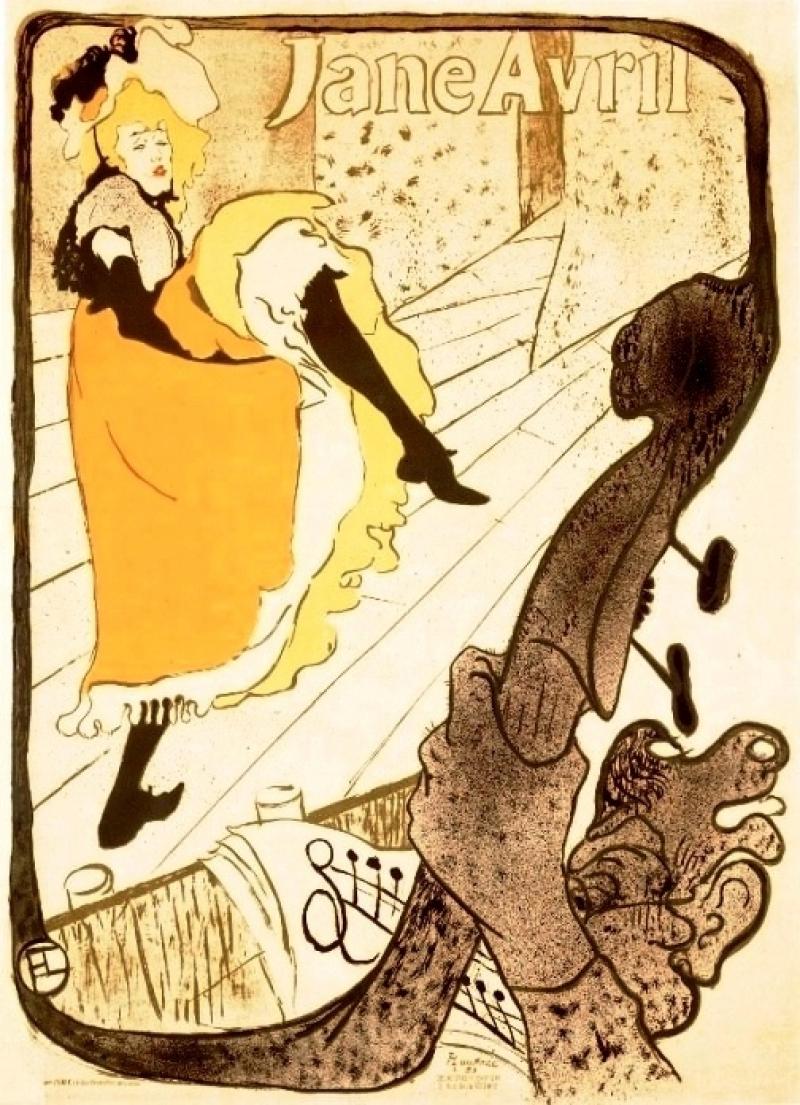 Toulouse-Lautrec: 'Jane Avril at the Jardin de Paris', 1893
As one of the stars of the Moulin Rouge, she was variously known by the nicknames "La Mélinite", "Jane la Folle", and "L'Etrange". The first was after a brand of explosive, the other two attesting to a little craziness. Jane Avril's eccentric dance movements evoked the involuntary spasms of female hysteria patients.
But while photographs exaggerate her childlike demeanour (she wears her hair in ringlets and poses in a range of shepherdess bonnets, a look popular in 19th-century music hall), as Henri de Toulouse-Lautrec's muse, she was transformed into a somewhat haunted figure far older than her years: white of pallor, scrawny and with pinched features.
It was Lautrec's innovative lithographs, displayed in the advertising posters that lined the Boulevard de Clichy in the bohemian district of Montmartre, that made Avril's name. She was among a number of cabaret performers immortalised by Lautrec in a line-up that included the sexually provocative "La Goulue" ("The Glutton", so-called either because of her sexual appetites or her habit of downing customers' drinks in one as she worked the floor), the gurning-featured chanteuse Yvette Gilbert (like Avril (pictured right) she was less odd-looking in photographs), and the singer and nightclub owner Aristide Bruant, familiar in flamboyant red scarf and mouth twisted in disdainful sneer.
The Courtauld Gallery's small but exquisite jewel of an exhibition focuses on just a handful of his posters, as well as paintings and oil sketches that portray the offstage Avril as a melancholy, private figure, in contrast to the confident performer she was. And as an adjunct to the main display, we gain a fascinating insight into Avril's difficult life. Born Jeanne Beaudon, the daughter of a prostitute (she adopted the English pseudonym on the suggestion of an English lover), Avril spent two years as a teenager at the Salpêtrière Hospital. She was treated for the nervous condition St Vitus's Dance, a fact she later exploited in her jerky dance style, owing to the popular fascination with the new science of mental disorders.
We also explore the intimate relationship between artist and subject. In one photograph we see Lautrec dressed in Avril's clothes for a fancy dress party. We are never sure, however, whether their evident intimacy, conveyed through some of his most tender paintings of her, ever became sexual.
But we begin with the exuberant lithographs.The brilliance of Lautrec's compositional sense can be seen in his 1893 poster, Avril at the Jardin de Paris (main picture). The double-bass frames the stage on which Avril, in her floppy bonnet, performs her high kicks. The simplified forms, the limited palette and flat colours show the distinctive influence of Japanese prints, but the clever, radical composition is all his own. What's more, the radical framing manages to cocoon her, to distance her from the viewer: this ethereal creature of the stage wears a far-away expression, part weary, part trance-like.
In Divan Japonais (pictured above left), 1893, the first work in which he portrayed her, all is sinuous lines and curves. Seated in the audience, Avril's lithe figure is dressed strikingly in black. Lautrec's palette is again a reduction to three main colours, black, yellow and grey, with only a reddish-orange for Avril's hair, and for her thinly pursed lips. But what incredible compositional flair: the arms of the two double-basses echo the raised arms of the conductor, their line following an upward curve and all framed within the elegant curve of Avril's chest and extended arm.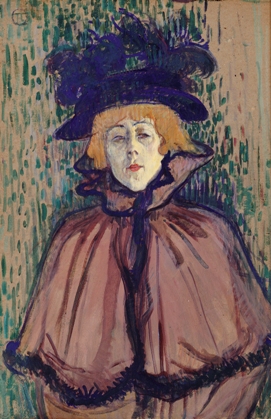 Lautrec's paintings of Avril are quite different in mood. In his great group composition At the Moulin Rouge, 1892-3, we observe her from behind, her distinctive red hair dressed in a flouncy hat, her angular shoulders accentuated by a bristling fur trim. The garish lighting makes those whose faces can be seen look as if they are masked, especially the looming, rather terrifying face of May Milton, a fellow dancer and close friend of Avril. In other paintings she is alone and isolated, cutting a sad and vulnerable figure, particularly in her long, oversized coat. However, in one striking portrait, Jane Avril (pictured right), 1891-2, dressed in an elaborately plumed hat and ruff-like high-collared cape, she evinces a positively magisterial air.
This is a stunning exhibition that looks not only at the many faces of Jane Avril but casts an illuminating light upon Lautrec's deep engagement with the seamy Belle Époque world he brought to life and immortalised with breathtaking verve.
This ethereal creature of the stage wears a far-away expression, part weary, part trance-like
Explore topics
Share this article