What did Jane Avril eat? Ask Celebrity Masterchef |

reviews, news & interviews
What did Jane Avril eat? Ask Celebrity Masterchef
What did Jane Avril eat? Ask Celebrity Masterchef
Lobster à la Parisienne, braised duck with tea jus, three puddings
Wednesday, 18 August 2010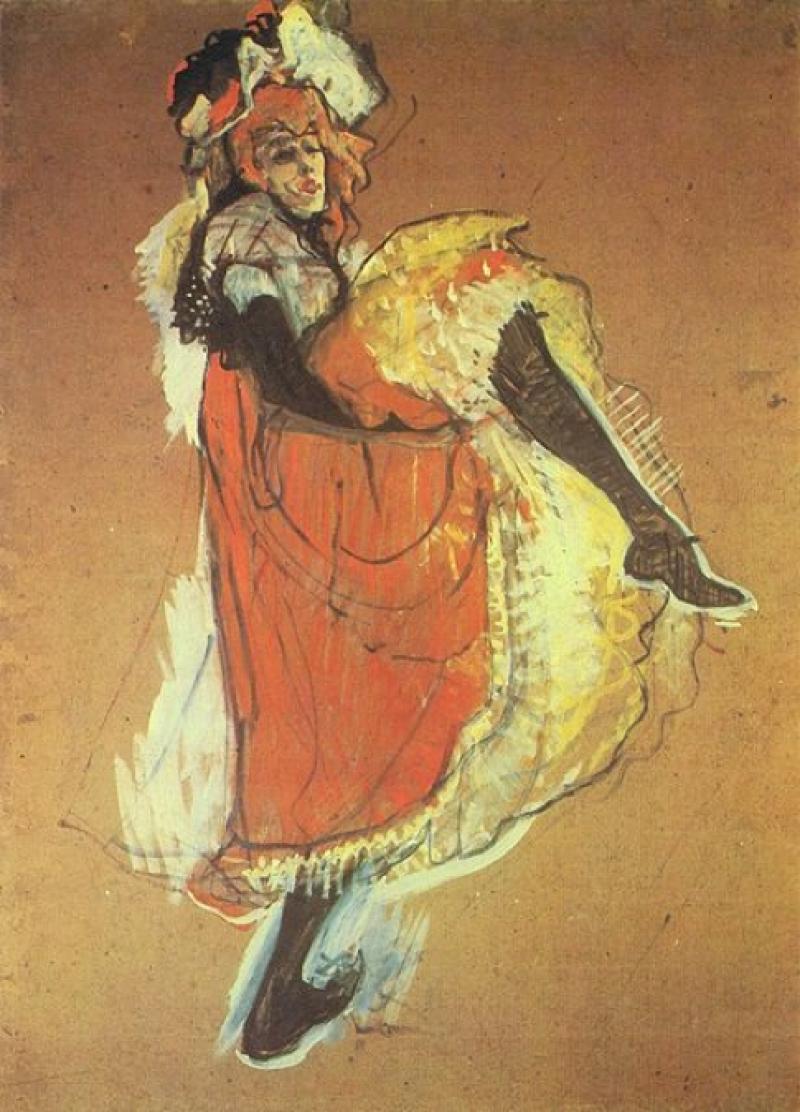 Toulouse-Lautrec's Jane Avril: did she too lunch on lobster à la Parisienne and duck with tea jus?
What's the preferred scoff of Moulin Rouge can-can dancers? We found out, rather accidentally, last night, if you watched the final of Celebrity Masterchef. And if the world's dancers don't beat down the doors of Paris to get in, I'll eat my chat.
The three celebrity finalists (celebrities, pay attention) - actress Lisa Faulkner (Holby City, Spooks, Burn It), TV presenter Dick Strawbridge (Scrapheap Challenge) and political-scandal wife Christine Hamilton - have a final week cooking ridiculous challenges in increasingly surreal circumstances. Last night's final-part-1 consisted of cooking lunch at the Moulin Rouge for a crew of 10 dancers while they were thrashing out a rehearsal in plumes, high heels, fishnets and apparently no pants.
If it's true that these dancers routinely get this kind of tucker on a rehearsal day, it's a dance job to die for. Lobster salad, braised duck and pannacotta with strawberries in various guises were the courses.
Lisa flapped her way (as usual) through the starter - she'd never even seen a lobster and the twitchy black critters terrified her with their menacing claws as they contemplated the pot. Christine did her usual sterling Westminster-wife job on duck with tea and grapefruit jus with coriander courgettes (I copied it down twice), and Dick-the-walrus-moustache made not one but three complementary puddings for the willowy dancers, pannacotta, strawberry compôte and lemon sorbet.
Who knows what the calorie outcome was of this four-hour kitchen stress? And are these daily rations for the dancers? Or is it fromage frais and a lettuce leaf on other days? We were not told.
A few years ago I interviewed a ballerina each from the Mariinsky (Kirov) and Royal Ballets about what they ate. Russian girl's menu: protein breakfast, local version of cottage cheese, with tea and sugar; main meal, protein lunch, mum's meat and vegetable casserole; little carby tea, a before-show chocolate bar and fruit, then nothing at all after the show. Front-end loaded. English girl's menu: carby breakfast, buttered toast and a banana; tiny carby lunch, very sweet tea with sandwich or muesli bar; main meal, after-show carby supper of pasta, meat sauce, perhaps wine. Back-end loaded.
The extraordinary thing is the variety of diets that dancers in three great dance centres - Paris, London, St Petersburg - all go by, yet produce the same result in physical requirements. It's as if the nutritionist profession had never existed.