Wolfgang Tillmans, Serpentine Gallery |

reviews, news & interviews
Wolfgang Tillmans, Serpentine Gallery
Wolfgang Tillmans, Serpentine Gallery
Tillmans is too laid back to care at the Serpentine.

Ostgut Freischwimmer, right (2004)
It takes a lot of work to make a show look as unconsidered and chaotic as this one: thought and care and time and attention all have to be paid before something so random can be achieved. But as so often with Tillmans, the nagging questions persist: is randomness, are the offhand and the casual, valid as ends in themselves? Because Tillman's über-hip affectless cool has become very tiresome indeed. Even worse, it's becoming predictable and dull.
Tillman's eye, as ever, remains wonderful, but I remain doubtful about the form in which he chooses to convey his ideas.
Some of the most recent images are arresting, and the play of scale and form interact well: the print of a façade of a rough-cast house, ready for stuccoing, interestingly mimics and echoes the hyper-sized egg-cartons in the next print. But what to make of the adjacent print, a heptathlete waiting at the starting blocks, a rather ordinary slice-of-life piece of photo-journalism, next to the formal beauty and technologically interesting inkjet print Nanbei Hu? What is the point of the four images side-by-side? Try as I might, the only answer I can come up with is this: the point is that there is no point. And that ultimately, I'm afraid, strikes me as a rather uninteresting response, as well as disdainful of viewers who have by contrast treated the artist's work with respect, by giving it serious consideration.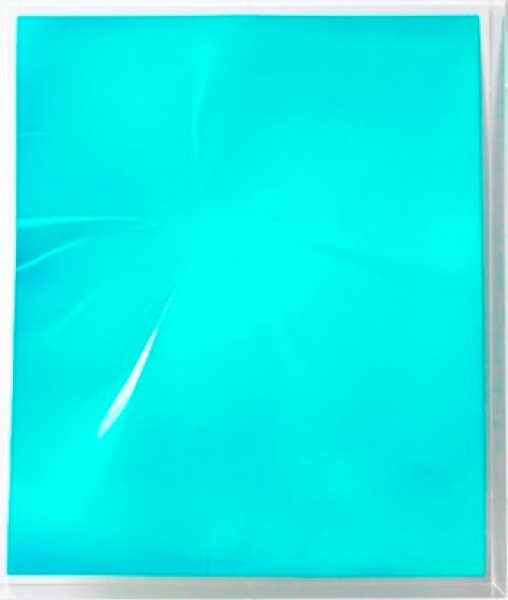 Other series Tillmans has been working on for some time. The Lighter images use photographic paper as quasi sculpture, the stiffened paper crumpled and bent to create pleasantly minimalistic shapes under Perspex (Lighter Blue, concave I, pictured right) These are attractive, and will be enjoyed by lovers of minimalism, myself included. Then there are a series of prints created in the darkroom, using the modified light and the printing processes of photography, but doing away with the preliminary camera-work. Ostgut Freischwimmer right (main picture), is vast – over 6 meters by 2 - and its rhythms and shapes are potent, while its size permits the viewer to sink into the image. No doubt there are great swathes to be written about the play of technology, the irony of camera-less photography, just as the close-up large-scale images from the Paper Drop series (Paper drop, (Roma), pictured below left), is a likely jumping-off point for discussions of materiality of photography versus sculptural objectivity.


But it's a fine line between presenting a discussion of the open-ended nature of installation and presenting an exhibition of sheer aimlessness, between attempting to create an image of slice-of-life reality and creating the blankness of point-and-click photography. The desire to capture the transience of an evanescent reality can instead all too easily come across as affectlessness, just as Tillmans's chronic juxtapositions of scale, his carefully judged construction of careless slap-it-on-the-wall installations can seem to show disdain for his viewers. And to me this show falls on the wrong side of all these lines. From so laid back it's hip to so laid back it's dull is not a big step, but it is one that Tillmans in the Serpentine has all too obviously taken.
It's a fine line between presenting a discussion of the open-ended nature of installation and presenting an exhibition of sheer aimlessness
Share this article