Yayoi Kusama, Victoria Miro |

reviews, news & interviews
Yayoi Kusama, Victoria Miro
Yayoi Kusama, Victoria Miro
Japan's queen of spots reigns in the garden of the imagination
Yayoi Kusama, 'All the Eternal Love I Have for the Pumpkins', 2016
Pure euphoria! The lady, a mere 87, her stature diminutive, her hair and lipstick a blazing scarlet, is a painter, but also a draughtsman, a sculptor, a creator of environments and installations, a performer, a designer of objects and clothing (affordable too at UniQlo) an illustrator, a writer, a poet, and an all-round polymath. Kusama has lived by choice for nearly 40 years in a psychiatric hospital in her native Japan, working indefatigably.
It is typical that her work remains accessible even though the grand installations and large paintings are only available to an institution, gallery or collector with prodigious resources. One of her subtle orgies of dots has illustrated an inexpensive edition of Alice's Adventures in Wonderland, so we can all have a Kusama on our shelves. Her obsessive workload may be keeping her demons away, but her therapy is our joy.
Her extensive career took in a substantial period in New York from 1958, before she returned to Japan in 1973 (pictured right: Yayoi Kusama in 2014). The New York period, in which she sported long straight black hair, took in performances with naked participants painted by Kusama in various public locations, a series of protests dressed up as art world happenings, discrete works of art and a shop that sold her fashions. The labels surrealist, conceptual, feminist, pop, iconoclast, hippie, abstract expressionist – she took from all but gave amply back – simply show she is unclassifiable.
Her ongoing exhibitions at Victoria Miro since 1998 and her magisterial retrospective at Tate Modern in 2012 have revealed a formidable and captivating artist unafraid to capitalise on her ability to discombobulate and confuse the spectator. But her work is neither bland nor terrifying. It engenders instead the most amazing array of emotions, either engulfed in a variety of motifs in her paintings or delighting in play with mirrors and light which lead to an infinity of reflections often including the spectator.
A dozen or so of her recent majestic and at times hilarious paintings, which mix recognisable doodles in sizzling colours with her day-glo dots, are demurely on show in Victoria Miro's Mayfair gallery. They are gently subversive in their knockout way and disarm by at first looking like a conventional array of semi-abstract, heavily patterned images. On looking closely, the doodles, vividly recalling all those swimming creatures seen in a drop of water through a microscope in school biology, morph into a kind of shorthand of sexual symbols. Flowery shapes, subliminally alluring, are also utilised in Kusama's gardens of the imagination. Patches of differing repetitive patterns somehow coalesce into coherent and convincing imagery, playing on the boundaries between abstraction, the building blocks of art – dots, curving lines, colour – and childlike outlines suggestive of faces and organic form (pictured below : My Heart's Abode, 2016).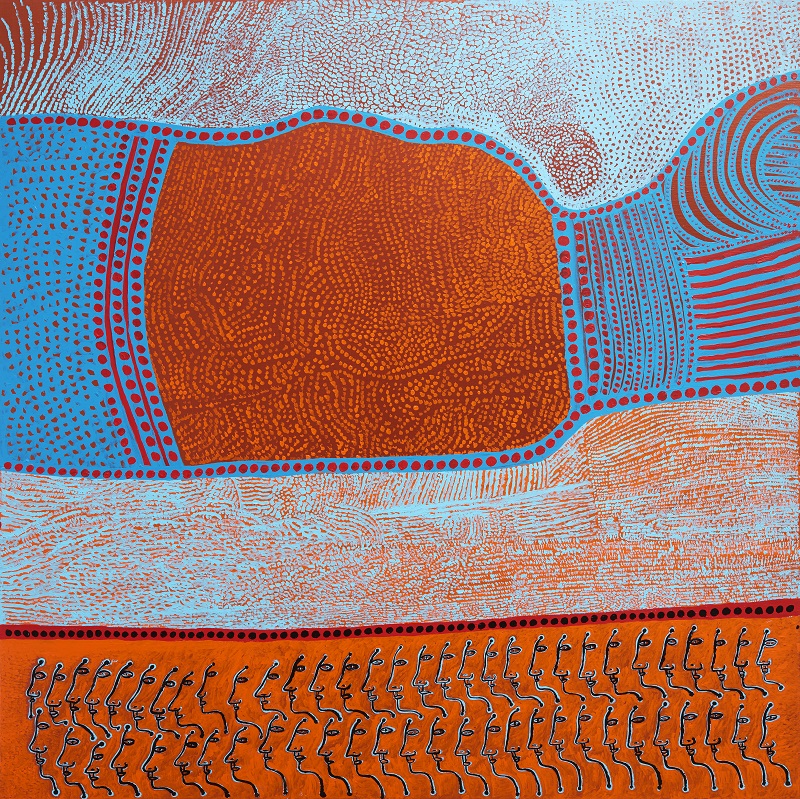 It is that frisson of recognition one often has in front of a Picasso, when you realise the sexual energy, the sheer vitality, that rampages through the hectic yet curiously soothing imagery. You can almost choose between waving protozoa, and genitalia, male and female, with childlike faces and masks also discernible in the sweeps of colour. Her work in whatever media depends on asymmetrical pattern, theme, repetition, variation: a visual baroque, ceaselessly energetic. A contemporary musical parallel would perhaps be the compositions of Steve Reich.
The vast spaces of Victoria Miro's Islington warehouse are particularly conducive to Kusama's varied artefacts. The third floor gallery, with a wall of window looking onto the sky, houses a marvellous array of meditative paintings in Kusama's infinity net series. Soft, silvery colours are held in frameworks of skeins and whorls in obsessive, hand-drawn patterns. Overall each is a network, a lattice, a choreography of repetitive shapes, which are by the nature of their making the opposite of mechanical: minute variations continually charm the eye.
There are three major installations contained within enclosed boxes, which the visitor enters. The wonderfully absurd title All the Eternal Love I Have for the Pumpkins is just that, a handful of pumpkin-shaped lanterns on the floor, reflected into infinity as is the spectator in the mirrored interior (main picture). You see your own self, life size and then marching into unimaginable distance until, like the pumpkin shapes which surround your reflection, all is minuscule. It is absolutely magical, as well as witty, the shape and colour of this most mundane yet absurd plant exploited with such tenderness: as Kusama has said "pumpkins always make me smile: they are the most humorous of vegetables … humble and amusing." The forms have an uncanny presence.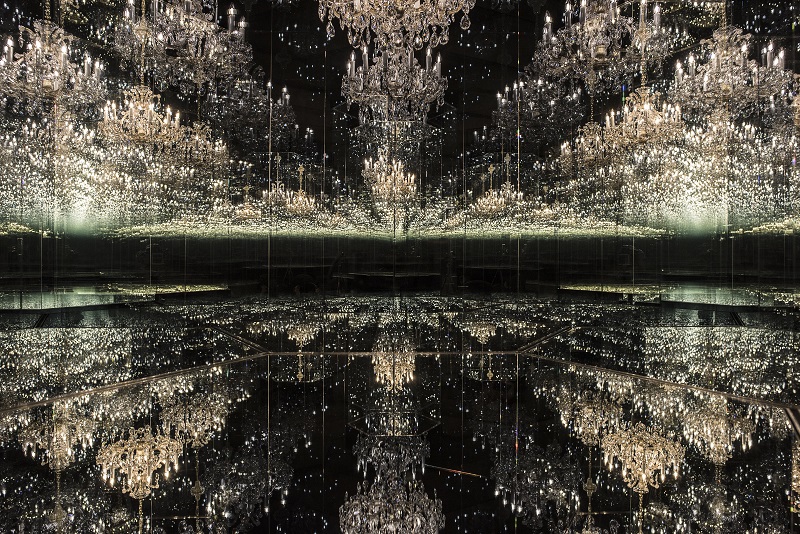 Chandelier of Grief (pictured right) installed in a white-walled hexagon, is just that, a rotating chandelier hanging above the visitor, endlessly reflected in flickering lights in the mirrored interior as far as the eye can see. Outside in the gallery's garden, Where the Lights in My Heart Go is a stainless-steel room, punctuated with holes which let in natural daylight, endlessly reflective, like being inside a constellation, soothing and beautiful. In the garden's pond Narcissus is a permanent installation of stainless-steel balls which, responding to heat and light, gently sway from one side to another on the water's surface.
Everything on view is somehow initially unexpected, then curiously inevitable, and profoundly enjoyable. Here is a huge body of work created by an enormous, original imagination, working in surprising idioms, and a range of materials from canvas and paint to metallic and mirrored constructions. Kusama has with the work of her lifetime expanded the possibilities of the ways in which the visual apprehension of pattern, colour and light play on feelings and emotions.
Yayoi Kusama at Victoria Miro, Islington and Mayfair, until 30 July
Everything is somehow initially unexpected, then curiously inevitable, and profoundly enjoyable
rating
Explore topics
Share this article