Brighton Festival 2017: 12 Free Events |

reviews, news & interviews
Brighton Festival 2017: 12 Free Events
Brighton Festival 2017: 12 Free Events
Brighton Festival CEO Andrew Comben's guide to this year's best free stuff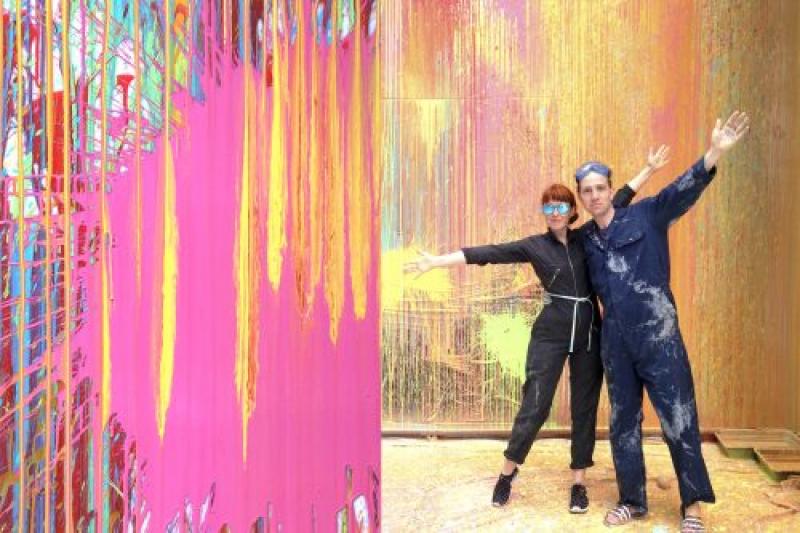 Artists Walter & Zoniel who present a pebble-throwing art extravaganza on Brighton Beach
The Brighton Festival, which takes place every May, is renowned for its plethora of free events. The 2017 Festival is curated by Guest Director Kate Tempest, the poet, writer and performer, alongside Festival CEO Andrew Comben who's been the event's overall manager since 2008 (also overseeing the Brighton Dome venues all year round). This year the Festival's theme is "Everyday Epic".
"Kate has this sense of the arts being important through the everyday of our lives," Comben explains, "at the same time as acknowledging that, for everyone, things can take on epic proportions, whether that's looking after kids, caring for others, or battling through the stuff of everyday lives. What she really wanted to get across through this festival is that the arts are a part of that, not some elite experience for a privileged few. For us at the Brighton Festival the idea of Everyday Epic really helped ground the festival in the community, even more than in previous years, connecting us to individuals and community groups."
In that light, below he advises on 12 free activities and events at Brighton Festival 2017 that no-one should miss.
Storytelling Army: This is with Nabokov, a London-based company that Kate particularly wanted to invite to the Festival. They're experts at standing alongside people and helping them shape work, so the idea is that everybody has a story to tell, whether they're homeless, a teacher or a businessperson, they have a story that can be unlocked. Working across the community, those stories are going to be popping up across the city all weekend. You'll see someone on the street corner, in the supermarket, and so on, bringing the stories of Brighton and Hove alive.
Spectra: Cast: The artistic team Walter and Zoniel had a million and three ideas but the one we all really landed on was using the seafront beach as a canvas. Over three days anyone can come. You're prompted to answer certain questions, then as you answer them your pebble is dipped in one of various colours available, then you fling it at the beach. This massive canvas appears over three days, so it'll be our own unique installation that miraculously washes away.
Your Place: This is the centrepiece of Everyday Epic and is something we want to grow over successive years of the Festival. This is our first attempt, our pilot scheme, to properly take the festival to all areas of the city, working with steering groups in Hangleton and Whitehawk, two areas which suffer most complex needs but have incredibly strong community networks. We're creating hubs, then it's up to those steering groups to create their own festival within the Festival. We provide a whole host of potential festival artists they can chose from, but also community participants and other artist open calls. So the programme is emerging at the moment. You can participate, be part of a workshop or see performances. Our starting point is that the Festival is for everyone, and it's not enough to just expect everyone to just come. It's about letting people pick and choose, reflecting and shaping it for their own area.
Book Swap Boxes: With City Reads and Collected Works we've got book boxes right around the city, including on the top of a bus. We're picking up from successful initiatives elsewhere in the world. We're trying to encourage people to pass it on, really bring their books and make them available to other people, then we collate collections of books, trying to get stuff out there for everyone. It feels like a really natural thing to sit alongside the number of writers who coming and Kate's own works.
City Reads and Young City Reads: These are successful events we've run before where we get the whole city reading a particular text, a choice for both adults and young people, so they read it then come together with the author, not only celebrating that particular work but the act of reading and the act of reading collectively, like a giant book club. The books this year are Sharon Duggal's The Handsworth Times [City Reads] and AF Harrold's Fizzlebert Stump, The Boy Who Ran Away From the Circus (And Joined the Library) [Young City Reads],
In Their Shoes – Poem Trail: This ties in with Everyday Epic, this idea of empathy and walking a mile in someone else's shoes. [Performance poetry organization] Apples and Snakes have commissioned five new poems on that theme and, a little bit like Storytelling Army, there'll be poets right across the city, eight poets in all, not only performing that new work but their existing works. They'll be performing in unexpected places. It's an incredible thread of democratized art that you might be able to seek out via our website but you might just be in the city and happen upon. Kate is very much involved. She's been both inspirational and really demanding. Those two things go really well together. She really knows what she wants from this festival and it fits with her own ethos. She has definitely got a vision.
The Hum: Nick Sandiland has created this downloadable app that basically encourages you to be your own dancer and choreographer. The soundtrack on your app takes you through various suggestions so we can get the city moving, get it dancing. It's downloadable from our website – brightonfestival.org/thehum. It's right across the festival, there'll be people plugging in when they feel the urge. It might be really wonderful or very odd or a bit of both. As to whether I may have a go, I'll withhold comment.
Weekend Without Walls: Without Walls is a really important partner of ours. We're part of a commissioning network that produces new outdoor work each year and we've chosen to place it in parts of the city it can have the most impact, and also take some of the work to places that wouldn't otherwise experience it. So we're in Portslade on Saturday [13th May – Easthill Park] and east Brighton on Sunday [14th May – East Brighton Park, Whitehawk]. There'll be a whole range of work, eight new pieces. It's a sort of family fun day but also with interesting and serious artists in an outdoor park. The idea is pitch up, bring a picnic, soak it in or get really involved in the work going on and follow the trail around. There are dancers, circus artists and more. It's a mini-festival. These are really high quality pieces of new performance art, designed to be both thought-provoking and as accessible as possible.
The Children's Parade: I love the Children's Parade, the most magical start to our festival. I remember [2015 Brighton Festival Guest Director] Ali Smith saying, "I don't know why every festival doesn't start with a children's parade," and she's got a point. It's been running for 28 years now and we were just saying this morning that, in the face of potential cuts to education and the difficulty schools have in hanging onto art in the curriculum, the fact every school in Brighton participates is miraculous and remarkable. Every head teacher prioritizes it, 5000 children parading through the city at 10.00 o'clock on the first morning of the Festival, coming together around a particular theme, which this year is poetry. All of the children have spent the last six months preparing costumes and artwork that they then display, and also working on the music that goes alongside it. So it's a really brilliant celebration of kids' creativity, with 20,000 people watching.
The Bright Room: Eddie Otchere is a massively followed figure in hip hop photography. It's a real coup to have him involved in the Festival. He's really got behind the idea of the Festival. Kate has lured him here and he's having an open workshop where you come along and work with him on a pinhole camera. There'll be an ongoing, gradually growing exhibition of the results in his communal darkroom on Church Street, opposite the Dome, as well work he's planning on make across the Festival.
They/Onlar: The is at Fabrica [Gallery] and by Turkish artist İpek Duben. It's an installation of stories that are very particular to Turkey but highlight individuals who are somehow outside the norm in Turkish society. It's very beautiful, accentuated by the beauty of Fabrica. Large screens will hang showing images of people talking and when you stand in front of them you can hear just their story, isolated. You start to explore what it means to be "the other" in Turkish society. The stories themselves are incredibly powerful. When Kate talks about the Festival, what really resonates with me is her saying that it's in the particular, in the specific, that you find the universal. We know in our own country that similar challenges are facing people outside the mainstream or at the edges, increasingly so in our post-Brexit world.
Watch Kate Tempest on Brighton Festival 2017 theme Everydaty Epic
It might be really wonderful or very odd or a bit of both
Explore topics
Share this article