Under The Skin, Brighton Festival review - slow-burning sci-fi gem with live Mica Levi soundtrack |

reviews, news & interviews
Under The Skin, Brighton Festival review - slow-burning sci-fi gem with live Mica Levi soundtrack
Under The Skin, Brighton Festival review - slow-burning sci-fi gem with live Mica Levi soundtrack
Jonathan Glazer's abject alien tale becomes a performance piece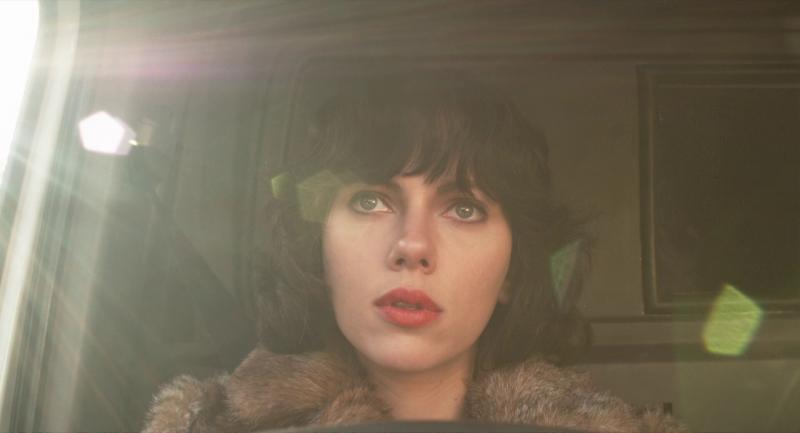 Scarlett Johannsson as an entirely different kind of Black Widow
There is a moment in Under The Skin when it's finally revealed what happens to the men Scarlett Johannsson's deadpan alien has been seducing and bringing back to her various crash pads. In the strange gloop-scape these unfortunate individuals find themselves in a loud, sense-stabbing cinematic shock is delivered, followed by minutes of the screen taken over by shots of slow, floating beauty. During this sequence the London Sinfonietta, conducted by Mica Levi, who wrote the film's score, comes into its own, giving the key moment a seismic physical punch.
Classically trained to a high level, Levi has always pushed at the musical envelope. Her band Micachu and the Shapes prided themselves on deconstructing pop music on oddball instruments, attempting to reinvent that which is now almost impossible to reinvent. She was, then, a perfect fit for Jonathan Glazer, a director who seems to only make feature films if he can imprint his own very particular vision upon them, untampered. Otherwise he's quite happy making a living in TV ads and music videos.
Levi's music relies on the queasiness of dissonant strings
Of Glazer's three films, one is the stately, not entirely successful 2004 experiment, Birth, starring Nicole Kidman and Lauren Bacall, but the other two are off-the-wall masterpieces that turn their chosen genres upside-down: Sexy Beast, a zingingly fresh take on the Brit gangster flick with Ray Winstone and Ben Kingsley, and this one, which thrusts science-fiction into grimy social realism, realising a jarring, dramatic reinvention.
Set in Glasgow, the great coup at the heart of Under The Skin is that one of the world's most feted and attractive women, Scarlett Johansson, plays the blankly observational alien creature at its heart. She does so with tremendous aplomb, capturing this being's otherness in one of her finest, most low key performances, walking incongruously through a banal Scottish urban and suburban everyday of shopping malls and grey streets, where Claire's Accessories and the like are clearly visible. It's a unique and different film, meditating on sex, masculinity, remoteness, beauty and much else, yet a very simple tale really. It has already been reviewed twice on theartsdesk so from hereon I shall focus on this particular showing.
Levi's music relies on the queasiness of dissonant strings and a plodding, dirge-like, muffled, wooden beat that radiates threat. The London Sinfonietta rise to the challenge, recreating the soundtrack's droning disquietude, sounding almost like experimental electronica although, while there are synthesizers on stage, it seems to be mostly organic. In truth, however, it's a film that doesn't necessarily benefit hugely from such a performance. And there are niggles with the logistics. The screen could have been bigger, certainly, and the central placement of Levi, with her brightly lit lectern of music directly beneath the action was distracting. While the whole event, with its human injection of (very occasional) group laughter and communal applause, was enjoyable, Levi's music is all mood, rather than the orchestrated, hummable suites of some film composers, thus this mesmerizing film, given its sense of isolation and slow cinema verité bleakness, would be equally – or, possibly, even more – potent at home on a decent flat-screen TV.
Overleaf: watch Under The Skin trailer
A unique and different film, meditating on sex, masculinity, remoteness, beauty and much else, yet a very simple tale really
rating
Explore topics
Share this article