10 Questions for Bruce Lindsay, biographer of Ivor Cutler |

reviews, news & interviews
10 Questions for Bruce Lindsay, biographer of Ivor Cutler
10 Questions for Bruce Lindsay, biographer of Ivor Cutler
How the teacher-poet became like a Zelig figure across so many swathes of UK culture
Tuesday, 13 December 2022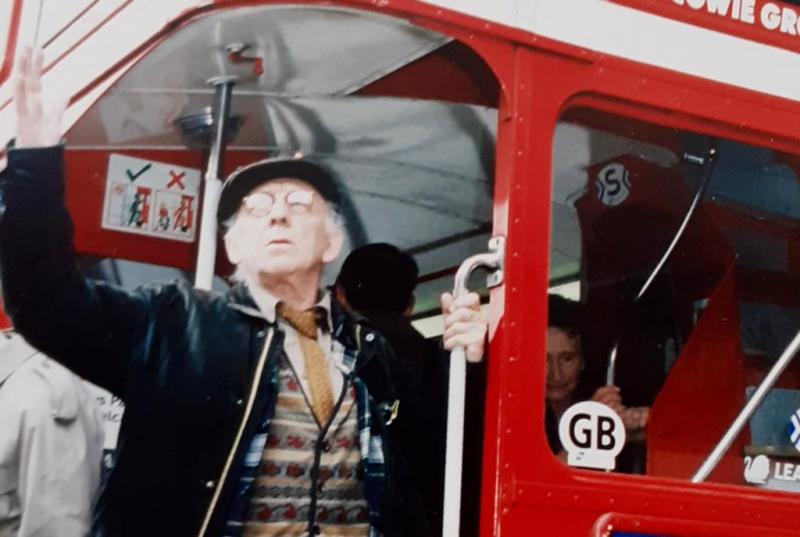 Ivor Cutler at the launch of Moving Poems in Covent Garden,1996
Ivor Cutler: A Life Outside the Sitting Room by Bruce Lindsay, is the first full-length biography of the Glasgow-born poet, author, performer and songwriter. The book will be published on the centenary of Cutler's birth, 15 January 2023.
Cutler performed on the opening night of BBC Two, recorded more John Peel sessions than any other act except The Fall, played Buster Bloodvessel in The Beatles' A Magical Mystery Tour and was, according to Peel, the first performer to appear on Radios 1, 2, 3 and 4. He released numerous albums and wrote over 30 books, including a collection of his best-known work, Life in a Scotch Sitting Room.
Music journalist and social historian Bruce Lindsay's previous books include Shellac and Swing: A Social History of the Gramophone in Britain (Fonthill Media), and Two Bold Singermen and the English Folk Revival: The Lives, Song Traditions and Legacies of Sam Larner and Harry Cox (Equinox). Sebastian Scotney spoke to him,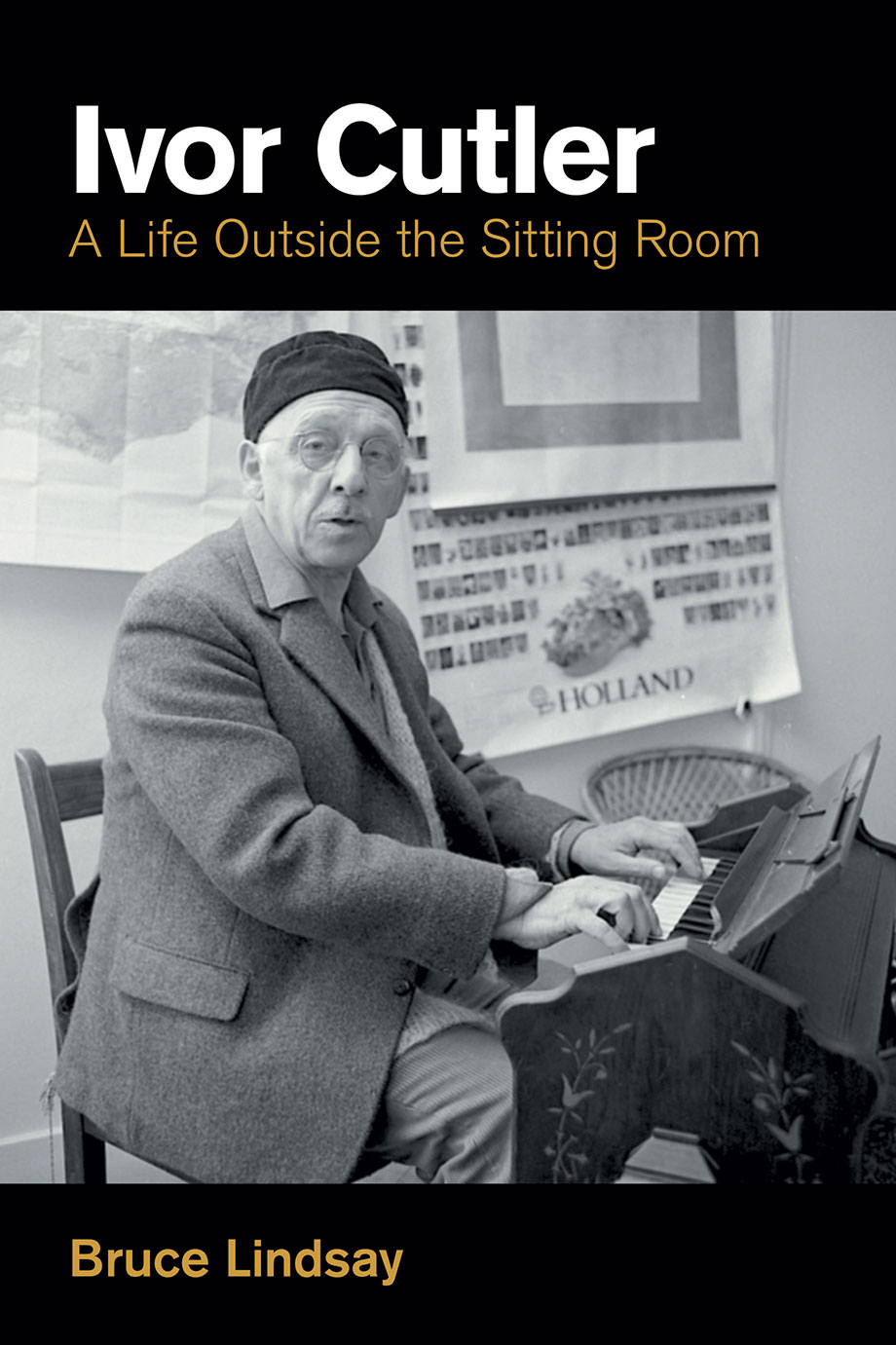 Ivor Cutler was one of those inherently humorous people. It must have been enjoyable to write a biography where you're in danger of bursting into laughter at any moment.
I quite like bursting into laughter midway through writing a crucial sentence. It helps you to refrain from getting too pretentious. Ivor has a knack of writing hilarious lines, sometimes obvious, sometimes ones that creep up and take you unawares, but he can also leave you scratching your head, feeling annoyed, wondering what on earth that poem/song/story was about, or, sometimes, close to tears. There are plenty of poems and songs like "Jam" and "Cockadoodledon't" that do have me bursting out laughing every time I hear them, even after 50 years.
What's the story of him being offered a part in the Beatles' film A Magical Mystery Tour?
Paul McCartney saw Ivor on TV, became something of a fan, phoned him up, had dinner with him and offered him a part. Ivor agreed to join in on condition that his character would be called Buster Bloodvessel: in the early stages of writing the screenplay, McCartney simply had an idea for a character called "small man". Ivor described A Magical Mystery Tour as "a sort of curate's egg" but he seems to have enjoyed the film-making experience. It wasn't his first movie: he appeared in a low-budget film called It's All Over Town with a host of early-60s pop stars including Frankie Vaughan, Acker Bilk, Dusty Springfield and The Hollies, playing a drunk Salvationist. It's a non-speaking role.
There seem to be a younger generation of fans – KT Tunstall, Alex Kapranos of Franz Ferdinand, jazz musician James Allsopp – what do they see in Ivor Cutler?
I think he appeals to their love of the outsider, the way in which he was on the edge of so many arts without immersing himself totally in any single one. He covers such a wide range of things – performance, songwriting, poetry, children's fiction, adult fiction – that he offers something to everyone. He's there or thereabouts at crucial moments without being totally part of them, a bit Zelig-like. Younger fans also refer to his "eccentricity" but I'm never sure how much of an eccentric he was. It's an over-used term and not one he was comfortable with.
I understand that Ivor Cutler's partner, Phyllis King, was one of your contributors. How big a role did she have in his career?
Phyllis was very helpful in the preparation of the book. She met Ivor in Ibiza in 1971 and they were together, on and off, until his death in 2006. She had a vital role in his life and his creativity, I think. Practically, she would sometimes drive him, and his harmonium, to gigs. Creatively, they performed together on stage and on radio, she appears on three albums with him, reading her own work, and she designed a couple of album covers. She appears with Ivor on a TV documentary Dave Allen: in search of the Great English Eccentric, which features them walking and drawing in London Zoo.
I understand Ivor Cutler is something of a hero in the world of prog rock. How did he infiltrate that?
"Infiltrate" makes it sound like a deliberate act, but I'm not sure it was. I think the prog connection arose from his early appearances on John Peel's radio shows. He began to get booked on the college circuit from around 1970, supporting Soft Machine, Curved Air, Camel and Van Morrison among others. He famously appears on Robert Wyatt's "Rock Bottom" and Neil Ardley's "A Symphony of Amaranths". Robert is a great admirer of Ivor to this day. At Christmas 1970 Peel broadcast a carol concert featuring some of his favourite acts as "The Top Gear Carol Singers": Ivor's part of the choir, singing along with Robert Wyatt, Sonja Kristina from Curved Air, Marc Bolan, all of the Faces including Rod Stewart. He looks like someone's dad who's wandered into the studio by accident.
IC had a long career as a working teacher alongside the writing and the performing. Did you meet some pupils or colleagues?
I didn't manage to find any of his fellow teachers, but I did speak with the daughter of one of his colleagues from the school in Paisley where he taught in the early 1950s and to Zoë Readhead, headteacher at Summerhill, the progressive school in Suffolk where he worked for two years. She is the daughter of the founder, AS Neill, and remembers seeing Ivor around the school when she was a young girl. I had more luck with ex-pupils from his time as a primary teacher in London, managing to interview quite a few, including Xavier Russell, the son of director Ken Russell, and Kate Williams, the jazz pianist. All of the ex-pupils spoke very warmly about "Mr Cutler" and his impact on their lives, although his son Dan did tell me that not all of the parents approved of Mr Cutler's teaching methods. Some of his songs, like "Mud", first saw the light of day in his drama and music classes.
Do poets generally respect him or is he an outsider?
Ivor was not impressed by British poets, but the poets I spoke with – Lemn Sissay, Roger McGough, John Hegley and others – all spoke warmly about him. He wrote regularly for Ambit and many other poetry magazines. Lemn Sissay described him as "an important, rebellious, spirit in the world of poetry" which I think does a great job of capturing Ivor the poet.
There are hundreds of mentions of the BBC. Was his work on television and radio consistent or did it come and go?
Ivor first appeared on BBC TV in the late 1950s and made his final appearance, on BBC Four, in 2004. There were times when he was absent from the airwaves for a year or two at a time, but he made dozens of appearances on radio or TV. He played Lord Reith on the opening night of BBC Two, interviewed himself on a Scottish TV show, wrote and performed plays for Radio 3, appeared on Late Night Line-Up numerous times and wrote and played the soundtrack music for Ken Russell's BBC film of Diary of a Nobody. He was also a regular on TV's Acker Bilk Band Show. The day after the BBC broadcast the first episode of Jackanory he wrote offering his services to the show, the BBC turned his offer down. A few years later, when the BBC asked him to appear on the programme he turned the offer down because the fee was too low.
Do you have a favourite clip (or clips) which people who don't know Ivor should go and watch?
The episode of STV's Don't Look Down in which Ivor interviews himself is a favourite. It was recorded in 1998. Any clip of Ivor reading stories from Life in a Scotch Sitting Room is worth hearing. The BBC's film of his final live gig, Cutler's Last Stand, is worth viewing although it's not Ivor at the top of his game by any means.
And a favourite album?
Can I have two? I'm particularly fond of Ludo and Velvet Donkey. Ludo, from 1967, is by the Ivor Cutler Trio, featuring Gill Lyons on bass and Trevor Tomkins on drums, and was produced by George Martin (although Ivor was reluctant to give Martin any real say in how it sounded). It's full of funny, singalong, songs like "Mud" and "Cockadoodledon't" and has McCartney's favourite Ivor Cutler song, "I'm Going in a Field", which may be about death. Velvet Donkey is a mix of songs, poems and stories which range from the bizarre to the beautiful. Phyllis King wrote and performed some of the tracks, including "Uneventful Day' which is a favourite poem of mine, and Fred Frith played viola on some tracks too. Ivor reads two of his funniest Life in a Scotch Sitting Room tales and sings "Yellow Fly," one of my favourite songs. There's a useful chart on the back cover as well.
Ivor Cutler: A Life Outside the Sitting-Room by Bruce Lindsay will be published by Equinox Books on 15 January 2023, the centenary of Cutler's birth
Lemn Sissay described him as 'an important, rebellious, spirit in the world of poetry' which I think does a great job of capturing Ivor the poet
Explore topics
Share this article