Book extract: Nativity by Jean Frémon, with drawings by Louise Bourgeois |

reviews, news & interviews
Book extract: Nativity by Jean Frémon, with drawings by Louise Bourgeois
Book extract: Nativity by Jean Frémon, with drawings by Louise Bourgeois
Reckoning with the question of how to represent Christ
How should one paint the baby Jesus? This deceptively innocent question runs the length of Jean Frémon's Nativity, a fictional work that takes as its subject the first painter to represent the saviour of humankind without his swaddling clothes. The book is a miniature portrait in itself, running for fewer than 50 pages and punctuated by a series of evocative drawings by the artist Louise Bourgeois.
With the bells of Christmas ringing faintly in the distance, Nativity
offers a stylish, expressive new study into artistic representations of Christianity's founding story.
Incarnated divinity – easy for you to say, thought the painter. It is always easy for those who manipulate words; no matter what they say, they will always find a way to claim that they didn't say it or that it was just a figure of speech… for the speaker, writer, preacher or rhetorician, to say that something is a figure of speech is to say: I said this to mean that; there's the letter and then there's the spirit. As a painter, I have to choose to show or not to show. My images cannot say anything other than what they are. What you see is what you see. I have to give body to letter and spirit both. And, sure, I can use symbols – the red carnation, the goldfinch, etc. – but only according to a restrictive code that I must obey.
But in the long run, it simply comes down to painting a baby. The ass, the ox, the shepherds, the wise men, they're all no problem. The trick is the baby. The mystery is not that he's God – no one disputes that – it's that this god is a man. That's what I have to show; that's what the canon expects of me. And since the Word was made flesh in order to correct those who search for God in mere appearances, I have to paint this newly formed flesh in all of its attributes.
Complete in all his parts, the canon had said; remember Augustine's words, complete in all his parts… He elaborated: the joy of the incarnation. Just as a bird sings its joy at being in the world, our child must swell with joy. And don't think that it will be enough to simply repeat the same old story. You must search within yourself. With the eyes of the soul. The light within you; that's where you must look. In beauty! In sentiment! Not too much sentiment! In mystery! In simplicity! In audacity! In fervour! Be inspired, breathe in the pure air; each morning is a new world. Pray to receive inspiration. God isn't stingy with his guiding lights.
I'm going to show him smiling, said the painter to himself, that'll be new! Aristotle said that no newborn smiles before forty-one days, which is to say, not before mother and child are beyond the danger of post-partum fever. Pliny claimed that the only child ever known to have smiled at birth was Zoroaster. Jesus is as good as Zoroaster, thought the painter. A smile, yes, that's the way to go; my baby Jesus will be a prodigy; he'll be born smiling at the world. A precocious smile will only underscore the supernatural origin of the child. He picked up a sketchbook and quickly drew a baby's face. With additional short strokes, he rounded out the cheeks, separated the lips, slightly raised the corners of the mouth and lit up the eyes with a point of silvery white. God was delighted to be a man. It was only a sketch, but he visualized the painting that he could make from it. From this smile came light. The heavens were delighted too.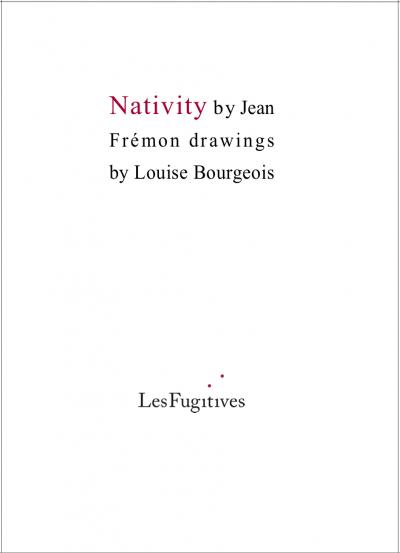 The joy of incarnation – that is the Good News. Fine, he thought, that much is settled. But, as far as I know, the baby Jesus has always been painted with two arms, two legs, a nose and two ears. Complete in all his parts; it seemed that the holy man had wanted to say something else – could he have been hinting that I should also give the baby boy a little penis and two little balls? He couldn't quite put it into words, but he did say complete in all his parts – work it out from there, you image-maker.
Christ and sex – right off, the two words seem mutually exclusive. The word sin separates them and keeps them forever at a distance. The former is exempt from it, and the latter is immersed in it. And for precisely that reason, bringing them together in an image would be the strongest and surest way to create surprise and strike the senses.
Excerpt from Nativity by Jean Frémon, translated by Cole Swensen with drawings by Louise Bourgeois (Les Fugitives, £8.50), published on 16 November