Bronwyn Adcock: Currowan review - a fire foretold, a warning delivered |

reviews, news & interviews
Bronwyn Adcock: Currowan review - a fire foretold, a warning delivered
Bronwyn Adcock: Currowan review - a fire foretold, a warning delivered
Stories of surviving Australia's worst bushfire
Tuesday, 27 September 2022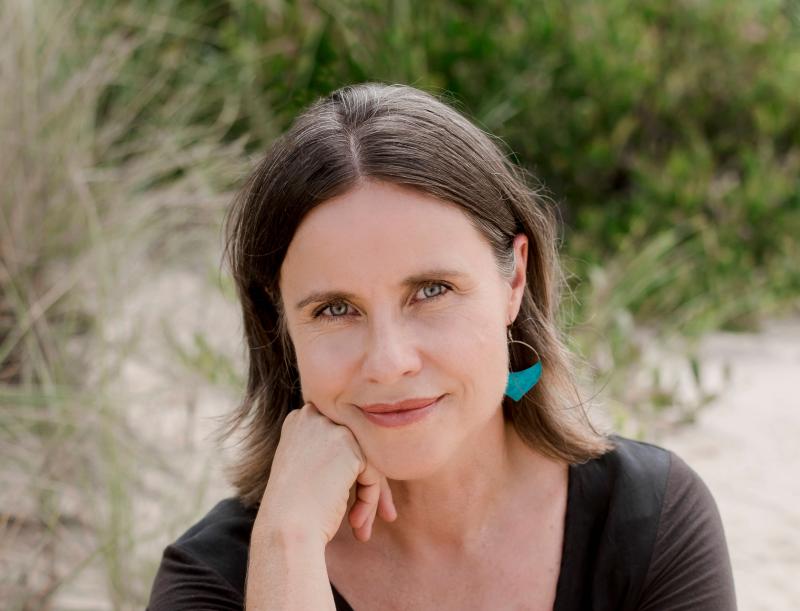 In her non-fiction debut, award-winning New South Wales journalist Bronwyn Adcock chronicles one of Australia's worst fires
In 2019 Australia endured the hottest, driest year since records began and their bushfire season escalated with unprecedented intensity. The fires and pyro-connective storms that swept the country claimed 33 lives (and a further 400 from smoke inhalation); devastated 186,000 km of land; destroyed 3,500 homes; displaced 65,000 Australians; and killed or displaced near on three billion animals.
When most of the world entered lockdown in March 2020, barely a month had passed since the final flames of the Black Summer were extinguished: I remember thinking, if we think we've got it bad, what about Australia?
In her non-fiction debut, Currowan: The Story of a Fire, award-winning New South Wales journalist Bronwyn Adcock chronicles one of the most insidious of those fires when it ravaged 5,000 km square of her coastal community in Bawley Point. And what a story it is: Currowan is written with the pace and suspense of the grittiest of thrillers, leaving us to question whether the villain is indeed the fire itself, or the politicians with their "vested interests in the fossil fuel industry", who chillingly ignored the scientists who predicted the catastrophe.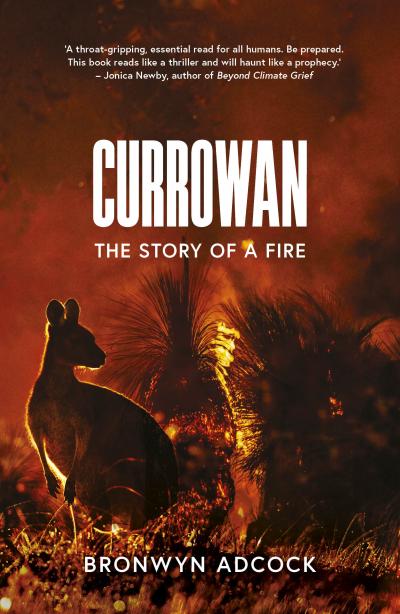 The Currowan fire burned for 74 days. Adcock comments on her mental state during this time: "I'm living so deeply in this relentless never-ending fire story that it's like a pane of glass is separating me from anyone not trapped by it too." When not helping to keep her family, house, and community safe, being "wildly confused" by the surreality of watching her kids play while fire warnings ping through on WhatsApp, or fearing for the worst when her asthmatic, volunteer fire-fighter husband is caught in the fire surrounding their property ("I can hardly hear for the roar in the background and the heave in his voice, but I hear him say he needs help."), she is writing an essay for The Monthly – the piece from which Currowan is eventually born. She interviews numerous survivors including members of her local Rural Fire Service (RFS), explaining the aim of the project to one of her prospective interviewees: "I'm trying to paint a picture of what the fires were like for those who experienced them firsthand."
The picture she paints is unsentimental and every bit as haunting as the footage in Eva Orner's documentary, Burning (2021). But it's the timing and tone of Adcock's polyphonic narrative that makes for the more resonant piece: a gradual piecing together of perspectives, balanced between suspense and compassion. Blue-skied days turn red with fire and then black with soot. Trees and kangaroos explode. Properties burn, a row of houses topples "like dominoes". Smoke chokes and disorientates those trying to escape, and "little bare feet are scorching on the ground".
Adcock stays close to the real-life words and feelings of the survivors, nuancing portraits with their conversational tone: "It's stinking hot with barely a puff of wind". ("Are you fucking kidding me?" she says to her husband when he tells her he's off to fight the fire.) She captures the fear and desperation of people trying to cling on to their homes until it is nearly too late, having to leave pets and possessions to burn, as well as the anguish of those who have lost their homes: "I don't want to breathe, I want my home," Pamela Parr confesses, learning that her 40-year old home has been burned to its foundations. Correspondingly, there are moments of lyricism where heightened language stirs feelings of grief and horror at what has been lost. Justine emerges from driving through kilometres of smoke "into a surreal moonscape of blackened tree stumps and white ash". Experiencing the devastation just as acutely as the human survivors, the cicadas are heard "screaming" within the "desolate landscape", "so loud as to be painful".
The Currowan fire is variously remembered as "a big red fire dragon", "the beast", the "enemy" and "an ocean" with "great big monsters rolling down on us, right up to the top of trees". These are the images that witnesses find it hard to erase from their minds. A captain of the RFS recalls sitting in his truck: "he can hear the wind howling and the tink tink tink of embers against the vehicle, like hail on a tin roof. Outside everything is red. There is no smoke, just intense burning, as though they're 'sitting in hell'."
While painting this picture of terror and loss, Adcock exposes the political decisions (or lack thereof) that left Australians so "outgunned" and alone during the fire, and which seem tantamount to gross negligence. In the first chapter we're told that warnings "have been coming in for more than a decade": "By 2008, a report commissioned for the Australian government put a date on it: 'Fire seasons will start earlier… and generally be more intense… directly observable by 2020.'" She contrasts this political inactivity with the remarkable acts of resilience and human endeavour shown by the affected communities, like the brothers who invent "cubes" for utes (pick-up trucks) to aid water transportation.
In the apocalyptic aftermath, Adcock pours over line-maps of the fire, tracing the individual fires back to the thunderbolt point of "ignition"; she sifts through supposed "inquiries" and questions the reliance on back-burning. Adcock skilfully weaves her story and the stories of other survivors into an interrogation of climate politics in her quest to understand this tragedy, in a manner reminiscent of Richard Lloyd Parry's excellent Ghosts of the Tsunami (which also began life as an essay).
The UK publication of Currowan could not be timelier after our own long hot summer when temperatures exceeded 40 degrees and land was so parched that fires broke out all over the country. The London fire service saw its busiest day since the Second World War. In the face of soaring temperatures, impending climate disaster and political indifference or inaction, Adcock's work is a stunning warning to the world.
In the face of impending climate disaster, Adcock's work is stunning warning to the world
rating
Share this article