Extract: My Pen is the Wing of a Bird, New Fiction by Afghan Women |

reviews, news & interviews
Extract: My Pen is the Wing of a Bird, New Fiction by Afghan Women
Extract: My Pen is the Wing of a Bird, New Fiction by Afghan Women
Centring the experiences of Afghan women and girls
Lucy Hannah, founder of UNTOLD, which works to amplify the voices of writers marginalised by community or conflict
"My pen is the wing of a bird; it will tell you those thoughts we are not allowed to think, those dreams we are not allowed to dream." Batool Haidari's words give this bold collection of stories its title and epigraph. She is one of 18 writers from the Write Afghanistan project, run by the organisation UNTOLD which works to promote the work of writers in communities marginalised by conflict.
This book is the culmination of that two-year project: the first anthology of short stories by Afghan women, written in the languages Dari and Pashton, and translated by Afghan translators.
The following extract is the story "The Most Beautiful Lips in the World" by Elahe Hosseini, translated from the Dari by Dr Negeen Kargar.
*
A lady in white is watching you from far away. You stand and return her gaze – how much she resembles your mother! You walk through the carnage, the piles of fallen cement and pieces of metal. She is gone. Among the human flesh and blood, you see a wrist adorned with golden bracelets lying on the floor. The arm, severed at the elbow, full of blood, is shining from afar because of the bracelets.
You step on the velvet dress, stained with blood, pieces of flesh stuck to it. You step on the broken materials of the wedding hall as you look for your pot of espand. You cannot find it. You look everywhere for your espand, even in the dust and smoke of the explosion. You cough constantly. When you pass by where the bride and groom were standing, you step on flowers, which were neatly arranged just a short while ago. Now they lie in tatters under broken chairs and tables. You step on the colourful decorations that were hanging from the ceiling; now they lie, like the velvet dress, covered with flesh and blood, on the dusty floor.
Every dead person lying there was dressed up for the party – shiny, glittery dresses. You see a little girl with golden hair. She is lying like a doll, staring at a cloud through the hole in the ceiling above her. You want to kick her and make her angry. You hear the kids laughing at you, bullying you, telling you, "Muska has split lips," and you shout at them, "What is your problem? What do you want from me?" You see a little girl standing tall among them, telling you, "We can't understand you because of your lips. Why are they torn?"
You feel happy; you don't feel resentful; you don't bite your lips. You stand on a black loudspeaker and, one by one, pull the white tablecloths, stained red with blood, from the tables. You fly over them all. Then you go to the middle of the wedding hall and you spin, faster and faster, your skirt and the velvet flowers of your dress opening up. You spin and laugh and laugh. Again, you see the lady in white. You are happy to see your mother. But – is she angry at you? She looks outraged. Why is she not coming over to you? You want to go and hold her in your arms, to hug her tightly and be close to her, but she disappears again. To where does she disappear?
She stood on her right leg and spun the pot to raise the smoke from it. She took some coal and espand from the dirty bag on her shoulder and put it in the pot to make more smoke. She could remember her father's words with the burning of every rue seed. She said to herself, These are infidels. Their place is at the deepest part of hell. They have to die to rid the world of cruelty and depravity.
Her father's voice was getting louder and louder in the smoke of the rue. As he was tightening the vest on her body, he held her shivering little hands in his. He smiled at her and said, "My child, why you are worried? Your mother is waiting for you. I read this prayer to you – you will see your mother. You will go to paradise and meet her."
His words were running through her mind, and her blood was pumping faster and faster through her veins. She took off her shoes on the beautiful tiles of the wedding hall.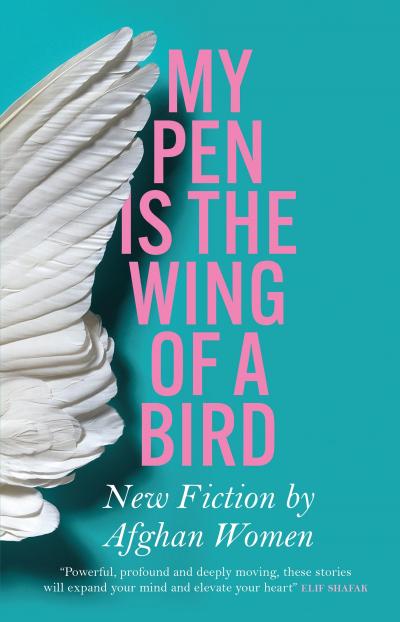 A lady was shouting from the middle of the hall, "Hey, where are you going?" Her voice vanished in the music and the noise of the wedding party. Muska took a white scarf, embroidered in red and black thread with an image of lips, and kissed it. It had a sentence written on it: The most beautiful lips in the world.
Her father was saying, "When you were little, your mother sewed this for you. She embroidered the image of your lips on it with her hands. This is your only keepsake from her."
She smelled the handkerchief and stared at the bride and groom as they danced.
Little girls and boys came close to her and taunted her: "Muska, the espand-burning girl, why are you limping?"
Everyone laughed and danced on to the music.
They danced around her. The little girl with the velvet dress and golden hair took Muska's hand, looked at her lips, and said, "You are wearing a beautiful dress! Is that from your mother?"
Muska wanted to spin her espand pot into the face of the little girl, but her hands were shaking. Someone told her to look at her trousers: "So baggy! It looks like you're wearing a dead person's skin." Someone called her Labshakari! Labshakari!
The little girl with golden hair opened her eyes wide as if in joy at having found another thing to say. "Smell her – she smells fresh. She has finally taken a shower. Today she smells good. She is clean." The girls came close and started sniffing her and laughing aloud.
One of them came up and hit her, before running away into the middle of the party. Muska's neck was moving strangely. She felt a burning sensation on her tongue, then spat a mouthful of saliva streaked with blood onto the white tiles of the wedding hall.
A lady with curly hair that covered half of her face walked carefully towards her in her high heels, then shouted to secu- rity, "Who let in this espand girl?" She repeated the question several times. Then, with sudden shock, she saw the white handkerchief wet with blood on the floor. She shouted, "Blood! Blood! May Allah curse you. Seeing blood on a wedding day brings bad luck." She ran after Muska to catch her, but . . .
*
Muska cleaned her mouth with her white handkerchief, closed her black eyes and found herself in her mother's arms. With a shout of Allahu Akbar! she threw herself towards where the bride and groom were standing. After the explosion, her hands and feet flew up into the air and returned to the floor of the wedding hall one by one, as pieces of flesh and blood.
Women ran madly; the blast caught them by surprise. They were used to suicide bombers, but not at a wedding. Tables and chairs were blown across the hall, as other guests stood still in terror.
The blast spared neither the women who sought refuge in the corners of the hall, nor those who hid under tables. It sent them from ground to air, air to ground, in a matter of seconds.
The ceiling collapsed into thick smoke.
You turn your head around the hall, from the entrance to the far end. You cannot see your mother among the wreckage – just broken chairs and tables lying on the corpses. The girls clap for you, and you dance again.
"We found your pot of rue!" says the little girl with the golden hair.
You get down from the table and join their circle. The women and girls you had seen lying on the ground, half-naked in colourful clothes ripped and stuck with flesh, drowning in blood, are now passing by you. The girls are following the crowd. The girl with the golden hair shouts, "Let's go."
You say to yourself, My mother! I have to find her! She was here.
They walk away and wave to you. You see your mother. She is standing just a few metres away. She does not laugh, does not smile at you. She does not talk. She just looks at you with disbelief, and her face glistens from a distance. Maybe it is wet with tears.
This story is a work of fiction, but draws on the real events of 18 August 2019, when a suicide bombing took place at the Dubai City wedding hall in Kabul.