Francine Toon: Pine review – trauma and terror in the Highlands |

reviews, news & interviews
Francine Toon: Pine review – trauma and terror in the Highlands
Francine Toon: Pine review – trauma and terror in the Highlands
A skilful renewal of Scottish Gothic fiction
Northern chills: Francine Toon
Supernatural and Gothic stories have always haunted the misty borderlands between high and popular culture. The finest manage to hover between page-turning genre tales and what counts as respectable or "literary" fiction. This place in a perpetual limbo can offer the authors of yarns about borderline beings and in-between states an exhilarating kind of freedom.
Their readers will know and recognise the usual weird or uncanny signposts, but writers can then point them towards almost any destination, thematic or emotional, that they desire.
In Britain, the most recent wave of neo-Gothic writing has tended to flourish around the scruffy, neglected edgelands of these isles: in the superstition-ridden rural northern England evoked by Jenn Ashworth or Andrew Michael Hurley, for example. Scotland, of course, has its own deep vein of eldritch story-telling that, in its literary guise, stretches from pioneers such as James Hogg and RL Stevenson to Naomi Mitchison and beyond. Pine, Francine Toon's cleverly titled debut novel, nods gently but not obtrusively towards this supernatural hinterland while telling a contemporary tale of trauma and bereavement that drifts at its darkest corners into paranormal terror. MR James thought that the classic ghost story needed some "loophole of a natural explanation", and I'm not sure Toon makes hers quite wide enough to satisfy the most doggedly sceptical of readers. Still, we leave Pine in no doubt that "the horror and the cruelty" of this plot stems mostly from the wholly human anguish and loss that she brings skilfully, and movingly, to light.
We view the action largely from the perspective of Lauren, a ten-year-old girl who lives with her single father Niall on the edge of a remote forest in the Scottish Highlands. Christine, her mother, vanished during Lauren's infancy. Niall, a solitary handyman and fixer-upper who can't mend his own shattered spirit, drinks, broods, plays guitar in ceilidh bands, and attacks his work and life with a veiled rage that makes his daughter notice "the tiny margin of difference between anger and irony". Sometimes, the semi-feral Niall can feel "as though he was turning into a werewolf". The absence of Christine – a fey-sounding New Age healer whose outsider status means that the word "witch", in jest or not, clings to her memory – clouds their lives like the haar that cloaks the woods. The story begins, though, at Halloween, with the local kids' jokey vampire lipstick, spooky costumes, and even impromptu renditions of Meat Loaf's "Bat Out of Hell". Toon borrows a time-honoured Gothic ploy – begin with larks and mockery, then make the comic horror come true.
The authentic shock here takes the shape of a pallid young woman in a white dressing-gown who looms into Niall's headlamps, an apparition "whose face looks so young but whose expression is old". She pays father and daughter more than one visit; both see her, as does an eccentric neighbour, as she surfaces "like a nocturnal animal that has come out of its den". But the adults refuse to talk about this forlorn, suffering figure. Lauren, meanwhile, goes about the business of any schoolgirl in a far-flung and gossip-ridden spot. Toon builds up a plausible picture of self-sufficient, multi-tasking but rumour-prone Highland life. Suspicions buzz around Christine's disappearance, Niall's role in the mystery and Lauren's supposed oddity; she's the kind of vulnerable scapegoat who "hears about birthday parties the day after they happen".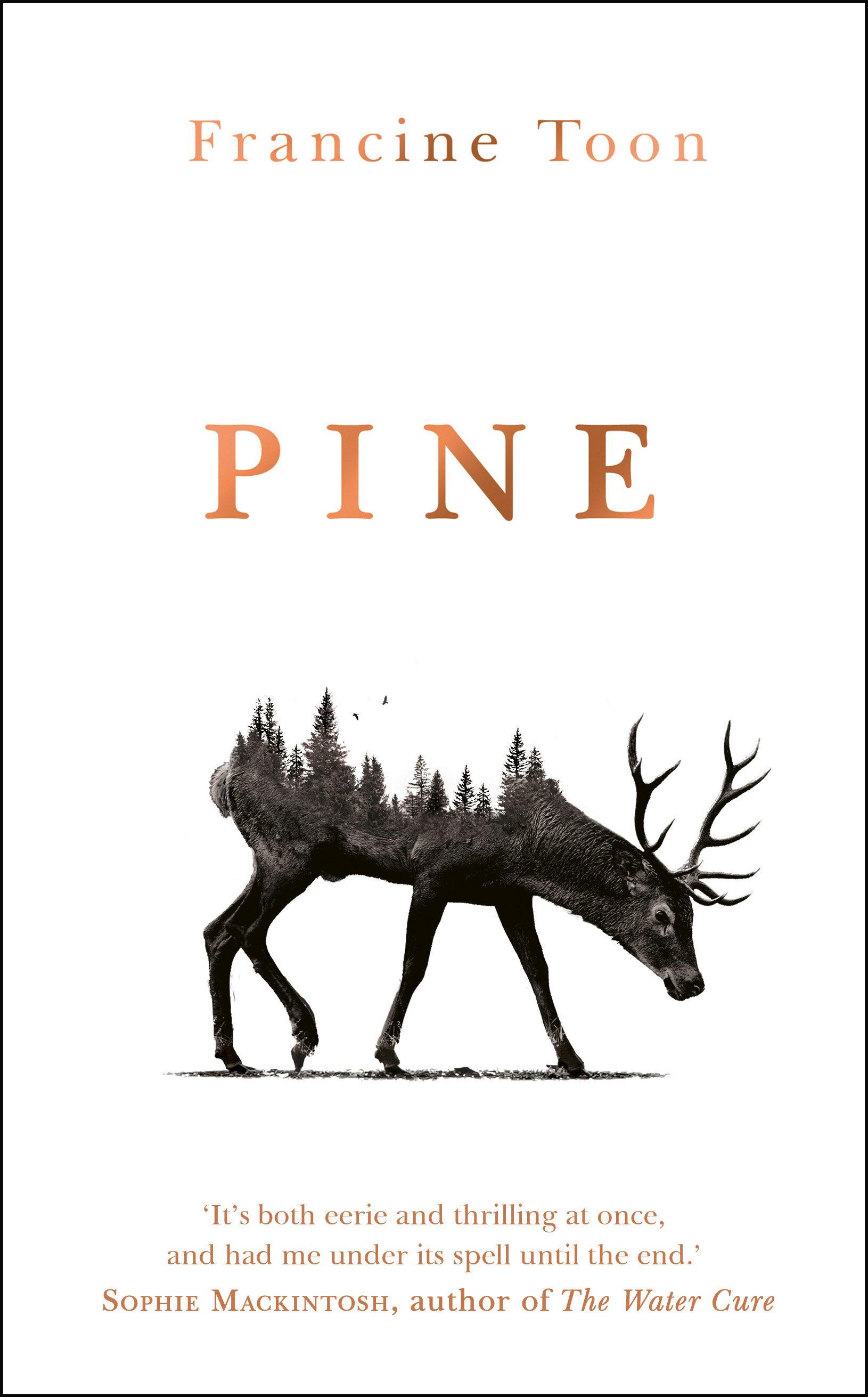 Near the forest that represents the "wild inverse" to man-made space, father and daughter dwell in, and on, their shared loneliness. Lauren tries to learn more about the lost Christine. Toon doesn't overdo the supernatural folklore of the region and its eerie creatures – seal-shaped selkies, horse-like kelpies and so forth – but it lurks consistently in the background. Lauren's fascination with Tarot readings and the magic of the traditional Scottish "spaewife" (fortune-teller) strike more emphatic occult notes. Toon spends more time, though, on the physical and emotional landscape of this little household swathed in unnameable sorrow. Most of the bloodshed – such as the woodland rabbits trapped by Niall and then skinned "like stripping thick wallpaper" – takes strictly material forms.
Only around two-thirds of the way into Pine – a little too late, arguably – does the plot really thicken and the chills deepen. Sinister burning circles appear around a neighbour's house. A tumbledown shack in the forest (a rather too movie-familiar device, perhaps) emerges as the focus of Lauren's dread. Ann-Marie, a troubled older friend of Lauren's, goes missing, while Niall's alcoholic hazes slip into blackouts during which anything might happen. Boundaries blur, darkness gathers, and Lauren "does not know what is real any more".
Although nifty paced, the denouement brings a touch of (perhaps inevitable) anticlimax in its wake. The bulk of the haunting in Pine, however, takes place in the over-burdened minds of father and daughter. Our journey into the "locked and secret" rooms of memory and remorse feels scary enough, whatever stance you adopt towards the novel's occasional deployment of a seemingly supernatural machinery. Toon's Highland settings reliably cast a misty, eerie spell that intensifies the "quiet hum of sadness" left behind by the absent (or is she?) Christine. Above all, this shadowed landscape of mourning on the brink of terror reminded me of CS Lewis's great insight (from A Grief Observed): "No one ever told me that grief felt so like fear."
Pine by Francine Toon (Doubleday, £12.99)