Noreen Masud: A Flat Place - reflective landscapes |

reviews, news & interviews
Noreen Masud: A Flat Place - reflective landscapes
Noreen Masud: A Flat Place - reflective landscapes
Reimagining the feeling of flatness, Masud walks us through her pursuit of a past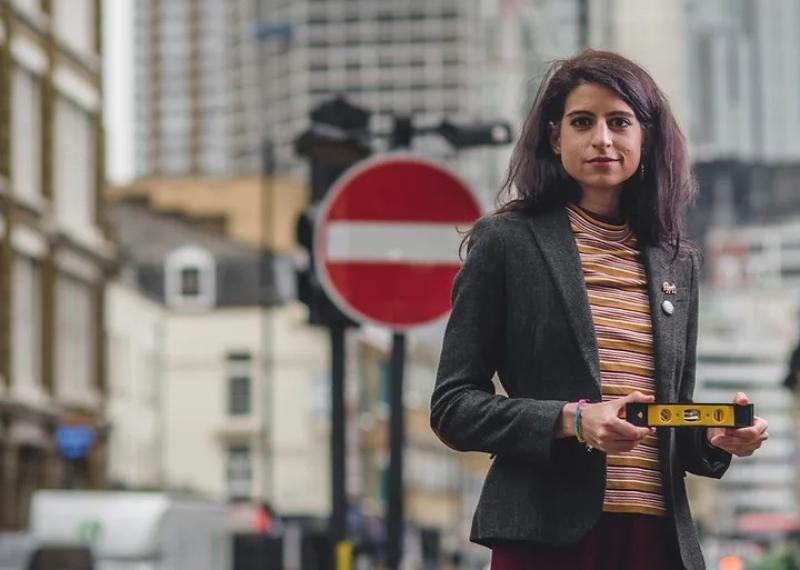 'A brave style of refusal that somehow still manages to convey a ringing affirmation'
On the front cover of Noreen Masud's startling memoir, A Flat Place, a green square of sky is scored across by a notched brown line. It represents the horizon of one of the flat landscapes through which the author travels.
Masud is, amongst other things, a theorist of the aphorism, and it is thus striking that the horizons on which she sets her sights throughout the chapters of this book are etymologically linked to this short-form wisdom: the Greek "apo", which means "away from", combines with "horizein", meaning "to bound".
Though Masud never explicitly draws on this connection of wisdom-literature to the figure of the horizon, it represents a good way of thinking about the readings she gathers from the landscapes through which she walks. An aphorism might be defined as the shortest line to revelation. For Masud, such truths might similarly be read in the "one stark lovely line" of the horizon, and the landscapes that they delimit. Like the small form of the aphorism, which can nevertheless accommodate large truths, the horizon is both limiting and expansive. It is also a myth we tell ourselves in order to keep going.
As Masud travels through each of her six flat places – the green fields from a childhood spent in Lahore, for instance, or the eerily post-apocalyptic Orford Ness, with its hulking military buildings in rusting disuse – she dwells upon the stories that we tell ourselves of our past, and what happens when those stories deteriorate into a derealizing blankness. Masud has complex post-traumatic stress disorder, meaning the story of her early life refuses to comply with any of the narrative linearity retelling might afford. Some of the most moving points of the memoir emerge from the author's search for a story that, like a flat landscape, refutes or refuses structure. Something of this is evident from the first walk she describes, in which she traces the landscape of the fens from Ely to Wenley. This flat land, "drained, inscrutable, rigid, balanced between the real and the mythical", sustains "miles and miles of horizon" which tells her "with every step, that it was all right to be damaged, hurting, solitary."
Masud uses the reflective landscape to map her own feelings of flatness. Her journeys are less ones of self-discovery and more exercises in self-placement. The concern – a search for space that can accommodate the self – extends from a feeling of being pressed up against bodies not her own and the claustrophobia of a childhood in which she had to search continually for breathing-room.
Masud and her three sisters were born to a Pakistani father and a British mother, with whom they lived in Pakistan, isolated behind chicken wire. This persisted until she and two of her three sisters were disowned by her father. Masud was 15 when, in consequence, she moved to her maternal grandmother's house in Scotland. The cause of their father's anger towards his daughters is met with a deliberate, powerful opacity. Masud writes that '[s]ome stories make less sense the more you remember', but she is also firm about the fact that this story does not belong to her or to the book that she's writing. It features more as an absence in the story, a "hole which is not the point but which looks like the point":"a focal point that organizes you nowhere, towards nothing". This story, then, has a flatness all of its own.
When she asks her youngest sister, referred to pseudonymously as Forget-Me-Not, what her epileptic seizures feel like, the latter describes them as "[l]ike the world is a circle without a centre". The circle around the absent story is a narrative seizure, but one that brings Masud back to a world of her own. "What would it look like, to bring people into your world?" she's asked by her therapist. She answers this by writing about a flatness that, if really looked at, can tremble with "a thousand tiny vibrations", or where the "smooth ribbons" of low-lying rivers appear "'as though a huge animal had stooped its head and licked a long stripe over the bay"'. The language of the memoir is a landscape: like a flat place, it creates its own beauty that refuses to be overlooked.
In all this, Masud's voice is decidedly aphoristic at points. She learns that "[r]eality meant living continuously up against a basic truth: the world would hide nothing from you, even if you were eight years old […] The world was a flat plain with nowhere to hide". Such sayings initiate a radical sense of exposure. There is an idea that Masud is travelling to places where you cannot look away from the expanse, which simultaneously instigates a laying bare of the self. This refusal to look away is a pervasive theme. Her eyes fix on the horizon or fixate on the bones of a dead thing in search of perspective.
This is partially a story of Masud's formative childhood, in which her resistance to (or even need for) memory might be lost in the expanse of a flat place. It is also, however, a story about refusing to turn one's back on something. The writing offers us an unflinching gaze which is frequently fixed in horror on racism in Britain and its horrendous repercussions, including those for the country of Masud's birth. The memoir is a story of herself, but it also memorialises the lost narratives that she finds embedded in the landscapes she explores. These "contain the stretched pain of people of colour", such as the twenty-one trafficked people from China who drowned in Morecambe Bay whilst picking cockles; or the "human zoo'" that once existed on Newcastle Moor. Britain lives in a state of "terrible denial", she shows, participating in a form of narrative erasure when it comes to the stories of people of colour as a way of protecting itself from the truth of its ongoing and dangerous oppressiveness. Masud's anger at this courses through the book and electrifies it. The stories that we tell ourselves can either be dangerous myths or make vital ethical demands.
There are things that are withheld, still, at the end of the memoir, creating something like a longing for narrative closure – but this is precisely Masud's point. It is a story of the feeling you get when the stories we tell ourselves refuse to disclose an essential or epiphanic message. It's a brave style of refusal that somehow still manages to convey a ringing affirmation.