Stanislav Aseyev: In Isolation - Dispatches from Occupied Donbas review - journeys through space and time in Ukraine |

reviews, news & interviews
Stanislav Aseyev: In Isolation - Dispatches from Occupied Donbas review - journeys through space and time in Ukraine
Stanislav Aseyev: In Isolation - Dispatches from Occupied Donbas review - journeys through space and time in Ukraine
How the separatist republic became lost in its nostalgia for a largely imaginary past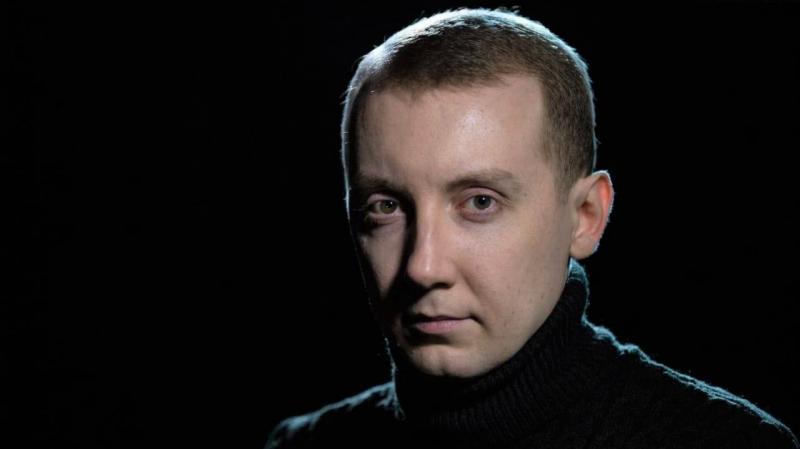 Aseyev: 'Death is the best propaganda and Moscow knows this'
Stanislav Aseyev is a Ukrainian writer who came in from the cold. Until the spring of 2014, he was an aspiring poet and novelist based in the eastern Donbas region: when, however, its main city and surrounding area fell under the control of pro-Russian militants, he began to document the alternative reality of life in the so-called Donetsk People's Republic (DPR).
Now collected and translated into English by Lidia Wolandskyji, his dispatches (written for the Mirror Weekly newspaper under the pen name Stanislav Vasin) provide a fascinating insight into the culture war at the heart of the fight for Ukraine. This is not just a dispute about language rights and territory but also an existential struggle to control the past as well as the future.
As a Ukrainian nationalist, albeit a Russian-speaking one, Aseyev was essentially writing from behind enemy lines. At times his reports suggest that the DPR and its twin breakaway republic of Luhansk have seceded not only from Ukraine but also from reality. Vladimir Putin likes to call this place "Novorossiya" (literally "New Russia"), a historical term used by Peter the Great to justify the conquest of neighbouring lands. But Aseyev paints a picture of an industrial community – the Donbas is Ukraine's steel and coal-mining heartland – that became lost in its nostalgia for a largely imaginary past.
In many ways, the separatist republic comes across as a kind of Soviet theme park, with militaristic paranoia, organised crime and empty supermarket shelves. The anti-Kyiv sentiment, however, is far from imaginary and seems to be everywhere: on billboards depicting Ukrainians as Nazis, in lurid myths about the "Banderists" (West Ukrainian fascists) murdering children, and even in the violent disillusionment that is integral to day-to-day life in any gangster state.
Aseyev writes imaginatively about the time-warped separatist mindset of hard-drinking Sovoks (Soviet slang for those who uncritically back the ideology): "I confess I have hated Makiivka – the town where I grew up, about 10 miles outside of Donetsk – my entire life. Makiivka is a city of Soviet sleepwalkers. It always made me think of Stephen King's The Langoliers: the place had no taste or smell, and time had stopped there. There was no future in Makiivka." But his feeling of alienation as a "Remainer", who wants to stick with Ukraine instead of seeing his native region absorbed into Russia, is no dark fantasy, and Aseyev can barely disguise his emotion as he recalls various quarrels with old friends and former schoolmates who warn him that he could end up "buried in a plastic bag in the local woods" if he publicly challenges the pro-Kremlin line. Like a turbo-charged Brexit, the issue of Donbas separatism divides not only a nation but also families and friends.
Inevitably, the hateful violence of his surroundings caught up with Aseyev in the end. On June 2 2017, he disappeared and for over a month it was feared that this outspoken journalist had indeed been silenced in a most brutal fashion. On July 16, however, a self-styled "prosecutor" working for the Ministry of State Security confirmed that Aseyev was actually on trial for treason in a DPR court, the same unrecognised body that sentenced two British men to death earlier this month. He spent the first month and a half of a 15-year jail term being tortured in an isolated cellar and forced to make "confessions" on Russian television. Then, he was transferred to Izolyatsia, a secret concentration camp in Donetsk.
The story of Izolyatsia is a microcosm of what has happened under the occupation of Donbas. Established in a former factory building in 2010, it soon became a vibrant arts centre, retaining the name of the product that had once been made there: izoliatsiia, or insulation material. The Ukrainian word also means "isolation", which acquired a harrowing connotation during Aseyev's own confinement there, and furnishes this collection of his journalism with its title. No doubt because it also describes a state of mind that pervades the breakaway republics of Donetsk and Luhansk, and may even be indicative of Putin's worldview.
In December 2019, Aseyev was released as part of a prisoner exchange and handed over to the Ukrainian authorities. Now aged 33, he lives in Kyiv as a kind of defector or refugee, and one of the few eyewitnesses able to make any sense of the carnage of the war: "Death is the best propaganda," he writes, "and Moscow knows this. While all Ukraine is trying to come up with some honest answer to counter the lies from the Kremlin, the bodies are piling up around here."
Like a turbo-charged Brexit, the issue of Donbas separatism divides not only a nation but also families and friends
rating
Share this article