Vic Marks: Original Spin review - trouble in Taunton |

reviews, news & interviews
Vic Marks: Original Spin review - trouble in Taunton
Vic Marks: Original Spin review - trouble in Taunton
English cricket in more turbulent times, surveyed in self-effacing style with the odd sharply turning delivery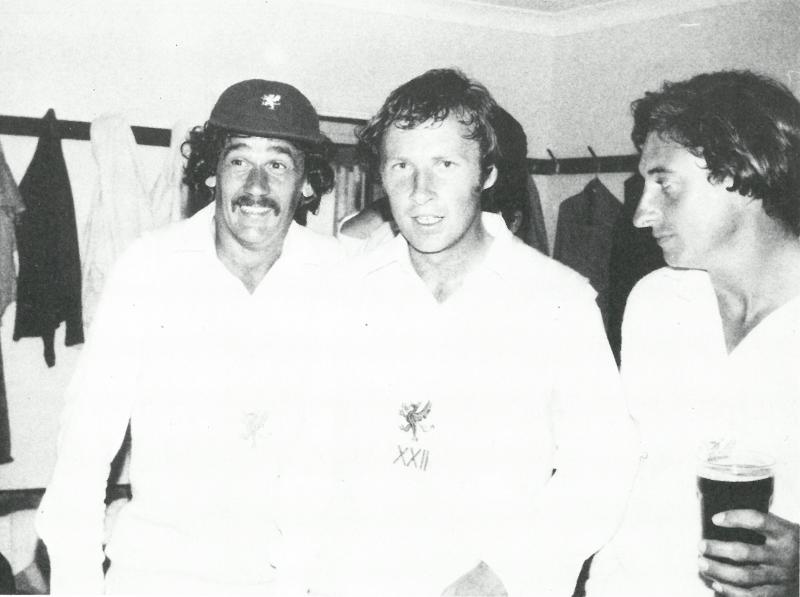 Make mine a large one: Vic Marks (centre) and Somerset team-mates after a Gillette Cup victory in 1978
In cricket, timing is everything. Played a fraction early and that silky cover drive finds a batsman out to lunch as the ball cannons into his stumps. Too late and it dribbles uselessly to mid-off.
Ex-cricketer turned journalist Vic Marks has made it his business to be in the right place at the right time. First as a mean spin bowler, sharing a Somerset dressing room with Botham, Richards, Roebuck and Garner, perhaps the most outrageously talented side in county cricket's history. Then as a tidy presence in England's one-day side of the 1980s, facing up to the West Indies and Australia. And then, as now, as a journalist, watching, talking, writing, and waiting – for the crucial moment, the magic ball, le mot juste. Even at a time when games get shorter and bats get thicker, there is a lot of waiting in cricket. As the run-rate rose and the odds lengthened like the shadows over Lord's, the quality that allowed England to lift their first World Cup last week was patience.
Throughout this World Cup, Marks, who played his last One Day International for England in 1988, has been, as ever, a voice of patient reason in the Test Match Special commentary box. Among the "as told to" memoirs retailed by recent – and even current – cricketers yet to see the wrong side of 40, he issues a gentle and welcome reminder that, once upon a time, the talents of professional sportsmen extended beyond prowess on the field. Some of them could actually write.
Blundell's; Oxford; Somerset; England; The Observer. Of a type fairly well trodden for a couple of generations in the middle of the last century, it's a career path fallen into disuse. The ex-pros and captains in the generation after Marks dispense advice honed by media training from commentary boxes and TV studios, untroubled by the blank page or Word document left as a chore to cubs and hacks. Beneath them, a younger crop of cricket journalists is on the march: digital savvy, with 500 well-tooled if often wearily familiar words ready by close of play and a podcast up by midnight.
Marks, by contrast, doesn't even have a Twitter account. Once settled on to his familiar perch as an expert summariser for TMS, he knows how to say "Game on", and mean it, without provoking the squirm factor of your dad dancing. "That one went like a tracer bullet" and similar breathless eructations are left to more excitable colleagues. And though Derek Pringle and Mike Atherton still knock out copy for the Daily Telegraph and The Times to prove that quick bowlers and batsmen can also turn another day's play into a new adventure, both on air and in print, Marks's vocabulary is that of the off-spinner who must succeed through guile over force.
The title is apt. Marks spins his own life on and off (but mostly on) the pitch, but the ball has to travel the same 22 yards as any other ex-cricketer's memoirs. At one end, teachers and mentors are affectionately remembered. At the other, media friends and colleagues are ticked off in a series of crisply delivered tributes with enough of a twist to keep the reader on the watch for a sharply turning off-break. He knocks over an undefended wicket when it comes to the dismal management of the game – in England and worldwide – by cricket boards chasing ever bigger TV audiences and ever smaller formats.
Still, Marks knows his readers. They will surely second his judgments on Kerry Packer's World Series Cricket and rebel tours to South Africa. They will discover a thing or two about touring India, playing Australians, and how Botham forever changed (not necessarily for the good) the relationship between players, the media and the public. What many readers will want, however, is the inside story of Somerset in the 1970s, when it was briefly home to some of the game's most talented and combustible characters, before they came to bitter blows. Here, Marks bowls a tight line outside off. At the centre of it all were the larger-than-life Botham and the brilliant, secretive and troubled Roebuck (pictured above front), who took his life in 2011 following allegations of sexual assault. In the days when they were playing, Marks knew him as well as anyone – which, it turns out, was hardly at all. Here and elsewhere, some reading between the lines is required. But then, what did we expect? The art of spin extends well beyond the pitch.
Original Spin - Misadventures in Cricket by Vic Marks (Allen & Unwin, £20)