10 Questions for actress and playwright Nicôle Lecky |

reviews, news & interviews
10 Questions for actress and playwright Nicôle Lecky
10 Questions for actress and playwright Nicôle Lecky
The rising star of stage and screen talks grime, feminism, sex work, Nicki Minaj and SENSE8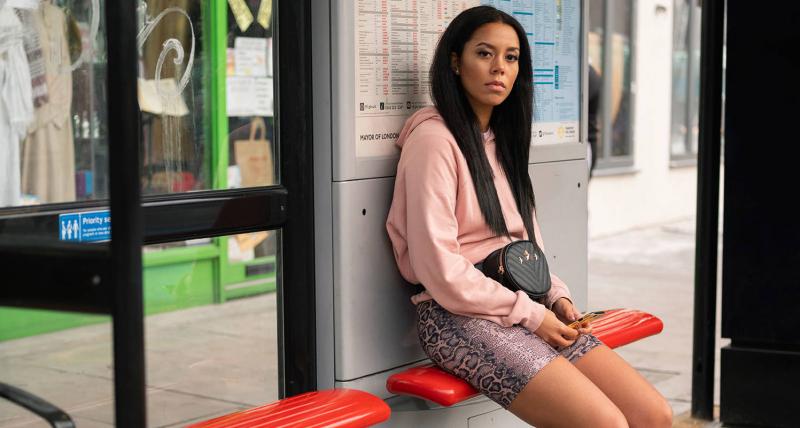 Nicôle Lecky as Sasha Clayton from her Royal Court debut, Superhoe
Nicôle Lecky's one woman show Superhoe has added fire to the reputation of an already fast-rising actress and writer.
Based around Sasha, a Plaistow girl who aspires to pop stardom, it's a clear-eyed, very modern
play
, filled with its central character's motor-mouthed bravado and examining the Instagram generation's relationship with
sexual
objectification. It comes to the Brighton Festival in May.
Raised in London, Lecky, 28, is of mixed British-Jamaican descent. Since training at the Mountview Academy of Theatre Arts she has gone on to appear in TV shows such as Death on Paradise, Fresh Meat, and the Wachowski's SENSE8, and has written material for shows such as Eastenders: E20, Youngers and Reality 2.0. She also wrote and directed the short film The Moor Girl.
THOMAS H GREEN: Does the circumflex accent on your name change its pronunciation?
NICÔLE LECKY: Do you know, it doesn't really change the sound of it here but in France they say it differently, Basically, it's on my birth certificate because my brother picked my name. There was a girl in nursery he was friends with and I think she was French so that's why my parents also put the accent on it. Everybody thinks I've made it up for my acting career.
Music plays quite a role in Superhoe. What were your influences when constructing it?
Quite various, actually. There's one song in it called "Premium Pussy" which is kind of your Cardi B, Nicki Minaj style that all the young women are singing now, empowering but, at the same time, I'm like, "Is it potentially overtly sexualised for younger girls?" I'm also from East London so there's a grime track. The music is reflective of the times; that's how Sasha escapes and speaks her truth so I went with whatever fit with what she's actually talking about.
Do you like grime, then?
Definitely. I grew up in Stratford, East London, where the play begins. I came up at a time when garage was around, then it morphed into grime. It heavily influenced my childhood, all the raves I'd go to. The older I've got, the more eclectic. partly due to my parents. I still listen to grime. I haven't really moved onto drill – I'm safe with grime and rap. People like Tinie Tempah and Dizzee Rascal now make contemporary pop, they're not in that grime world, but I remember when Tinie Tempah had this track "Wifey Riddim" and there was this TV channel called AKA where they had all the grime videos. I remember thinking that was the best song I'd heard in my life.
You create the music with Hackney DJ-producer the Last Skeptik. What can you tell us about him?
He's from London, makes his own music and he's worked with a few different artists. The Royal Court wanted original music but I didn't realise how much I was asking for until I met producers. I thought everybody could whip up everything but they'd say, "No, this isn't my specialty," but he's just got a real knack. I write all the songs, in terms of lyrics and melodies, and I'm pretty specific. I'm humming things, singing things, making sound effect noises, but he just understands.
How has it been working with Jade Lewis, the play's director?
Somebody told me about her and I wanted somebody who was also working class and from London. We went for dinner the other day and it's nearly a year ago we met so it's a really new relationship, but she really got the script, really understood the character of Sasha. It was important that she understood the nuances of her world. Things can appear so black'n'white but you can be really vulnerable and be an arsehole. You can be a bit of a victim and a perpetrator. Jade is calm and takes a soft approach and I'm more on the front of it, so we're a good balance of energy, girls-in-arms. We teamed up and looked out for each other. It's both our debut at the Royal Court.
Did you find it disturbing getting under the skin of Sasha?
Once it was on the page, I knew exactly what it was and why I wanted to tell that story, so performing it wasn't as hard with the darker stuff, but when I researched these young women [involved with the internet sex industry], it was more disturbing. I was on certain websites late at night thinking, "God, what is my search history going to look like?" I was seeing videos of these young women in the world of sex work and looking at some of the comments being made. It was bleak, but I don't really come down on either side. I guess it's a question of empowerment and what does that power look like. I found it tricky. I understand why people do it but I have a different code for what you might do and what somebody might be encouraged to do. Coming off the stage is more difficult because you're coming face-to-face with people who might be reliving what I researched. Lots of people told me revealing things, how it affected them personally, lots of people crying, particularly young women. That was quite hard to process, but I was glad I was able to verbalise it and create a character that people can relate to, a character who is definitely a victim but doesn't see herself as a victim, someone with deep-seated trauma who doesn't know what it stems from so lashes out and is having a hard time processing what is actually going on.
The academic Angela McRobbie suggested that, in the wake of third and fourth wave feminism, young women explore their sexuality via consumer culture. She argues that girls' ideas of themselves are regulated not by feminist success, but by a sexual contract that ultimately benefits consumer culture? Do you think that's true?
Yes, there's definitely some truth to that. When you strive for something you can go too far the other way in your quest for freedom and sexual liberation, so much so you're almost then part of that cycle and you're not even aware of it. I don't think that's true of all women, though. There are ways women are perceived under a patriarchy, living free, doing whatever the fuck they want, pushed to push the boundaries further than maybe they would have gone. I think that can be scary.
When you look at a video such as Nicki Minaj's "Anaconda" doesn't is raise questions as to what's actually liberating?
Glamour models girls on Instagram get naked in a certain way while other women, liberal lefties, free the nipple, and get naked in a different, more performance art kind of way. We judge them both differently, but they also both go hand-in-hand. It's also about how black women express sexuality and being naked compared to white women, the over-sexualisation of black bodies or certain dance moves attributed to black women… it's all so complicated. I sit on the fence in the play in terms of me speaking for sex workers. Some feel [sex work] saved their lives, they have an income and they're very happy. Other women have fallen into it and say they're happy but maybe had all these other dreams and aspiration and goals.
What's your earliest memory?
I have a really, really early memory. I was probably about three and my sister rode a bicycle through a fence at the end of this close where we lived. She was totally fine. I remember being in the old house we used to live in, in Canning Town, and I remember my dad rushing down these steps and I sat there and watched it unfold.
How would you characterize your childhood?
I am quite a proud east Londoner, definitely. I live in Bow now with some friends. Mine was a mixed happy youth in hindsight. When I went to a fee-paying drama school I was 19. I met mostly white people who were quite privileged. Where I'd grown up it was super-diverse, there were black people, Asian people, and I'd never really thought about race and class because that was the world I was living in. It was only when I was older I thought about it. It probably was quite dangerous; people were stabbed. It was quite normal be out on Stratford Moor and someone was like, "Someone's got a knife and they're out stabbing people," I remember running around finding it quite funny, pretty intense. I don't think other people maybe had that upbringing, where there was this sudden surge in knife crime but the danger felt fun. It felt unsafe but felt normal. I felt safe at home. My mum was from Liverpool, my Dad from Ealing but I didn't live with him. They showed me different worlds. My dad was a DJ, growing up, so he had this huge love of music. My mum was a nurse and she was always looking to take us to ballet and stuff so I always felt I was doing stuff my friends weren't in the world I lived in.
Is your dad a DJ I might have heard of?
He was a jobbing DJ until I was about five when he realised he had three kids and had to pay his way, wake up a bit and get a real job, but when he met my mum they went travelling around the world. They were in Thailand for two years while he was DJing. He was also in Norway. They travelled quite a lot but he was not at international DJ level. I got really good grades but I could always do what I wanted. I was never told I should be a doctor or a lawyer. I just decided what I wanted to do.
What was like working with Wachowski sibling on the Netflix series SENSE8?
They were fun and intense. It was the sort of thing where you'd turn up and the script was not there or the script was completely different. The day before the shoot it was like, "You're not from London anymore, you're from Australia." I'd had a couple of auditions with the London accent and they were like, "Yeah, that's fine," but when I turned up I was Australian. I whipped that up in a day and, yeah, I do watch it back and I can tell.
Who were you in Fresh Meat. It's on your CV but it's been a while since I watched it and I'm embarrassed to say I cannot recall?
I didn't have a huge part. I can't recall the girl's name. I was a friend of Gemma Chan's in the drama club. It was a really tiny part. I had maybe four lines. It was just a day's filming. Gemma Chan was lovely. She's doing so much now. You get these jobs and people talk to you about them afterwards but it's only a day of my life and then its sticks with you for so long. Also, as an actor you sometimes do shows you don't necessarily watch, like with Death in Paradise I hadn't really seen it. I shot it last year then it came out in February. You kind of forget you did that for two-and-a-half weeks then suddenly all these people message you on Twitter because Death in Paradise gets like nine million viewers or something really ridiculous. I just went to Guadalupe for two-and-half weeks and had a great time. I had a friend who was also cast in it so it didn't even feel like work. But it's one of the biggest-selling shows around the world: people go mad for murder in the sun!
Superhoe is at the Brighton Festival from Sunday 19th to Tuesday 21st May
Below: watch Nicôle Lecky in conversation with Superhoe director Jade Lewis
I guess it's a question of empowerment and what does that power look like
Explore topics
Share this article