Kolesnikov, Britten-Shostakovich Festival Orchestra, Latham-Koenig, Symphony Hall, Birmingham review - cross-country friendships flourish |

reviews, news & interviews
Kolesnikov, Britten-Shostakovich Festival Orchestra, Latham-Koenig, Symphony Hall, Birmingham review - cross-country friendships flourish
Kolesnikov, Britten-Shostakovich Festival Orchestra, Latham-Koenig, Symphony Hall, Birmingham review - cross-country friendships flourish
New youth orchestra celebrates artistic dialogue between Russia and UK
Thursday, 19 September 2019
Britten-Shostakovich Festival Orchestra and Jan Latham-Koenig in Sochi, Russia
Celebrating the friendship between the two great 20th-century composers, the Britten-Shostakovich Festival Orchestra launched this year.
Celebrating the friendship between the two great 20th-century composers, the Britten-Shostakovich Festival Orchestra launched this year. Founded by British conductor Jan Latham-Koenig and British Ambassador to the Russian Federation Sir Laurie Bristow, it's a way to leave a lasting legacy for the 2019 Year of Music between Britain and Russia.
87 of the finest young musicians from both countries were selected by audition, and after a week's residency at the Sirius Park of Science and Art in Sochi, where they received coaching from a wide range of musicians drawn from major orchestras and opera houses, embarked on a tour of both countries. After a series of concerts in Sochi, Moscow and St Petersburg, the UK leg of their journey kicked off on Tuesday evening in Birmingham's Symphony Hall.
The concert began, a little oddly, with a verse of each country's national anthem, starting with "God Save the Queen". There may have been several British audience members who felt a little uncomfortable at being expected to be upstanding for this given our current climes though, as Britten himself said, "you should not make judgement on English people based only on the things they publish in our newspapers".
It was Britten's music with which the programme commenced, with the Four Sea Interludes from Peter Grimes, an opera which was partly inspired by Shostakovich's Lady Macbeth of Mtsensk. Conducted by Latham-Koenig, the violins played, perhaps not always as one voice, but certainly as a strong team, bringing out the varied hues of Britten's angular, crossing melodies. The final "Storm" nterlude had a buzzing, frenetic energy, evoking the anger and unpredictability of the elements.
The fabulous young Russian pianist Pavel Kolesnikov (pictured above) was the soloist for Rachmaninov's Rhapsody on a Theme of Paganini. His playing ranged from incisive to huge swirls of marbled colour. The detail at once felt expertly measured but also completely organic, his control of the piece's rhythms uncanny. Strings again here were excellent, giving a fabulous echo to Kolesnikov's solos.
The second half of the concert saw ferocious percussion and delicate woodwind abound in extracts from Prokofiev's Romeo and Juliet. Latham-Koenig's conducting here was ardent and dramatic, appearing almost as if volts of electricity were shooting through his body. Of course no programme from this orchestra would be complete without music from Shostakovich. His Suite for Variety Stage Orchestra was played with an altogether different mood from the previous Prokofiev - jaunty, jovial and spritely, with positive energy radiating from the players.
The final piece was Tchaikovsky's 1812 Overture. The cellos' intonation problems in the opening couple of bars gave away their lack of experience as orchestra players, though the fact they almost entirely fixed this in a remarkably short space of time showed their intelligence and understanding as musicians. The full orchestra here played with power and velocity, and there was a demostrable strong relationship between players and conductor.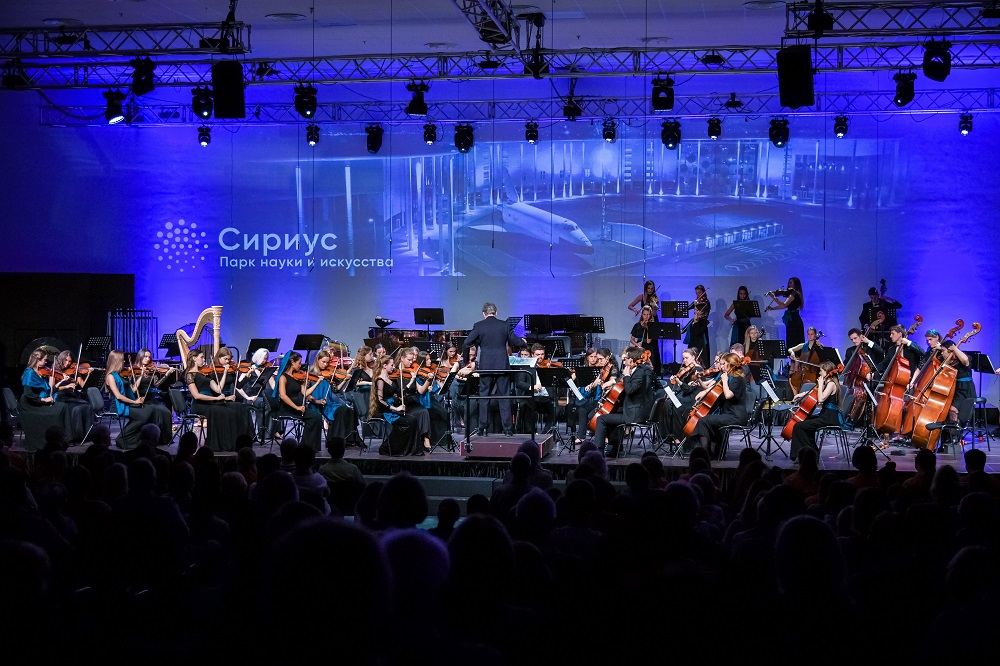 The encore was almost as weirdly patriotic as the concert's beginnings, with Latham-Koenig inviting the audience to sing along to Elgar's "Land of Hope and Glory". No, there were no flags of any description, in case you were wondering. Music being politicised is nothing new, but the message this orchestra sends - celebrating a friendship and artistic dialogue which flourished in the face of the new cold war, and bringing a host of young people from different countries together to create a beautiful sound - is surely a good thing, and one of which we should all be proud.
The Britten-Shostakovich Festival Orchestra's UK tour ends at Cadogan Hall on 25 September
The detail in Kolesnikov's playing at once felt expertly measured but also completely organic
rating
Explore topics
Share this article