Song of Songs, Pam Tanowitz/David Lang, Barbican Theatre review - sublime music and intricate dance bring life to a 2,000-year-old love poem |

reviews, news & interviews
Song of Songs, Pam Tanowitz/David Lang, Barbican Theatre review - sublime music and intricate dance bring life to a 2,000-year-old love poem
Song of Songs, Pam Tanowitz/David Lang, Barbican Theatre review - sublime music and intricate dance bring life to a 2,000-year-old love poem
Music and movement co-exist but don't align in a glimmering new take on an ancient text
You get that loving feeling: Melissa Toogood and Zachary Gonder in Pam Tanowitz's Song of Songs Zachary
On the whole the Bible is not big on sex and sensuality, with the exception of one very short book in the Old Testament. The Song of Solomon – aka Song of Songs – is a hymn to carnal pleasure, one whose vivid descriptions of perfect flesh and brimming wine flagons have divided religious scholars for centuries.
The New York-based choreographer Pam Tanowitz turned to the text when looking to deepen her understanding of her Jewish roots, and invited the Pulitzer Prize-winning composer David Lang to collaborate. It should surprise no one that their Song of Songs, which has just played at the Barbican Theatre for four nights, is about as far from a string of steamy clinches as Picasso's The Bathers is from a Tui ad for beach holidays.
Both music and dance come at the material tangentially, but the combined result is entrancing. The composer gets closest to the poem's erotic grist by giving words, and the crystalline delivery of those words, first priority. Three closely miked female singers, enunciating in sync, shape and relish each syllable as if extracting its juice. Lang's text is largely a list of keywords picked out from the biblical text, suggesting a response to a lover's presence, actual or longed-for – "… Just your lips, just your neck, just your cheek …". Delivered in the same hypnotic rhythm repeated dozens of times, a viola descant drifting above them like high clouds, we too feel the drowse of a hot afternoon. It's as if Debussy's faun has wandered into the 21st century. Here the orchestration is sparse – a cellist and percussionist make up the onstage band – but Lang's music sustains the impression of an unbroken dream in a lush landscape.
The choreographer, on the other hand, ignores the poem's most obvious imagery: wordpainting is not her thing. Instead she offers a meditation on friendship and belonging, drawing on features of historic Jewish dance with its skipping lines, linked circles and raised palms. Strangeness is baked in to Tanowitz's work. She has no interest in presenting her seven dancers as cool, fashionable types, still less as highly sexed, and seems willing for them to look gauche or strange. She has one of them repeat a twisting step which ends each time in her falling to the floor. You fear the dancer may have tripped until you witness the very precise repetitions. Another dancer, very tall, bounces on the spot with astonishing elevation, like a pogo stick.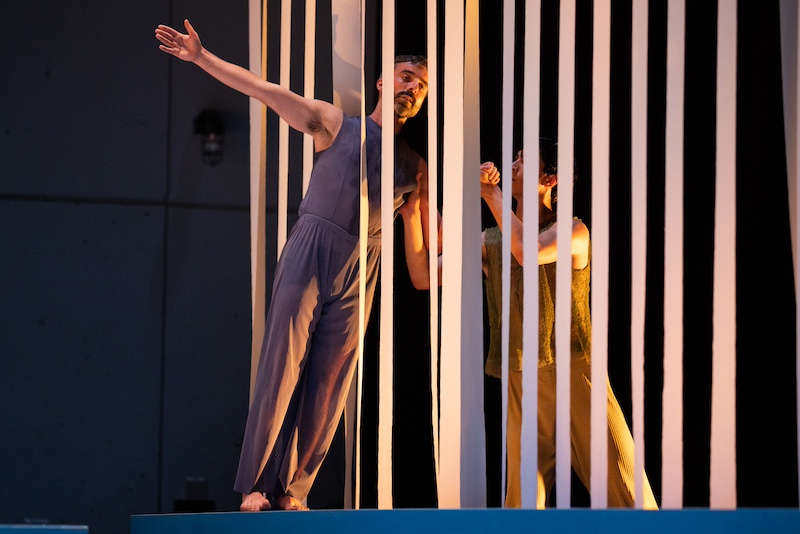 Tanowitz is fascinated by bodies, their differences and possibilities, and persuades the viewer to feel the same. While there are elements that seem familiar in her lexicon – some ballet arms and jumps, and an airy coolness that recalls Merce Cunningham – she constantly springs surprises. You detect intricate rhythms in a phrase of skittering feet, so fast they don't seem humanly possible. Or suddenly she freezes the frame, as every dancer assumes a comfortable seated pose, as if settling in to listen to the music. Some contemporary dance allows the dancers a small window of improv creativity. But this is worked-out and fully composed. There's not so much as a flick of a finger that hasn't been rehearsed.
Another remarkable feature of this work is its compactness. Song of Songs packs such a world of detail and experience into 55 minutes that you emerge from the theatre reeling with the richness of it, beguiled, like the lovers, by that land of milk and honey. The irony of the timing of these performances was surely not lost on anyone.
It packs such a world of detail into 55 minutes that you emerge reeling with the richness of it
rating
Explore topics
Share this article