First Person: Kings Place Artistic and Executive Director Helen Wallace on a year of 'Sound Unwrapped' |

reviews, news & interviews
First Person: Kings Place Artistic and Executive Director Helen Wallace on a year of 'Sound Unwrapped'
First Person: Kings Place Artistic and Executive Director Helen Wallace on a year of 'Sound Unwrapped'
'A wild swim through celestial sounds': this year's innovative programme runs the gamut
Saturday, 21 January 2023
Colin Currie Ensemble at last night's launch concert
2023 is surely the year the performing arts reach peak "immersive", a word endangered by its own ubiquity. From Punchdrunk's Burnt City to Danny Boyle's The Matrix we are promised a swallowing-up by art. Kings Cross is the location for two visual and aural initiatives: David Hockney's 3D Bigger & Closer at the Lightroom, and Sound Unwrapped at Kings Place, a year-long series of intimate, immersive events kindled by live performance.
The roots of the series are two-fold: firstly, the generous offer (from German company d&baudiotechnik) of a 360 degree, 25-speaker Soundscape system installation in our studio hall. When deployed creatively, this offers multichannel immersive performance, the dynamic manipulation of sound objects in the space, and for a plethora of bespoke acoustics. (I first encountered the system in 2020 when we commissioned the acclaimed sound artist and recordist Chris Watson to create a sound calendar. Audiences were transported to The Wash in Norfolk as tens of thousands of Knot winged their way overhead in thrilling sonic waves, a visceral experience.)
For anyone assuming this will be a year of ambient installations, think again, though we will be opening with Loss><Gain's beguiling Moonbathing installation, the ideal showcase for Soundscape, featuring music by Rival Consoles, Anna Meredith, Oliver Coates and others. As a live music venue, it's vital we offer live performance: our audiences need the electricity, connection and jeopardy of musicians in their midst, and musicians of all kinds [Helen Wallace pictured right by Nick White]. Soundscape is probably most interesting when creative pre-programming interacts with in-the-moment artistry. The musicians working with it for the first time range wide: last night we had viola da gambist Liam Byrne performing madrigals by Magdalena Casualana along with works for electronics and gamba in a late-night show, and tomorrow we have DJ-composer NikNak, who brings her audio-visual Afrofuturist Sankofar surround-sound project, before folk duo The Breath reimagine their heart-stopping songs in an in-the-round, Soundscape presentation, next weekend.
We've also invited experts on the system, such as the legendary Robert Henke, co-creator of music software Ableton, who created his mesmerising, granular improvisation Dust for Soundscape, and Chris Watson returns with poet-composer Felicia Atkinson to conjure up a "sonic painting of Japan". There are those still exploring (the always-fascinating percussionist Sarathy Korwar and his new collective Flock) and classical musicians such as Ligeti Quartet, Rakhi Singh, Riot Ensemble, Manchester Collective, and Sean Shibe, who'll be creating new, spatialised performances of works by Julia Wolfe, Nico Muhly, Steve Reich, George Crumb, Julius Eastman and others. The potential to create a dynamic presentation of a piece like Different Trains, where individual stems can be moved around the audience, is obvious. The piling up of drones in Julia Wolfe's LAD offers an irresistible challenge (Rakhi Singh), while the multiplicity of voices in George Crumb's corruscating Black Angels invites ambisonic treatment (Manchester Collective). There will also be music specifically written for the system, like Jasmine Morris's Atom Cry for Riot Ensemble with electric guitars, to be vivified by movement and sound delay in real time. [Pictured below by Viktor Erik Emanuel: last night's Moonbathing event]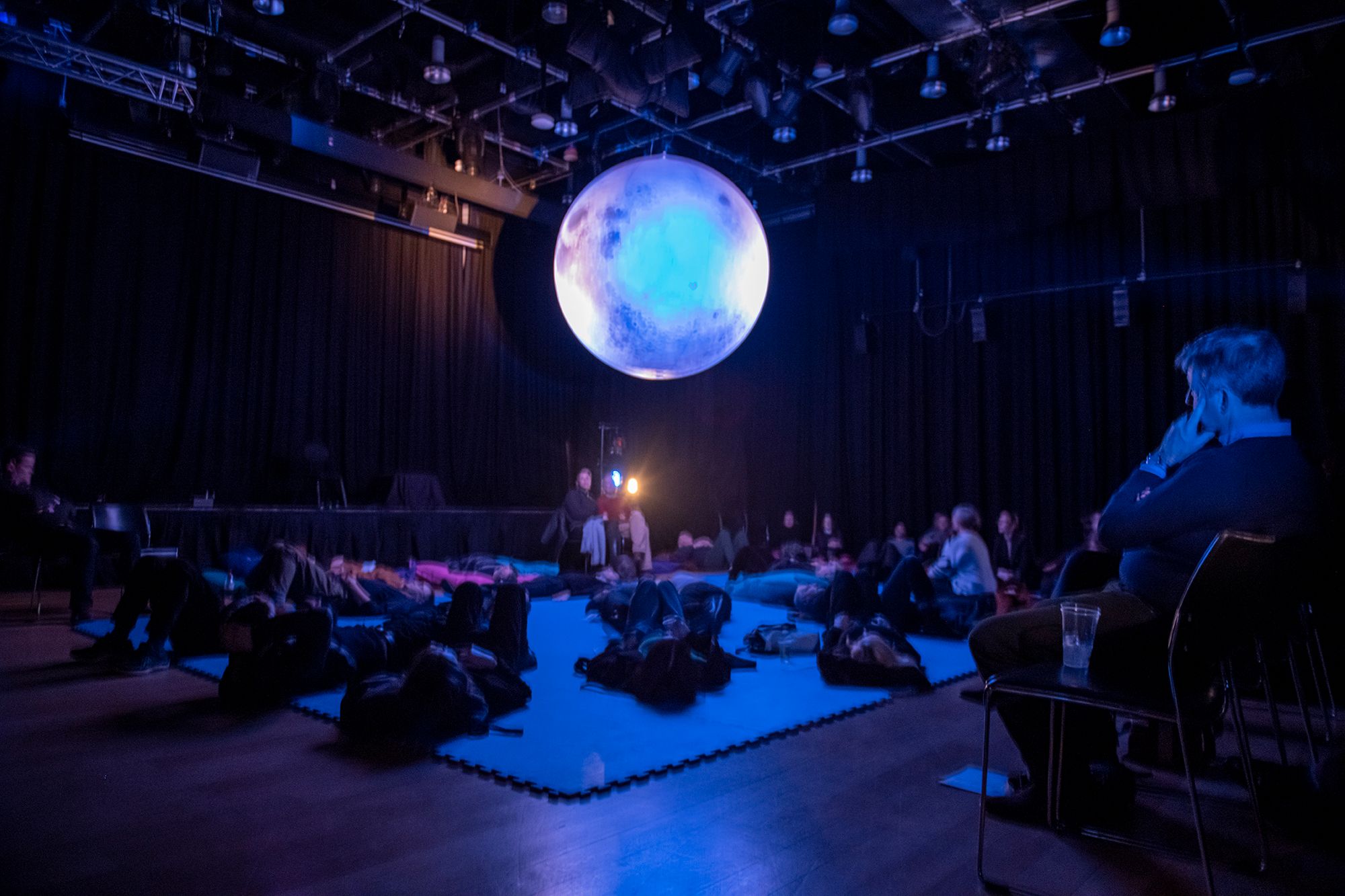 The second source of Sound Unwrapped was the pandemic. Is it any wonder that after long months of sensory deprivation, audiences don't want to just sit in a concert, but to plunge in deep and be soaked in a communal experience of sound? Social-distancing, too, offered up new dimensions of listening and unexpected spatial relationships. The 'frame' of performance, the left-right stereo perspectives were disrupted. We ranged singers around the gallery of Kings Place, instrumentalists processed around cathedrals, in piazzas and gardens, orchestras were so widely dispersed that players were sometimes closer to the audience than their desk partners. It was unsettling, exposing, provoking. Things threatened to fall apart.
So I wanted Sound Unwrapped to interrogate sound and space through purely acoustic music using unusual spatial arrangements, something composers have always done, think Gabrieli's antiphonal canzonas, Mahler's off-stage brass, Stockhausen's Gruppen or Rebecca Saunders's murmurs (to be performed by Explore Ensemble). The Gildas Quartet, performing from memory, will give us Britten's Quartet No. 2 surrounding the audience, each line of the Chacony coming from a different perspective, while Christina McMaster brings a seamless sequence of music to an audience lying down on the floor, feeling vibration through the body. There will be in the dark, and in the round performances, Tallis sung from around around and above the audience (Genesis Sixteen, Vox Luminis) while I Fagiolini and the English Cornet and Sackbutt Ensemble will make the most of the antiphonal potential of the galleries for Monteverdi's 1610 Vespers.
Kings Place may better resemble Monteverdi's "chapels and chambers of princes" than a vast church, but we needed to programme into an ecclesiastical space, given the body of repertoire written for those resonant acoustics. The Gesualdo Six and trumpeter Matilda Lloyd will repair to St Martin-in- the-Fields for a celestial processional concert in October. Music will be humming beneath your feet, speaking behind you, or passing beside you or overhead.
For such a series it was important to include those composers who meditated most profoundly on timbre and time, the deep minimalists, like pioneering Alvin Lucier and James Tenney (Riot Ensemble) and the queen of infinite tone herself, Eliane Radigue, whose water-inspired Occam series (Rhodri & Angharad Davies) she has described as some kind of cosmic sonic bathing pool. These achingly beautiful, forensic meditations (one of which will be a world premiere) created in collaboration with individual performers, are the late harvest of a life spent working with electronics and synthesized sound.
Which brings us to the fundamental resources of music, explored in Sound Unwrapped, the infinitely expanding palette that electronics and field recording have brought into musical creation, from Varese's ground-breaking Poeme Electronique to George Benjamin's dazzling Antara (inspired by the recorded sound of pan pipes), from Cosmo Sheldrake's improvisations over the disappearing sound of British birdsong and coral reef fish to Anna Meredith's Anno, where Vivaldi meets live electronics. Both our Artists in Residence, Hannah Peel [pictured above by Pal Hansen] and Space Afrika (Josh Inyang and Josh Reid, pictured below by Frankie Casillo) work with expanded sound palettes, layering up synthesized, acoustic and recorded sounds in complex sonic weaves and sumptuous collages. Where one form of music ends and another begins is dissolving.
Notably, too, these artists in residence defy the male, white stereotypes who have traditionally dominated the field of electronic music. As AI joins the party, it was the moment for women and those from under-represented backgrounds to lead Sound Unwrapped: stepping into the spotlight will be a host of pioneering women performer-producers, synth players and turn-tablists and a new generation of sound artists from Black and Asian backgrounds (Nonclassical: Disruptive Frequencies).
If Sound Unwrapped succeeds, it will bring listeners and performers closer, revealing previously unnoticed lines of familiar music, transmitting vibrations directly to the bodies in the room, turning hearing into listening. And to bring back the dread word, immersion, I like to think of it as a wild swim through celestial sounds.
Our audiences need the electricity, connection and jeopardy of musicians in their midst, and musicians of all kinds
Explore topics
Share this article