Bang on a Can All-Stars, Kings Place review - a kaleidoscope of vibrant sound and vision |

reviews, news & interviews
Bang on a Can All-Stars, Kings Place review - a kaleidoscope of vibrant sound and vision
Bang on a Can All-Stars, Kings Place review - a kaleidoscope of vibrant sound and vision
The six New York-based players showcase a range of eclectic commissions
Saturday, 19 January 2019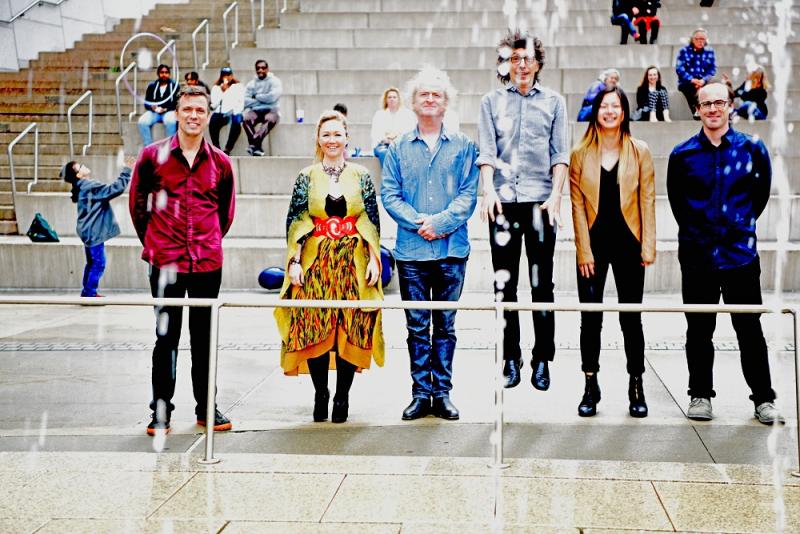 All-Star line-up: percussionist David Cossin, cellist Mariel Roberts, guitarist Mark Stewart, bassist Robert Black, pianist Vicky Chow and clainettist Ken Thomson
Julia Wolfe, Caroline Shaw, Anna Þorvaldsdóttir: three names on quite a list I reeled off earlier this week when someone asked me why the compositions of Rebecca Saunders, in the news for winning the €250,000 Ernst von Siemens Music Prize, make me lose the will to live, and whom I'd choose instead.
Saunders gets a look-in at the very end of this
Kings Place
year of music by women,
Venus Unwrapped
, so I'll just have to try again. Meanwhile the first three, communicators all - as Saunders is not, for me - kicked off Bang on a Can's affably presented gallimaufry celebrating 27 years of groundbreaking work in a Hall One mini-residency.
Previous acquaintance had been with a more expansive compositional ambition: Wolfe's LAD for nine bagpipers as transcribed by the phenomenal Sean Shibe for nine electric guitars (his new CD featuring it is up for a BBC Music Magazine Award); Shaw's strange adventures for string quartet, my discoveries of 2018; and Þorvaldsdóttir's mesmerising landscapes as charted by the Philharmonia and Esa-Pekka Salonen. Here their briefs, as represented by the first three works on the programme, were more contained: shortish commissions for Bang on a Can's fascinating 2012 "Field Recordings" project, to respond to pre-existing voice, sound and film footage and wrap an inspiration around it.
Wolfe's Rejoicing, a brilliant opener, takes what she calls the "twirling sing-song" and rhythmic footwork of French-Canadian singer Benoit Benoit and has the six "All-Stars" respond (the composer pictured right by Peter Serling). It could almost be improvisation, were it not for the pauses to let the singer come to the fore, followed by switching to a different texture.
Shaw weaves, too, this time to a soundtrack of North Carolinan and Virginian quilters discussing their patterns in Really craft when you. It's not speech melody, after the fashion of Reich's Different Trains, but a variety of poetic responses in which clarinettist Ken Thomson takes the lyric lead: short and sweet. Þorvaldsdóttir etches her usual wide canvas with drones and eerie sounds against pre-recorded steps and knockings in Fields; her ability to create visions from sound in a haunting nutshell.
Of the other two "Field Recordings" commissions, I didn't sense much correspondence between Michael Gordon's minimalist patterns and Bill Morrison's loopy found footage of a walk, or run, around New York community gardens In Gene Takes a Drink. The audiovisual stunner of the evening was composer-turned-filmmaker Christian Marclay's Fade to Slide, a hard-hitting but often very funny collage of Hollywood clips with sounds on them veering between music, dancing, smashing and pouring. That works by itself; the live musicians respond freely to what they see in what's perhaps an optional extra (an earlier performance pictured below).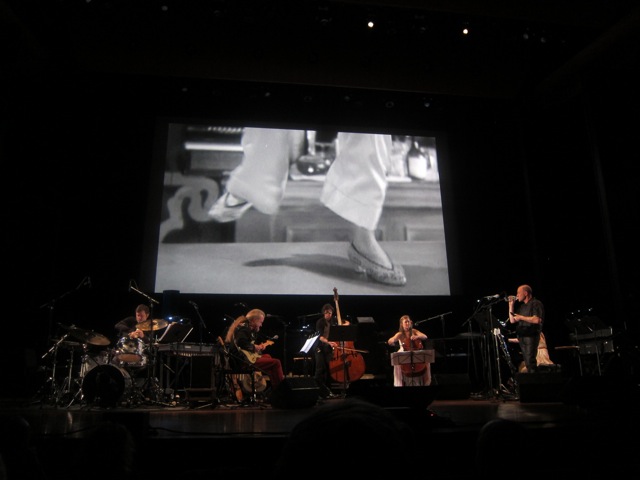 Sweetness and tension made a later interlude in two highly original instrumental pieces by the mostly vocally-oriented legend Meredith Monk: Spaceship, a slow waltz arranged by Gordon, and Totentanz with instrumentation by Bang on a Can's other co-founder David Lang (Wolfe being the third). The second, more substantial work had more generous variety in it than the quick changes of Kate Moore's long and uningratiating Ridgeway. If that's about hiking an ancient path, then it must have been a very fraught and disturbed walk, negating Hardy's observations that "mind chains do not clank when one's nearest neighbour is the sky".
Bang on a Can saved the most intricate piece until last, Wolfe's Believing, showcasing each of the players' strong personalities in rhythmic tricks and lyric revelations, sectional like most of the pieces on the programme but with a propulsive logic in which all energy is concentrated in the song and shuddering of fabulous cellist Mariel Roberts. That bodes very well indeed for the larger scale of Wolfe's Anthracite Fields tonight.
Wolfe's 'Believing' showcased each of the players' strong personalities in rhythmic tricks and lyric revelations
rating
Share this article