theartsdesk in Reykjavík: Bright Nights, Dark Music Days |

reviews, news & interviews
theartsdesk in Reykjavík: Bright Nights, Dark Music Days
theartsdesk in Reykjavík: Bright Nights, Dark Music Days
Eclectic mix as Iceland fields a host of native composers for a four-day festival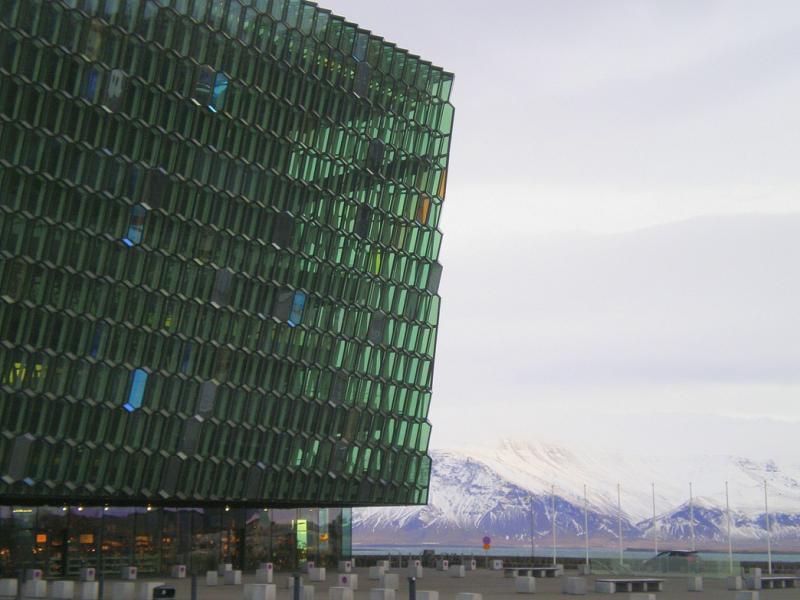 Harpa and the mountains across the bay in Reykjavík
Nature declined to reveal the Northern Lights over a long winter weekend in Iceland. My hotel was geared up to the spectacle, offering the option of a phone call any time in the night should they appear; but no call came. I only hope the tourists who packed the outward-bound plane hadn't booked just for that. They'd surely not be disappointed in this most spectacular of lands so long as the weekend package-tour selling point wasn't an idée fixe, and in any case I suspect half had come to club the night away.
Our own Aurora Borealis was simulated in one of the halls of Olafur Eliasson's spectacular Harpa arts centre I hadn't seen on my first visit to Reykjavík for the grand Harpa opening in August 2011. Norðurljós (pictured below at the final concert) was our most returned-to venue, praised by one distinguished musical visitor as having the best acoustic he'd ever played in, home to the two big ensemble concerts I caught in the Dark Music Days festival as well as to several smaller groups. There were also wackier happenings in the lecture-theatre-scale Kaldalón as well as an unspeakably silly one in Harpa's loft and events in a few venues about town, the best of which it seemed I'd just missed.
Yet I had the visions I'd hoped for, and any fears about the stifling conformity that still afflicts a few university- or conservatoire-based contemporay music festivals were banished at the very first concert. True, it was once like that, said Kjartan Ólafsson (pictured below), one of the two driving forces behind Dark Music Days 2014, professor at the 13-year-old Iceland Academy and chairman of the Society of Icelandic Composers - who, in a national population of 320,000, seem like their colleagues in the other arts to be amazingly legion.
Ólafsson's brief when he arrived on the scene, along with experienced festival manager Pétur Jónasson, was to offer as many works as possible, no directors as such, no committee making rigid choices. Government funding has shrunk, and owing to the nature of the contracts, they only found out they could afford to run Dark Music Days three weeks before the opening concert. But it happened, and people flocked to the concerts. OK, in nothing like the droves of international youth who'd come for the PuntoyRaya Visual Music Festival which I was keen to sample, but bowed out of one event when they offered earplugs at the door. Anyway, this was something I've never experienced at new music events: an audience of all ages, an attitude of relaxed receptivity, no sense of a coterie of bespectacled thirtysomethings, mostly men, which you used to get in Britain (but things have changed here, too). All totally natural and unpretentious: a crowd just wanting to learn and absorb.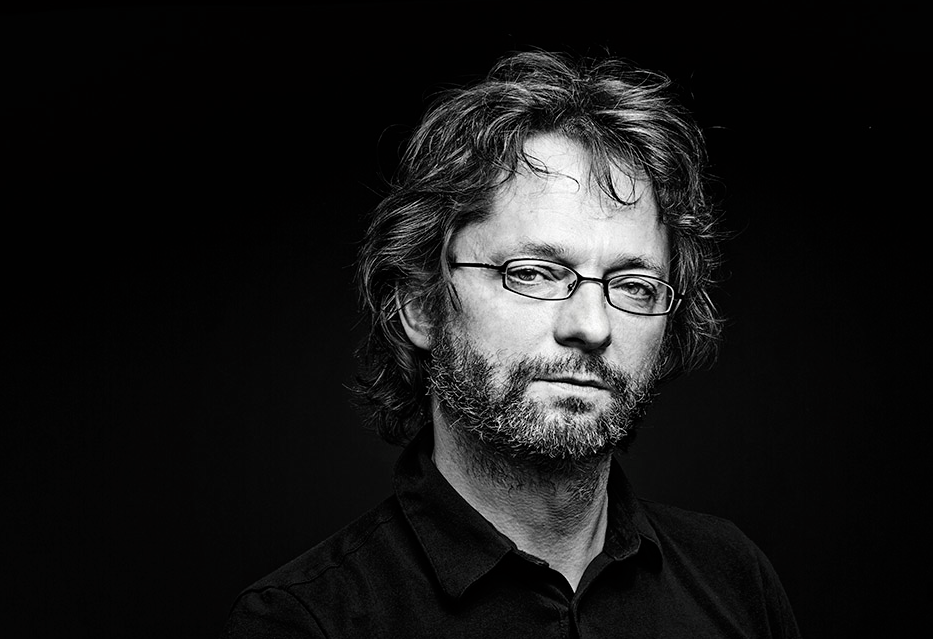 Yes, of course there were stinkers on the bill – electroacoustic music, to my ears, doesn't seem to have moved on - but you need to offer everything so that, as Henry James put it, "the mind is made flexible by constant comparison". And in contemporary music, you have to hear as much as you can and not just accept the handful of regularly commissioned names.
The first concert I heard, steered by the first-rate Icelandic ensemble Caput, was a good case in point. I instantly warmed to the mood music, the major-minor fluid shiftings of Anna Þorvaldsdóttir's Ró; the word means "serenity", but this wasn't instant spiritual high stuff. Haukur Tómasson's Façade, on the other hand, felt as random as its tricksy idea of pulling the players' names out of a hat to see which one of the eight wouldn't play in this particular performance. It turned out to be the first violinist, which must have made a special difference. But who could tell?
Then there was filmic music, Einar Scheving's Silfra, attempting to depict the mercury-like water in a fissure of the shifting tectonic plates out at the site of the old Parliament (I'd hoped to go there, but the roads were too icy for a car, apparently, so I made do with a wind-blasted walk on the Sunday morning out to the lighthouse on the Seltjarnarnes peninsula, pictured above). Unfortunately this wasn't of the essence, the thing in itself, but rather music to accompany a documentary of the same phenomenon.
Áskell Másson's Shadows of Clouds, on the other hand, seemed like a major work of huge accomplishment, veering between saxophone-drenched melancholy and wild jazz sequences, culminating in what sounded to me like an utterly memorable 12-note passacaglia theme (that's only a guess since I didn't get to see the score or meet the composer).
Another Áskell Másson piece, a piano trio, in a recital steered by the distinguished Icelandic violinist Guðný Guðmundsdóttir, disappointed. There was nothing new on the programme here which captured the imagination; ditto another Caput concert, this time in the Frikirkjan Church on the mostly frozen inner-city lake, the Tjörnin, where whooper swans and ducks gathered in the easternmost, unfrozen corner to snatch bread from Icelandic children.
Things looked up on the Saturday evening with the much-travelled Quatuor Bozzini of Canada (pictured in the concert left), launching with a dazzling parade of special effects in Jennifer Walshe's :blurt and offering at the core of the programme a revelation, 15 canons from Aldo Clementi's Otto Frammenti. Shostakovich's dictum in his Fifteenth String Quartet that flies should drop dead from the ceiling of boredom seemed to be raised on high in these slow-moving desiccations; and yet the more we listened, the more compellingly beautiful and infinite these meditations became. I met the first violinist, Clemens Merkel, in the Harpa foyer later and he spoke of his obsession with these extraordinary pieces. I was glad to hear a recording is in the making. On the other hand, who could tell one of John Cage's Thirty Pieces for String Quartet from another? The spatial tricks the players achieved only slightly deflected the all too real tedium of this particular experiment.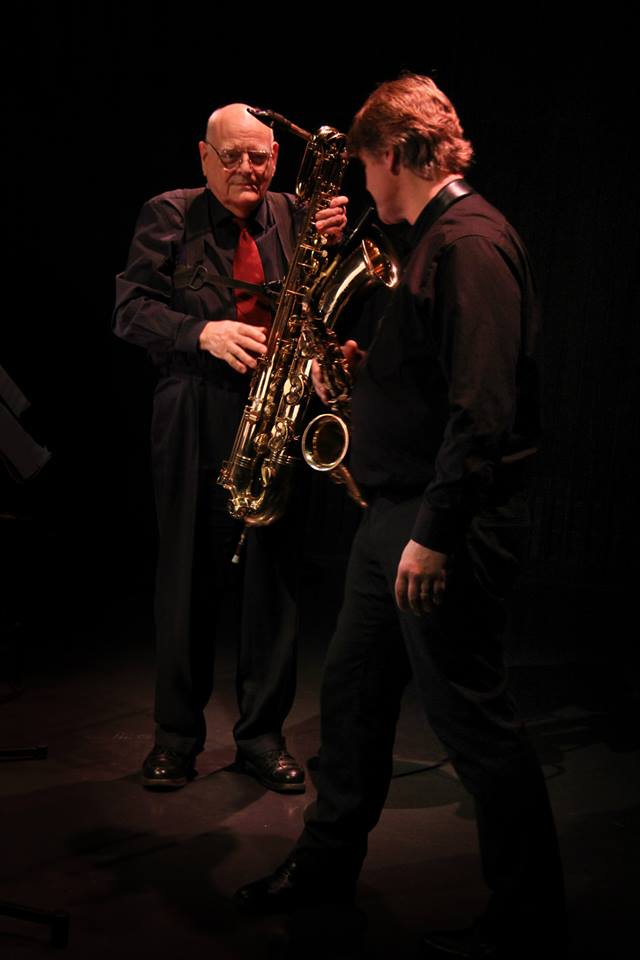 Another foursome made an even more personable impression the following afternoon. If the Stockholm Saxophone Quartet isn't a legend outside Sweden, it should be. Two genial old guys, two younger ones (Per Hedlund and Jörgen Pettersson pictured right), a lovely manner of presentation, and a programme of winners, starting with the racy show-offiness of Sten Melin's Ticophobia and, at the heart of the programme. The elegies of Paula af Malmborg Ward's Desire encapsulated pierced the soul, prefaced by a speech in which she spoke of standing alongside her parents and understanding that they were still full of longings that their bodies would no longer permit them to realise. Whether this spiel was necessary to the performance I don't know, but for me it enriched the poignant baritone saxophone solo in the piece. Known quantity Estonian Erkki-Sven Tüür's Lamentatio haunted, too.
The strongest Icelandic voice in the festival, again from my perspective of two and a bit days there, was that of Gunnar Andreas Kristinsson. The obsessive rising and falling scales, the abrupt cut-offs of each movement, of Regradation in the sax concert informed my hearing of his work in the final event from the Reykjavík Chamber Orchestra, authoritatively conducted by Runar Oskarsson.
Again there were contrasts in the moodiness of Jón Nordal's Grima, the fey wispiness of Oliver Kentish's Halcyon Days and the tour de force of Leifur Þorainsson's On Kypros; but it was Kristinsson's vivid, tough depiction of Sisyphus in the so-named chamber concerto for clarinet and 13 instruments which dazzlingly stole the show. So there we have it: four outstanding concerts of four works each, plenty of interest and an Icelandic name to follow. Let's hope the influence spreads further than the admirable context of this enchanted island.
Any fears about the stifling conformity that still afflicts some contemporay music festivals were banished at the very first concert
Explore topics
Share this article
Subscribe to theartsdesk.com
Thank you for continuing to read our work on theartsdesk.com. For unlimited access to every article in its entirety, including our archive of more than 10,000 pieces, we're asking for £3.95 per month or £30 per year. We feel it's a very good deal, and hope you do too.
To take an annual subscription now simply click here.
And if you're looking for that extra gift for a friend or family member, why not treat them to a theartsdesk.com gift subscription?