Best of 2018: Classical concerts |

reviews, news & interviews
Best of 2018: Classical concerts
Best of 2018: Classical concerts
Abundant megatalent in works great and small
Thomas Søndergård leads a starry Mahler 8 at the Proms
Starry times with the big spectaculars really paid off this year, even if the works performed weren't unusual for London. Pappano's latest Verdi Requiem at the Royal Opera was the classiest perfection imaginable, crowned by the phenomenal Lise Davidsen.
Bernstein's MASS
revisited the Southbank Centre for centenary year, again under the experienced steering of Marin Alsop - not a great conductor, but a terrific motivator - in another Southbank marshalling of multiple forces from so many spheres of musical life. I can't say I was necessarily expecting wings from
Thomas Søndergård's Mahler Eighth Symphony,
bound though it was to be the kind of thing the Proms in the impossible yet sometimes magical Albert Hall does best This biggest final flourish with his BBC National Orchestra of Wales had the right applied pressure to fly, and probably the best line-up of eight Wagnerian and other soloists the work has had in recent years.
At the other end of the scale was a bewitching late night music-drama of Dido and Cleopatra characterisations from
Anna Prohaska and the equally live-wire Il Giardino Armonico
under Giovanni Antonini. Though the Proms programming looked safer than usual - a generalisation to which there were plenty of exceptions - its zenith was righly the co-ordinated weekend shared by Berlin Philharmonic nd Boston Symphony respectively showing off their grand masters. The Andris Nelsons concert I heard yielded a surprisingly tame Shostakovich Four, but Kirill Petrenko urged new life and burning phrasing from the Berliners, and succeeded in getting a colossal late-romantic rarity past the gates,
Schmidt's Fourth Symphon
y, to rival the success of the opposite-pole Second from the Viennese and Bychkov several years earlier.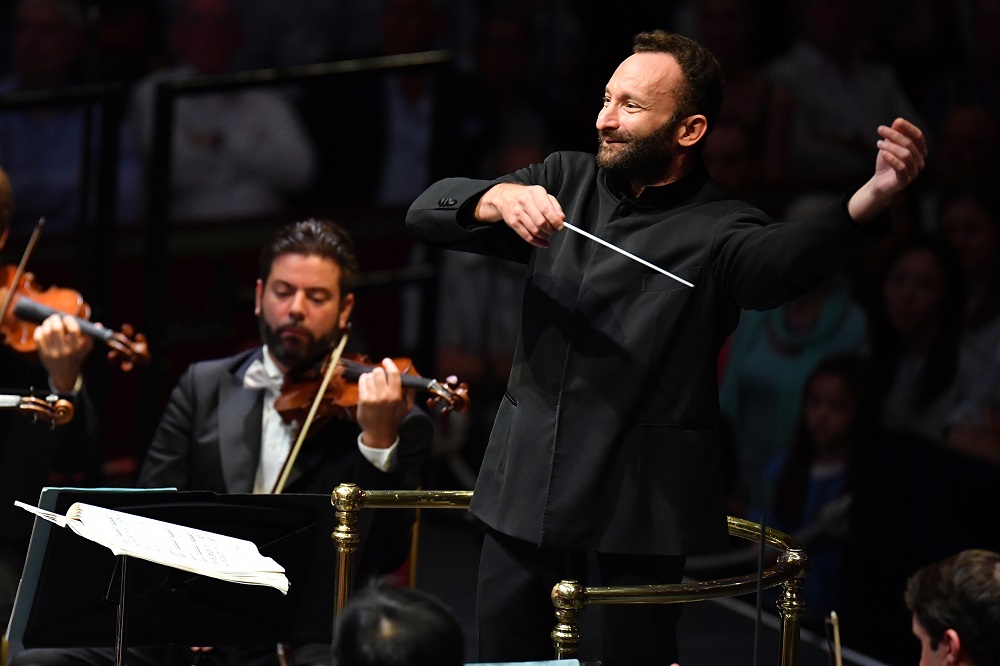 Boyd Tonkin and Peter Quantrill were "thrilled" by the second Berlin/Petrenko Prom, too, "renderings of Strauss and Beethoven driven by a bravura blend of frenzy and finesse," as Boyd wrote. Expectations were whetted by Petrenko K's Mahler Seven with his other orchestra, that of the Bavarian State Opera, earlier in the year: radical rethink of the year, a fascinating oddity making total sense as dance symphony. No apologies needed for the "new Carlos Kleiber" comparison. Legendary times are back again.

But so they are, too, with Sakari Oramo and the BBC Symphony Orchestra on consistently top form for the fourth year running, chiefly in a perfect 1940s programme framing sensational, dancing Martin Fröst in Copland's Clarinet Concerto with Shostakovich and Prokofiev symphonies, and the return of Mirga Gražinytė-Tyla to the City of Birmingham Symphony Orchestra from maternity leave at the end of the year, not easing back in but going for the heights of Shostakovich's Fifteenth and a near-masterpiece of utter intergrity from his pupil Mieczyslaw Weinberg: a choice of Richard Bratby too, who was also lucky enough to catch Mirga's Lili Boulanger in Birmingham before her time off


Bernard Hughes and David Benedict turn us briefly in the direction of more recent innovations (the only new works to tickle my fancy, other than those by a master exponent of the string quartet, Caroline Shaw - see below, and pictured left - were relatively short ones in the various foursomes of the BBC Young Musician at 40 Prom and the London Sinfonietta's FIrst World War tributes at the Roundhouse). Bernard chooses Graham Ross conducting the Dmitri Ensemble at St John's Smith Square in a programme of American minimalism for strings and Anna Meredith presenting her crossover album Varmints with the accompaniment of the Southbank Sinfonia alongside her regular ensemble. I envy David catching the premiere of Cheryl Frances-Hoad's Last Man Standing, premiered by Marcus Farnsworth and the BBCSO under Martyn Brabbins - sadly one we missed - and from everything I've heard of hers I concur that she is indeed that rarity, "a composer who understands how to write not just for the voice but also dramatically".
The shock of the new also came in baroque, classical and romantic repertoire we thought we knew. Or maybe not in the case of Bach unless you've studied all those cantatas intensively; I fear a lifetime may not be long enough to get to know them all. Gavin Dixon and Alexandra Coghlan enjoyed the Barbican's Bach weekend in the round; I reeled from the one of John Eliot Gardiner's three contributions I heard. He also sold instantly the idea that the wind and brass as well as upper strings of the London Symphony Orchestra should stand for Schumann, if only when the vibrancy of the music required it. Berlioz was also revelatory in the first of the mostly-Schumann programmes, Ann Hallenberg in fine-tuned consonance with her fellow musicians, and in the Proms fireworks devoted to the composer - the Overture Le Corsaire has the most dash with most players standing. Concert theatre also extended to viola-player Antoine Tamestit's wanderer around the orchestra (pictured above) in Harold en Italie. Boyd also loved Mozart revitalised, the last three symphonies in one electrifying evening as masterminded by Richard Tognetti in the Australian Chamber Orchestra's Barbican mini-residency,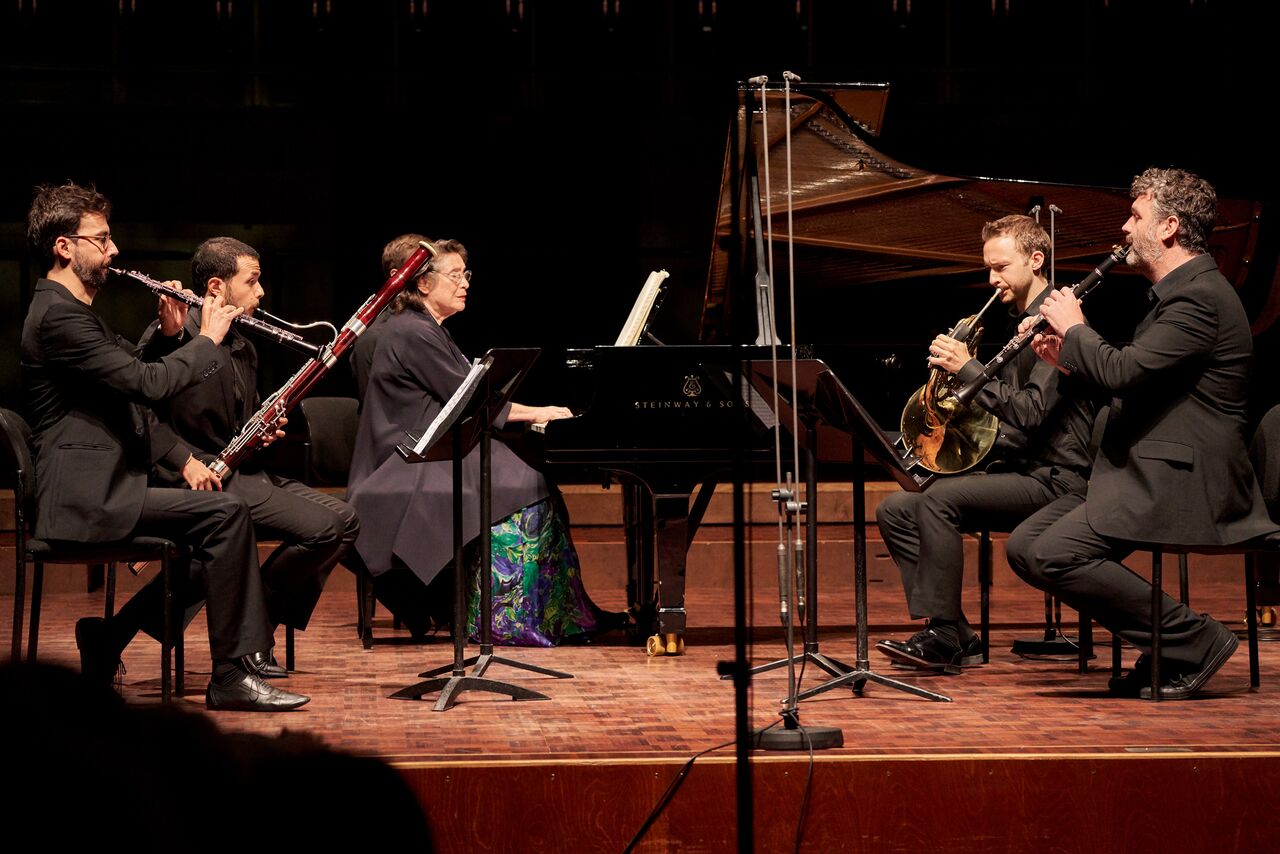 Alexandra's second choice is chamber music writ large in the personalities of the Jansen/Maisky/Argerich Trio in an "opulent" Barbican special. An equal great, Elisabeth Leonskaja, was merely first among less big names, but no less fine musicians, in a performance of Beethoven's Quintet for piano and wind during the Estonian Festival Orchestra's annual residential week at the Pärnu Festival with Paavo Järvi (pictured above by Kaupo Kikkas, Leonskaja, José Luis Garcia Vegara, Jesús Villa Ordóñez, Alec Frank-Gemmill and Matthew Hunt). Front-desk violinist Triin Ruubel, not joining the orchestra on their first visit to the Proms and Hamburg because of advanced pregnancy but present in Pärnu, said it was the most perfect chamber-music performance she's ever heard, so at least any apparent hyperbole isn't just mine. Would that Leonskaja had accompanied the EFO to London in the Grieg Piano Concerto they shared in Estonia rather than the wilful Khatia Buniatishvili in the same concerto, but at least the Proms audience got to hear the perfect jewellery of Arvo Pärt's Third Symphony, as in Pärnu, and spry appearances from Estonian's best-known octogenarian delighted spectators in both venues.
My other essential among festivals, in the East Neuk of Scotland, had Jean-Guihen Queyras's Bach cello suites in a day as its core, and confirmation that the young Castalian Quartet (pictured right) is the new force to be reckoned with on the scene. They introduced me to an amazing recent work by American Caroline Shaw, whose knack for moving in unprectable but somehow logical ways was further revealed by the Calidore Quartet in a lunchtime Prom. Electrifying younger generation pianism? Pavel Kolesnikov again, both in solo recital - fearing no immediate comparisons with Nikolai Lugansky - and together with his regular duo partner Samson Tsoy, who also got to shine alone in lucid Schubert and Schumann on the Ligurian coast.

David Kettle was dazzled at the Edinburgh Festival by Messiaen's Des canyons aux étoiles, conducted as in the Lucerne Easter Festival concert I heard earlier in the year by Matthias Pintscher, this sometimes over-long feeling epic whizzed by. I knew I had to return to Lucerne in the summer to catch Bernard Haitink, revelatory guiding young conductors in masterclasses at the Easter Festival, applying gentle but decisive pressure points to Beethoven "Pastoral" Symphony with the Chamber Orchestra of Europe; a beautifully shaped, ethereal piece of assured music-making. May he be fighting fit again for his 90th birthday concerts with the LSO in March.
Strauss and Beethoven driven by a bravura blend of frenzy and finesse
Explore topics
Share this article