Best of 2015: Classical Concerts |

reviews, news & interviews
Best of 2015: Classical Concerts
Best of 2015: Classical Concerts
Youthful chamber music, top anniversary Sibelius and remarkable pianism
Saturday, 26 December 2015
From the Proms to Lahti: the BBC Symphony Orchestra's triumphant anniversary Sibelius 'Kullervo' in Finland
The musical future looks bright indeed, at least from my perspective. There are more classical concerts than ever going on across the UK on most days of the year, so who can know with any authority what might have been missed? Yet each of theartsdesk's classical music writers has a special take on the events of 2015, and part of mine has been the special privilege of following a trail of younger players in out-of-the-way places.
Serendipity began in Fife's East Neuk Festival, where travelling up a day earlier than originally planned meant I caught the second concert given by the young musicians participating in the festival's new Retreat, playing for up to 14 hours on each day simply because they wanted to under expert guidance from violinist Alexander Janiczek. The highlight of the concerts I heard was a Mendelssohn Octet of sophisticated joyousness, with Janiczek as fourth violinist and 25-year-old New Zealand violinist Benjamin Baker leading. Baker was also playing at Paavo Järvi's Pärnu Festival in Estonia two weeks later – not just in the stupendously good Pärnu Festival Orchestra, but also in a chamber-concert revelation, Korngold's Suite for Piano Quartet with fellow violinist Andres Kaljuste, cellist Jonathan Bloxham and pianist Sophia Rahman (all pictured below by Kaupo Kikkas).
So the path continued to a festival in the village of Southrepps in Norfolk where Baker and Bloxham were part of an awe-inspiring, audience-stilling Schubert Quintet – it would be unwise to hear that work again for some time – and to another success-story instigated by top-quality musicians in West Malling, Kent, in which Rahman was participating, not least in the first UK performance for years of Sibelius's rare melodrama The Wood Nymph. Exceptional Wigmore recitals, one shared with the phenomenal guitarist Sean Shibe, and a charity concert conducted by Bloxham rounded off a half-year with these amazing musicians in the continuing spirit of sheer delight and total artistic maturity. For equal achievements among young singers, read our operatic best of 2015.
Large-scale symphony concerts have seen orchestras playing relatively safe with the repertoire compared to previous years, but even in a Proms season looking on paper relatively conventional, there were plenty of highlights. Sebastian Scotney has selected Sakari Oramo's Prom of Sibelius's early but overwhelmingly original Kullervo, and that's my top orchestral choice of the year too – not least for the revelation of what a massive chorus of Finnish male voices and BBC Symphony Chorus men could make of the unison story-telling.
Simon Rattle's Sibelius symphonies cycle with the Berlin Philharmonic at the Barbican (pictured left with violinist Leonidas Kavakos by Mark Allan) in the spring was a mixed bag, like the recording released later in the year, though Edward Seckerson kicked off by according the first concert five-star status. I was more impressed by Okko Kamu and the Lahti Symphony Orchestra in Finland's Lahti Sibelius Festival – the BBCSO Kullervo travelled there too, albeit with fewer choral men – in a concert with the best Sixth Symphony I've heard live and a flawless, truly organic Seventh. Their BIS recording of all seven symphonies is outstanding, lean and truthful. And should the proposed new concert hall for London be built, its looks and its sound will have to be up to the standards of Lahti's Sibelius Hall if it's really to make a splash.
Richard Bratby's orchestral top of the list was a celebration of the other major 150th birthday genius, great Dane Carl Nielsen, with the Fifth Symphony alongside Schoenberg's Erwartung in the Royal Danish Orchestra's unique visit to Birmingham under Michael Boder. Graham Rickson travelled from Leeds to London to hear the last instalment in Sakari Oramo's beautifully programmed Nielsen Plus series with his BBC Symphony Orchestra, and found the journey more than worthwhile – as much for the performances of Sibelius's Tapiola and Rachmaninov's Fourth Piano Concerto as for the ever-surprising Sixth Symphony. Another season-long festival planned around a single composer by a London orchestra's principal conductor, Vladimir Jurowski's LPO Rachmaninov series, came to an end with a suitably challenging programme in May. Peter Quantrill eagerly anticipated Daniel Harding's presentation of all four movements of Bruckner's Ninth Symphony with the London Symphony Orchestra, and he was not disappointed.
Special-case festivals also impressed two other writers: in Wales Stephen Walsh admired the perfection of Bach at the Brecon Baroque Festival, while in Scotland David Kettle's biggest impression remains of the three-week Cottier Chamber Project. The mainstream in Glasgow and Edinburgh is healthy, too: Robin Ticciati and the Scottish Chamber Orchestra kicked off a Brahms cycle in typically questing, refreshing style; Christopher Lambton was just a little less ecstatic than I was about instalments one and two, but there was no denying Isabelle Faust's perfect teamwork with the orchestra in Berg's Violin Concerto and Ticciati's Brahms First was as thought-provoking as Marin Alsop's with the Orchestra of the Age of Enlightenment at the Proms was flat and under-phrased, the year's major disappointment. Don't, however, think I'm being mean about the all too few women conductors on the scene so far; Susanna Mälkki's BBCSO Prom of Francesconi, Boulez and Holst's The Planets pressed all the right buttons, and with plenty of surprises (Mälkki pictured above by Chris Christodoulou).
Glyn Mon Hughes has been consistently complimentary about Vasily Petrenko's ongoing achievements with his adoring Royal Liverpool Philharmonic Orchestra; I chose one special event to see and hear for myself, a concert including a rare performance of the complete Third Act from Tchaikovsky's The Sleeping Beauty, and it was even sparkier than I'd hoped. The City of Birmingham Symphony Orchestra players still seem to be in mourning for the premature departure of Andris Nelsons, as well they might be; his Mahler Sixth with the Boston Symphony Orchestra at the Proms was the most flexible and overwhelming a performance of this symphony I've ever heard in the concert hall.
Among piano recitals, Jessica Duchen settles for the last of Barenboim's very mixed Schubert series, with a performance of the last sonata, D960, she'll never forget. Freddy Kempf battered my heart in a colossal and idiosyncratic but never barnstorming recital of Beethoven, Chopin and Tchaikovsky's Grand Sonata. Bernard Hughes was beguiled by Leif Ove Andsnes' championship of the five Beethoven piano concertos and Concert Fantasia, directing the Mahler Chamber Orchestra from the piano at the Proms; I was treated to Andsnes' originality as curator in Bergen – both of a Sibelius rarities programme and a mixture of Kurtag and Liszt in the intimacy of Grieg's house in nearby Troldhaugen, where he played alongside younger musicians on Grieg's very own Steinway to 40 lucky listeners.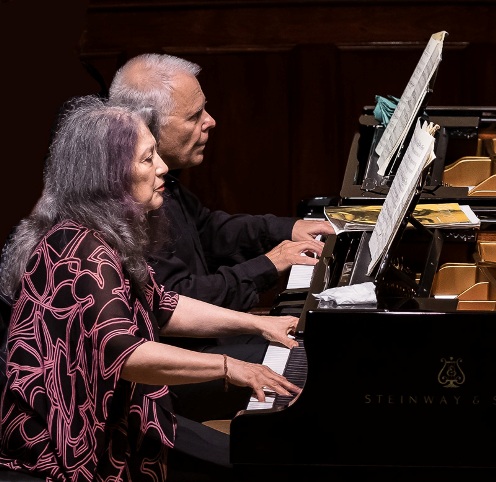 While Stephen Kovacevich's 75th birthday concert featured a dangerous performance of Rachmaninov's Symphonic Dances with the great American pianist's former partner Martha Argerich (pictured left by Clive Barda), it ended in solo enigma (another Schubert D960). There were no such doubts about Elisabeth Leonskaja's 70th celebrations, which she mostly shared with other outstanding musicians, taking the limelight only for awe-inspiring piano pieces by Jörg Widmann in the middle of the concert's three parts. Her confidence in the younger generation of pianists was demonstrated in the four-hand Brahms waltzes also featuring Alexandra Silocea, Samson Tsoy and Pavel Kolesnikov. If only every major star were as generous in showcasing youthful talent.
That evening was one big burst of joy; but the year's wildest revelry, and one which should be on DVD so everyone can watch it at this time of year and, if they so feel, dance along, was the "Alehouse Concert" of Bjarte Eike and his Barokksolistene plus friends in the adorable Sam Wanamaker Playhouse. I'd already caught a shorter burst in Spitalfields, persuaded Alexandra Coghlan that she had to witness this phenomenon and, after the first evening of melancholy numbers, we were both bowled over. And the music-making carried on in the Shakespeare's Globe bar. We need more of that sheer joy, and more like Eike to lead us on the path to happiness at the very highest level of musical execution.
Should the proposed new concert hall for London be built, its looks and its sound will have to be up to the standards of Lahti's Sibelius Hall
Explore topics
Share this article