In the spirit of the composer as innovator: Samir Savant on the London Handel Festival |

reviews, news & interviews
In the spirit of the composer as innovator: Samir Savant on the London Handel Festival
In the spirit of the composer as innovator: Samir Savant on the London Handel Festival
The director presents a month of enterprising events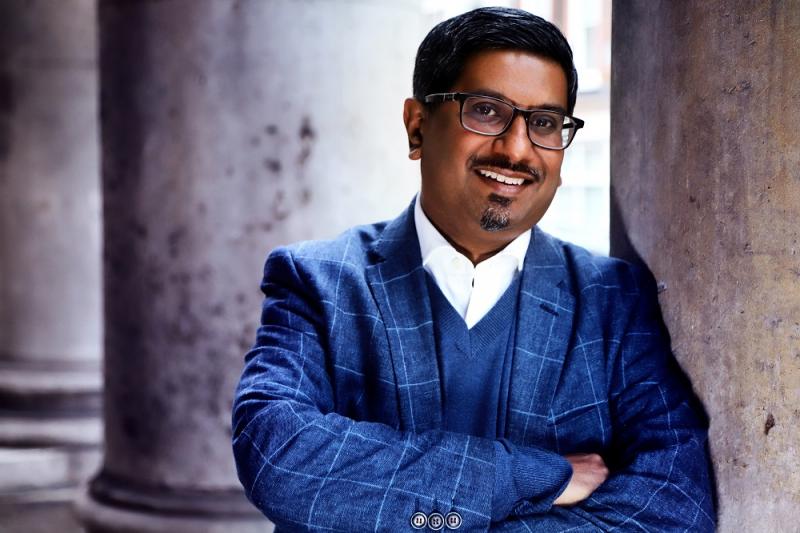 Samir Savant, director of the London Handel Festival
This is my third year as festival director of the London Handel Festival, an annual celebration of the life and work of composer George Frideric Handel, which takes place every spring in venues across the capital.
Our core charitable and artistic objectives for the Festival are to explore the full repertoire of Handel, to bring the composer's music to broader audiences and to continue his tradition of nurturing young talent. I have always known Handel's music, having sung it since I was a boy, but it is only in recent years that I have come to discover the complex and loveable character of Handel the man.
The London Handel Festival has been an important part of the classical music calendar for some 40 years, but I felt it was not recognised enough outside the world of Handelian cognoscenti, and we needed to do more to preserve the glory of Handel's music for future generations. After all, Handel was a great innovator himself and a consummate promoter, and I wanted to capture some of his entrepreneurial and forward-thinking spirit in our programming and marketing. So we go into the 2019 festival with a fresh and contemporary visual identity and a new website that is designed to be more user-friendly and informative, including more detail about Handel and his music, with past programme notes available for download as a resource for anyone interested to find out more.


I feel that an important aspect of this festival is to bring to light the different aspects of Handel's life and work which still resonate with us today. For example last year, we chose the theme of "Handel in London", exploring Handel's relationship with his adopted city, including his link to its celebrated places of work and play, such as the Bank of England, where his accounts are on public display, and the Vauxhall Pleasure Gardens, where Handel was a frequent visitor and a statue was erected in his honour. We also explored Handel's admirable support of many charitable concerns, presenting a special performance of his Foundling Anthem in the beautiful picture gallery at the Foundling Museum.

As someone who has fundraised for a range of cultural organisations, I have huge respect for how Handel went about raising vital funds for his espoused causes, most notably the Foundling Hospital and the Fund for the Support of Decay'd Musicians (a precursor to today's Royal Society of Musicians). Handel organised fundraising concerts of his popular works for both charities and left significant bequests to both in his will. I keep Handel's philanthropy as my inspiration as I fundraise – the festival exists without any public subsidy, and ticket sales only cover some 40% of our costs. So we are very grateful to our family of supporters for their ongoing generosity.

The theme for this year's festival is "Handel's Divas", exploring the lives of the famous female singers who were associated with Handel and for whom he wrote many of his most famous roles. These amazing women inspired and gave life to Handel's music and were pioneering role models, attracting devoted fans and huge fame, but often with complicated personal stories behind their public acclaim. The "divas" (a term not coined until the 19th century and at first entirely complimentary) played an important part in Handel's choice of subject and the development of his musical style. He sought particular singers, first in Italy and later in Britain, to embody the female roles in his hugely successful operas and oratorios.
Handel is famous for his somewhat cantankerous character, and many of us know the story of him threatening to dangle a soprano out of the window, but with this year's theme I wanted to recognise Handel's lesser-known qualities, his desire to help his divas establish a reputation and financial independence at a time when this was largely impossible for women, and his patient ability to seek out talent and to nurture it. When Handel first met Susanna Cibber (pictured left as painted, like Handel above, by Hudson) she could not read music and so he sat with her while she learned his scores note by note. She went on to sing many roles for him and sang the alto solos in the very first performance of Messiah.

In light of this year's theme, I am particularly excited about our debut at the Royal Opera House's newly-renovated Linbury Theatre with Berenice, directed by Adele Thomas and featuring a talented cast with Claire Booth in the title role. The work has not been heard there since Handel presented it in 1737, when it premiered at the Covent Garden Theatre, as it was called at the time. As with all our major projects, the conductor will be Laurence Cummings, our musical director, with the London Handel Orchestra, and it will be fascinating to hear music played on period instruments in the intimate space of the Linbury. Another highlight of the festival is our international Handel Singing Competition, which is now in its 18th year. This year we have had a record 170 applicants from 25 countries, all the way from Australia to Argentina. We continue to nurture and support talented young artists, just as Handel did, with the competition having helped to launch the careers of many of today's baroque super-stars, including Lucy Crowe and Iestyn Davies. This year's festival features no fewer than 20 alumni of the Handel Singing Competition in solo roles.
The choice of venue is very important to the success of the festival. I feel that we are spoiled in London with all its cultural riches; arts organisations in the capital are competing for audiences and increasingly need to exceed expectations to deliver memorable experiences. It is not enough to present a compelling programme with first-rate artists; often the venue is also a crucial factor. Luckily for us, Handel was associated with many iconic places across the city and we celebrate this in the range and variety of venues for Festival events. Many of our concerts are held in the beautiful church of St George's, Hanover Square (pictured above with Cummings and the London Handel Orchestra rehearsing there) where Handel worshipped, near to his home in Brook Street. Other venues either have a historic link with Handel or are established venues suited to baroque music.

A great example of the former is the Charterhouse, a historic oasis of calm in the heart of the City, where Handel's friend and collaborator Johann Pepusch was organist. Occasionally we choose more quirky venues so that Handel's glorious music can be heard in unexpected places and so in 2019 we take Handel to Peckham, We are working for the first time with Greg Batsleer and his ensemble Festival Voices with Handel Remixed, featuring a brand-new version of Dixit Dominus, reimagined for live performers and DJ by electronic music producer Nico Bentley and the Pencil Collective. This imaginative and playful event will take place at the Bussey Building's CLF Art Café. We hope that this cross-genre programme will challenge conventions and surprise the senses in ways that Handel would no doubt have relished.
With this year's theme I wanted to recognise Handel's desire to help his divas establish a reputation and financial independence
Share this article