Orpheus, Classical Opera Company, Page, London Handel Festival |

reviews, news & interviews
Orpheus, Classical Opera Company, Page, London Handel Festival
Orpheus, Classical Opera Company, Page, London Handel Festival
Concert hall revival of a Telemann operatic masterpiece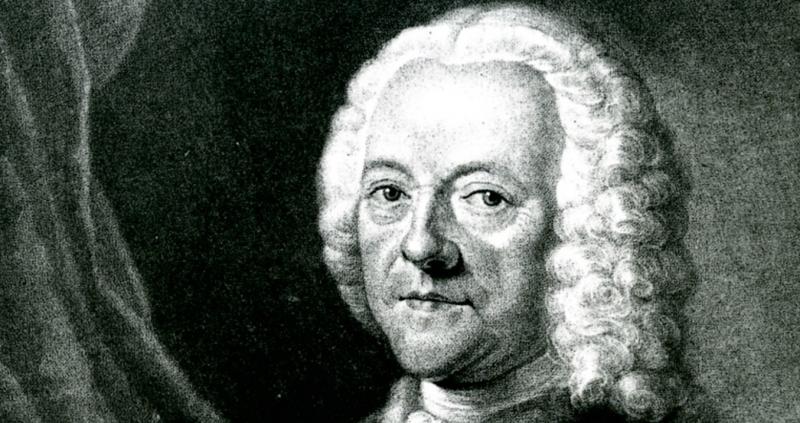 Telemann was J S Bach's favourite composer
A toast to London's Handel Festival, now celebrating its 36th year, and to Ian Page's adventurous Classical Opera Company, for pulling Telemann out of the drawer and placing him in the forefront of this year's celebrations at St. George's, Hanover Square.
There used to be a school of thought, part-informed and partly way off-beam, that Telemann, and others of Bach's contemporaries, were boring: Baroque musical wallpaper, worthy but shorn of the structural daring, instrumental colouring and spiritual intensity of JS Bach's most affecting scores. That's not a view Bach took: he left us a list of composers he most admired that topped 30. And Telemann, godfather to Bach's son Carl Philipp Emanuel, was number one choice.
McGovern (Orpheus) brings an earnest beauty to everything he sings
Ian Page's reading didn't start with the bang and thrust of Rene Jacobs's Harmonia Mundi recording: initially it felt a little well-mannered. But there was a lot more to come, where Page captured the same sense of urgency, and dramatic high jinks, as characters, steely or otherwise, established themselves.
One major reason for the opera's patent value is the quality of the libretto, penned in 1690 by Michel du Boullay for an Orpheus opera by Lully's son. Possessed of a bit of the invention that characterised Monteverdi's Poppea librettist, Busunello, it has something for every cast member (even the shy soubrette - Elinor Rolfe Johnson - gets a powerful hit of an aria near the end). It shifts between moods of hope and anger, jealousy and despair, such as one finds in (say) Idomeneo or any Salieri opera. Even where it touches on platitude, which is not often, it has emotional depth and power. It's a bit of a masterpiece.
The chief masterpiece, however, is Telemann's music - its range and subtlety and colouring (his use of oboe, recorder and cello obbligato is exceptional in this work) - the calibre of the performance. The verve of these young singers to mug up the entire German text, arias and massive chunks of recitative, the risk it entails and the hours of work - in addition to mastering the notes - for just one performance, and the lack of any hint of nerves, is to me, who can scarcely remember a hexameter, truly breathtaking. They were, without exception, splendid.
Pluto's attendant and major-domo (Rupert Enticknap) had presence as well as a lovely but equally cutting tone, fluent and assured. The recitative of other male companion in this opera, Orpheus's Pylades-like pal Eurimedes (tenor Alexander Sprague - another find) somehow beefed up this presentation when it most needed it (his main task is to cheer up a despondent Orpheus). Sprague's own ode to elusive love was charming; and when he sings of the little birds and zephyrs ("Augeletti, che cantate") we can almost hear the breeze and trees. It was attractive as well as accomplished.
Eleanor Dennis as the amorous old boot who brings about the demise of both Eurydice and Orpheus, sang with a mild vibrato that, initially tiresome, perhaps helped set her apart. Orasia is the sort of smug, spoilt lady of the manor who would sing with a bossy wobble. Certainly du Boullay and Telemann, who himself probably tweaked the libretto quite a bit, give this overbearing monster plenty of cowish lines (her vendetta aria was terrific: think of Idomeneo's Electra).
But at the end, having ditched both rival and erstwhile love (Orpheus is ripped apart by her Thracian maenads), Orasia has the plum: the aria "Hélas, quels soupirs". This is so Paris-imbued it almost sounds like Purcell. It was probably the highlight of the whole evening. Jonathan McGovern's Orpheus, sweet and smiling like a becapped prep school boy, initially a joyous newlywed, only occasionally gets tough. Doughty yet buffeted, McGovern brings an earnest beauty to everything he sings, especially the sensational "Ach Tod, ach süsser Tod", sung pianissimo over pizzicato strings – Telemann at his most achingly beautiful. The rest was a lot of fun.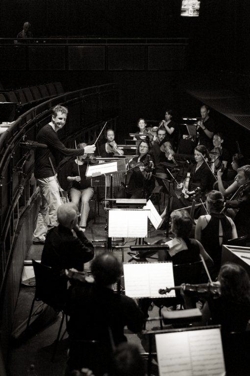 Alex Ashworth boomed impressively from the pulpit as a Pluto. The chorus, as dogs and, elsewhere singing nymphs, were rather good, though I sensed their consonants were less than strong. Were there hints of tuning approximation amid Ashworth's noble, unfraternal declamations? If so, they were minimal. Ashworth's "Zu den Waffen!" ("To arms!") is apparently a reconstructed aria; it was certainly one of the best. And "Ruhet, ir Foltern", when Pluto does a complete U-turn (again, quality libretto), was intensely moving and delicate
But time and again Page's orchestra (pictured above right) proved its worth. Without their excellence, Telemann might again have been doomed. Instead we heard a score that frankly deserves the accolade of masterpiece - well up to Handel's standard. The moment when Orpheus's music is heard in Hades - what seemed like a bass recorder played high in its register in a plangent cantilena - was pure magic. Telemann concocts a deliciously hellish prelude, the harmonies creaking as perhaps only he can do, to Act II. And there's a funny dance ("Niais") that sounds like a hurdy-gurdy.
Eurydice's (initial) farewell is sung plaintively by Rhian Lois over just harpsichord continuo, as if life is ebbing away. Telemann and du Boullay, however, miss one trick. After the sparagmos (ripping apart), Orpheus's severed head floats down the river, still singing. You can't do the visual bit in a concert performance; but it might have made a prettier musical ending.