Total Immersion: Music for the End of Time review - miracles from the house of the dead |

reviews, news & interviews
Total Immersion: Music for the End of Time review - miracles from the house of the dead
Total Immersion: Music for the End of Time review - miracles from the house of the dead
Czech-Jewish composers murdered by the Nazis live again in magnificent performances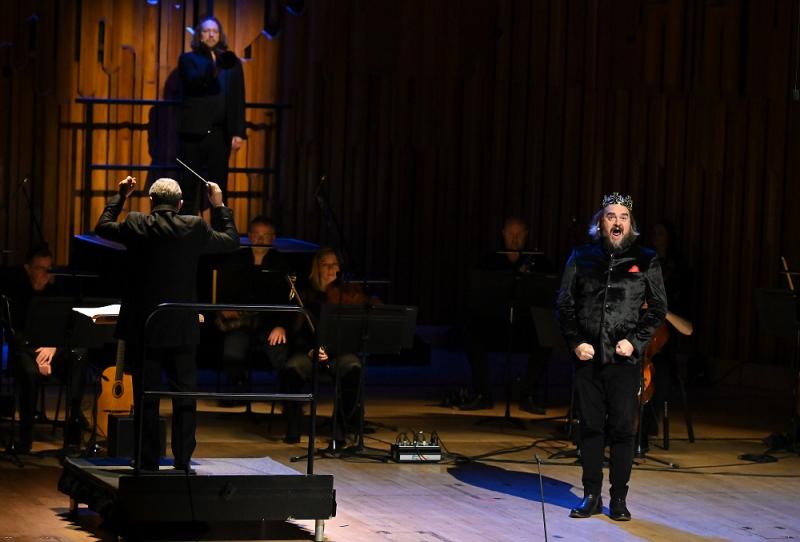 Josep Pons, member of the BBC Symphony Orchestra, Derek Ballard and Thomas-Johannes Mayer in Ullmann's 'The Emperor of Atlantis'
History's most grotesque act of cynicism has to be the model ghetto the Nazis mocked up for the cameras in Terezin/Theresienstadt in October 1944, several days before transporting all the musicians and smartly-dressed attendees present at the concert included in the film to Auschwitz.
What haunted me most during the last three months of 2020, when I ran a 10-week Zoom course on Czech music, was what happened to the conductor, Karel Ančerl, and the composer of the Study for String Orchestra being so brilliantly played in the film clip by the Jewish string players, Pavel Haas (taking a bow as pictured below in a still from the film). Ančerl soon found himself standing with Haas in front of Josef Mengele at Auschwitz. His path to the gas chambers seemed all but sealed when Haas, weakened by the confinement, coughed. "No, that one," gestured Mengele. So Ančerl lived (though his wife and son met Haas's fate), and Haas was murdered, like fellow composers Viktor Ullmann and Hans Krása, also in their 40s. 25-year-old Gideon Klein survived Auschwitz but died in early 1945 under unknown circumstances during the liquidation of the labour camp to which he had been transferred. The brilliant, unpredictable Erwin Schulhoff had died of tuberculosis in a Nazi transit camp four years earlier.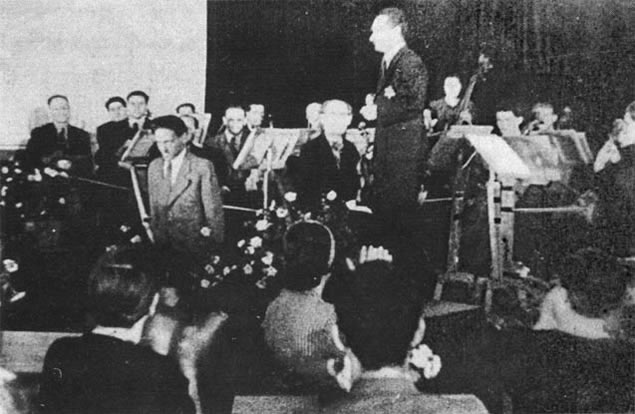 These brilliant composers were wrenched from us under horrific circumstances, but their music has an extraordinary vitality, and the three concerts in the BBC's Total Immersion Day, ahead of the Holocaust Memorial commemorations on 27 January, gave us an embarrassment of riches, a breadth and a depth, which I'm still trying to grasp, in performances of razor-sharp focus and intensity.
The two short works which launched the first BBC Symphony Orchestra concert at the Barbican showed the sheer energy and brio two of the Terezin composers managed to muster in unpromising circumstances (as one of the others, Ullmann, so lucidly stated, "in no manner did we just sit on the banks of the rivers of Babylon and weep that our cultural needs were not able to keep pace with our will to live")." Krása's Overture for Small Orchestra is witty, chameleonic in its shifting textures and rhythmic variety, with a virtuoso role for concertante piano brilliantly taken by Philip Moore. For the Haas work premiered by Ančerl in Terezin, its conclusion captured in the propaganda film, the fugal theme at its heart so distinctive and cleverly mined, the full BBC strings made a superb sound – moulded some time back by their then principal conductor, Jiří Bělohlávek, who would have been so proud of the celebration of Czech composers here.
He would also have been impressed by the unshowy, serious and clear conducting of young Alpesh Chauhan (pictured below by Marcello Orselli), destined for a major music-director post soon. Chauhan had a monster to face in Schulhoff's Fifth Symphony of 1938, and he never flinched. From its brutal tattoo of a first movement to the determined but still not exactly optimistic final battering, this is a work that seems to be hewn out of a single granite outcrop. The scoring is mostly dense but not over-thick, never exactly relaxing, though in the slow movement there's room for woodwind solos and the symphony's most moving passage, for horn ensemble capped by a shining solo from Nicholas Korth.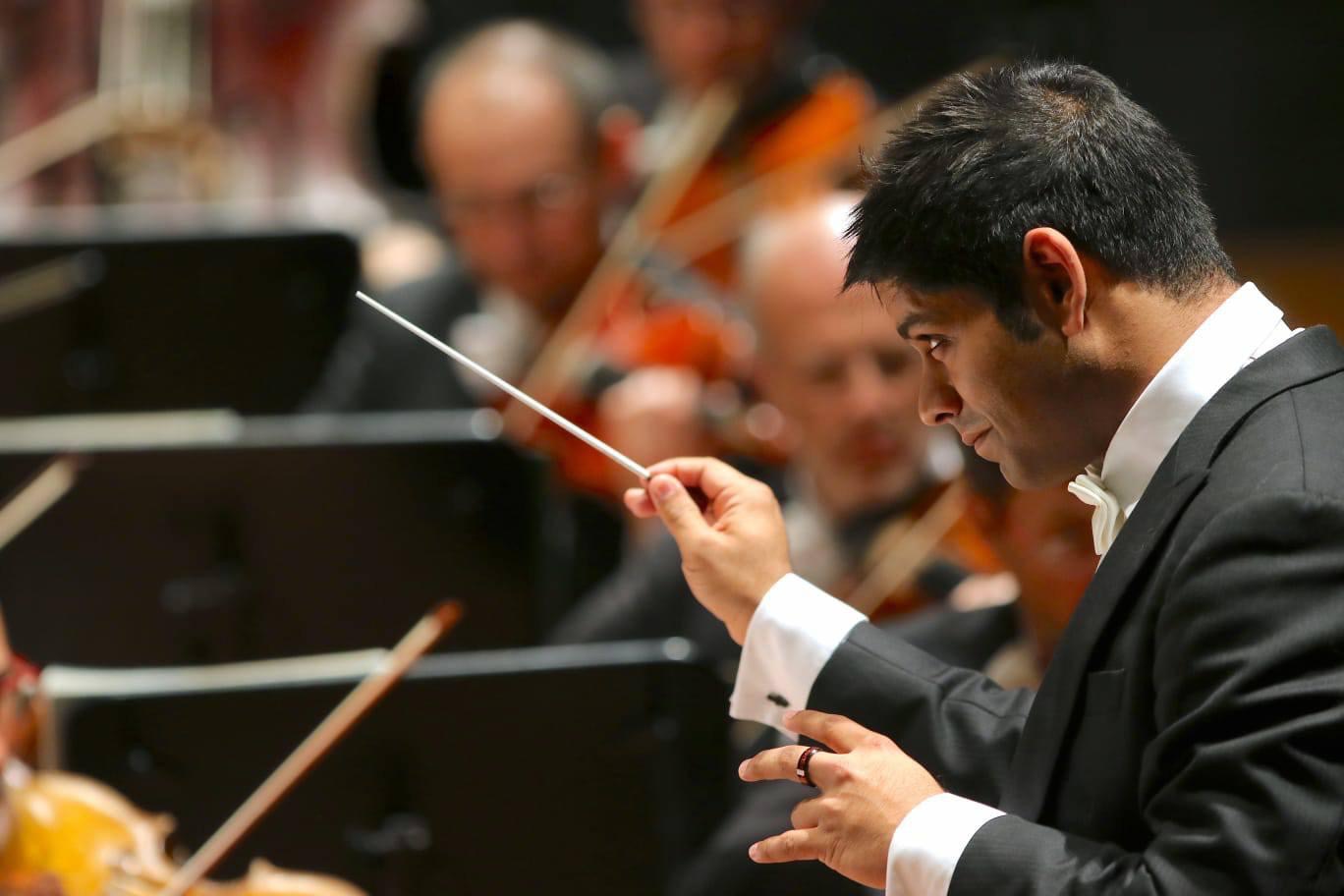 Schulhoff's essence here is tonal, but with a high dissonance quotient; note-writer Erik Levi suggests correspondences with Shostakovich or Prokofiev, but I don't really hear them. A link with Vaughan Williams at his most ferocious, perhaps, but taken as a whole this is a unique symphony, remarkable for its dogged lack of real light at the end of the tunnel (and why, in 1938, as Schulhoff began to find that there was nowhere to run, should there have been?)
We were confined with another tough proposition in the second concert over at lugubrious Milton Court, an unbroken, unapplauded hour and a half of Terezin chamber, solo vocal and choral music masterminded by baritone Simon Wallfisch (what a sobering thought, one of many, that had his grandmother, cellist Anita Lasker-Wallfisch, who was present at the concert, not survived Auschwitz, he wouldn't be here either). His readings were modulated with perfect eloquence and sensitivity, from the diary kept by the parents of an ill-starred baby boy to a poignant poem about the last butterfly scene within the fortress walls. No holds were barred in his synagogue chant, part of the "Lacrymosa" in Sylvie Bodorová's 1997 Requiem for Terezin and the bravado in one of two cabaret songs (pictured below with Iain Farrington). The BBC Singers had to cover an even bigger range, including skilfully-arranged Yiddish and Czech folksongs, which they did with their characteristic versatility under Nicholas Chalmers.
If only the translations could have been projected above. The Barbican's obdurate refusal to return to printed programmes meant a lot of distracting bright iPhone screens. For those of us doing without, it was a case of listen first, identify afterwards – with the exception of some known quantities, for some of us, like Gideon Klein's String Trio and the finale of Haas's pre-Terezin Second String Quartet, "From the Monkey Mountains". The strings' intensity here might tell us that Haas was Janáček's best pupil; and the percussion riffs show a striking innovation which the master would have admired. Kudos here to the young musicians – all Guildhall students, I'm assuming, and certainly worthy of naming: violinists Hana Mizuta-Spencer and Melanie Gruwez, viola-player Kate de Campos, cellist William Clark-Maxwell and percussionist Bogdan Skrypka (all pictured below).
The sequence ended with pianist/composer Iain Farrington's arrangement of the finale of Ullmann's one-act opera The Emperor of Atlantis: a strikingly treated version of a Lutheran chorale by a Jewish composer which perhaps reminds us that Bach should always be held in mind as the highest point of the German experience, as the Nazis were the lowest. It is even more moving in the context we heard in the first half of the evening concert, the humanistic conclusion to a bizarre fantasy that's more bittersweet than brutal.
The theme is an astounding one bearing in mind the circumstances (though The Emperor was put into rehearsal following its completion in January 1944, it never reached performance in Theresienstadt). Death abdicates in the face of overwork by Emperor Overall, so no-one in the endless conflict engendered by the dictator can die. As Michael Haas eloquently puts it in his excellent study Forbidden Music: The Jewish Composers Banned by the Nazis, "Ullmann's message [and that of his clever young librettist, Petr Kien]…is that the only thing that needs to be feared is an absence of death. Its ethical message goes even further with Emperor Overall agreeing to be the first to die in order for Death to end his strike and thereby redeeming the apparently irredeemable. This was an extraordinary idea to present in a situation where death was ever-present – parts of the libretto were written on the backs of deportation lists to Auschwitz".
So it is that ultimately the tyrant gets the most moving solo, looking forward to natural renewal. Thomas Johannes Mayer made the authority, and weirdly, our hearts, melt at his point. But he was only one in a perfect cast, with Robert Murray going through brilliant musical-dramatic hoops as one commentator, Harlequin, in edgy rapport with Death (Henry Waddington) and Derek Ballard stentorian as the other (megaphoned, as Ullmann asks, though I'm not sure why the other singers needed any amplification). Lyricism within bounds came from the lovely-as-ever delivery of soprano Soraya Mafi in duet with tenor Oliver Johnston, and trio with the resonant mezzo of Hanna Hipp's Drummer Girl (Ballard, Hipp, Murray, Mafi and Pons pictured above). The staging by Kenneth Richardson used minimal props and a few lighting changes to tell us everything we needed to know. Josep Pons conducted a selective ensemble of BBC Symphony Orchestra musicians, the best of chamber players, as we know, with an especially eloquent, singing contribution from that peerless cellist Susan Monks.
Quietly moving to tears, a masterpiece in its own right even without the extra layer of the circumstances under which it was composed, The Emperor of Atlantis is where this day of events should really have stopped. Messiaen's Quartet for the End of Time is another masterpiece, no question, but it need not have appeared in this company. If I left it at the Ullmann, that's partly because I don't think the Quartet should be heard live more than once every three or four years – I had my vision at the Ragged Music Festival – but also because this was already the richest of days, one centred around the Theresienstadt flowers in the mud. Let's not forget, either, that this magnificent and deeply serious achievement is why we should never take the BBC for granted.
Concerts to be broadcast on BBC Radio 3