Alina Ibragimova, Quay Brothers, Wilton's Music Hall |

reviews, news & interviews
Alina Ibragimova, Quay Brothers, Wilton's Music Hall
Alina Ibragimova, Quay Brothers, Wilton's Music Hall
Young Russian violinist fills magical space and collaborates with visionaries
Nine out of 10 attempts to feed an audience's visual responses to abstract music are doomed to failure; a great communicator will always conjure stronger pictures in the listener's mind. And there's no doubt that young violinist Alina Ibragimova communicates at the highest level. But here she simply held her own to work in shadowplay with both the mysterious spaces of London's most atmospheric venue and the even more intangible visions of twins Timothy and Stephan Quay. Their film around Bartók's Solo Violin Sonata, though defying intellectual analysis and easy correspondence with the musical ideas, is pure choreographic poetry.
The whole, more or less perfect conception, which originated as a Manchester Festival commission first performed at Chetham's School of Music, was structured by Ibragimova establishing the closest possible contact with the audience to begin with and then visually - but never aurally - retreating from us. She glided along the balcony and down the creaking stairs towards the illuminated music stands on stalls level, accompanied by the reverent silence you associate with a sacred rite (and Wilton's does feel to me like a church, as it was for some time after health and safety put paid to its status as London's oldest music hall; though Methody is hardly mysterious). Berio's Sequenza VIII was fierce, grounded and not unsuitably accompanied by the thundering of nearby trains, like a seismic bass drum obbligato.
Its model, which Berio uncontroversially described as a "high point of music", came next, the Ciaccona of Bach's D minor Partita. For this Ibragimova, looking if you please like a pure young angel of death in shimmering black, took up a more elevated position stage left, the lighting - presumably arranged by the Quays - casting her giant shadow on the music-hall drop cloth. The playing was just as big, effortlessly filling the by no means over-reverberant Wilton's space, though with none of the shadow's blurred edges; Ibragimova chooses a vibrato-free approach that would be abrasive if it weren't for the flawless intonation. I can't think of hearing Bach being played in any other way for some time to come.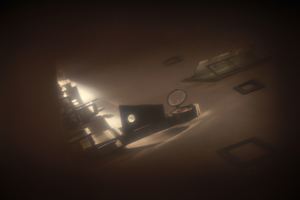 For the interval, we were invited to wander the Wilton passageways seeking out its curiosities and its unrestored rooms while the violinist was distantly heard gravely intoning another passacaglia, Biber's from his Mystery Sonatas: strange music to drink your beer and eat your Scotch egg by. For the Bartók, we were asked more or less to forget Ibragimova's physical presence, catching her only occasionally as a shimmer of orange-red to complement the few moments of bright colour in the otherwise sepia, grey and greenish dream-vision of the Quays. I haven't seen enough of their work since the groundbreaking designs for early Richard Jones productions of Feydeau's A Flea in Her Ear and Prokofiev's The Love for Three Oranges, but I like to think I'd have guessed their thumbprints in this. Any description of the film's ingredients will give only the outward form rather than the essence: a composer glimpsed at work, open windows caught at strange angles, a girl in a flower-strewn bier, decayed furniture that takes on a life of its own (pictured above right).
Once or twice, the vision directly corresponds with the music: an upward glissando at the end of the Fuga sees the sky; the furniture animation goes crazy to the second subject of the finale. Most ineffable were Ibragimova's high, harmonic ghost voices in the Melodia, where colour drains out of the coffined girl and she turns to marble in some of the most exquisite filming. What's it all mean? You decide, but be sure that the images as well as the sounds will resonate long after. And I do hope this marks the beginning of a beautiful friendship between recently-redeemed Wilton's and the Barbican Centre, which must be reassured by the fact that a bare-bones violin recital, given imaginative presentation, can sell out for three nights in a row.
Share this article