BBC Proms 2011: theartsdesk recommends |

reviews, news & interviews
BBC Proms 2011: theartsdesk recommends...
BBC Proms 2011: theartsdesk recommends...
As the festival begins, our critics pick plums from 90 concerts
The Royal Albert Hall: The 5,200-seat circular home of the world's largest classical musical festival
Tonight the doors open for the biggest classical music festival in the world, the BBC Proms at the Royal Albert Hall. To help you plan your summer visits and listening, theartsdesk's critics gently steer you with their own preferences from the 90 concerts on offer. You can also check the complete list of all Proms on another page.
Recommendations are made by
David Nice, Igor Toronyi-Lalic, Edward Seckerson, Alexandra Coghlan, Graham Rickson, Stephen Walsh
and
Ismene Brown
.
David Nice
As I intimated when I reported on the press briefing, the prospectus looks more enticing this year than last, though as 2010 proved, even the hoariest warhorses can come up shining given the right interpreters. But I'd best welcome the rarities that immediately catch the eye.
Prom 4, 17 July: Havergal Brian's Gothic Symphony, BBC National Orchestra of Wales, c Martyn Brabbins Never heard Havergal Brian's Gothic Symphony; some of its scarier advocates – you know the sort, second-rate British music's champions – put me off. But it's a piece made for the Albert Hall, even more so than the other "choral Sundays", and given nine choirs as well as two orchestras under the stalwart Martyn Brabbins, it should raise the dome. But will there be any room for the audience?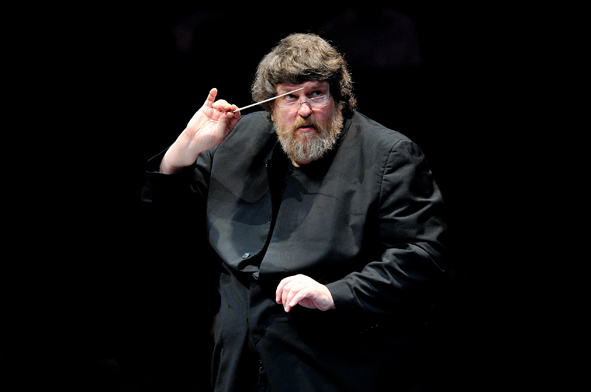 Prom 19, 29 July: BBC Symphony Orchestra, c Oliver Knussen The sharpest composer-conductor ear in the business next to Pierre Boulez, Oliver Knussen (pictured left by Chris Christodoulou) usually brings fascinating programmes that are box-office poison. Nevertheless I hunger for his six-parter with the BBC Symphony Orchestra, not least for the chance to hear a real English masterpiece, Frank Bridge's There is a Willow Grows Aslant a Brook.
Prom 25, 2 August: Northern Sinfonia, c John Harle Grainger night looks like a chance to redeem the nasty taste left in the mouth by those hapless military bands at Kings Place; it should be interesting to hear what Northumbrian smallpipes-player Kathryn Tickell and folksinger June Tabor can bring to the table.
Proms 41 & 42, 14 & 15 August: Britten Heavier-weight is the mini-Britten festival spread over Sunday, 14 August (Prom 41) in the colosseum and Monday, 15 August (Prom 42) down the road at the Cadogan Hall; the Spring Symphony always works well in the Albert Hall – I'll never forget Rozhdestvensky twinning it with Schubert's Ninth – but the artist I really long to hear again is top oboist Nicholas Daniel in the chamber concert (Prom 42).
Proms 63 & 64, 2 September:Budapest Festival Orchestra, c Iván Fischer; Prom 42, 15 August: Tchaikovsky's Swan Lake, Orchestra of the Mariinsky Theatre, c Valery Gergiev I'm torn between top visiting-orchestra choices. Ivan Fischer and the Budapest Festival Orchestra always set the hall alight, even if this time they follow up fascinating Liszt with ubiquitous Mahler One on 2 September (Prom 63). I like the idea of the audience-choice late-nighter, too (Prom 64). There, I squeezed two more in; and now I can go to the Number One slot, Gergiev and the Mariinsky Theatre Orchestra in the complete Swan Lake ballet (Prom 42, 15 August) – with the proviso that they don't include the horrid Drigo-arranged interpolations for St Petersburg which sabotage Tchaikovsky's hitherto perfect Act IV.
Prom 2, 16 July: Rossini's Guillaume Tell, Orchestra and Chorus of the Academy of Santa Cecilia, c Antonio Pappano Youth-celebrating first and last nights look good; but I'll opt to choose between the second and penultimate bookenders – hope to hear both, but first choice has to be Rossini's gloriously long but never otiose Guillaume Tell in concert under the great Pappano on 16 July. Rossini's final, harmonious vision should warm the hall nicely for the splashier Brian blockbuster the following night.
Igor Toronyi-Lalic
To my eyes, a pretty conservative season. European and American heavyweight orchestras are absent, as are many of the titans of the podium. Contemporary music confines itself mostly to the easy and breezy: to post-minimalists (Fitkin, Volans, late Reich) and pappy French neo-impressionists (Dusapin, Dutilleux, Dalbavie). What experimentation there is is parochial (plenty of early 20th-century British rareties from Grainger, Bridge and Brian, if that's your thing) or slightly insane (a concerto for turntables, Norrington doing Mahler 9)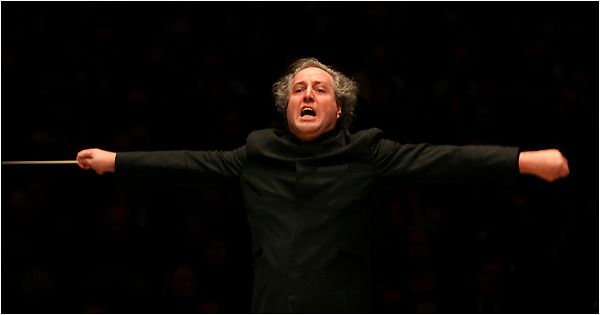 I therefore find myself retreating to the season's musical comfort food, to several rather obvious but well-cast numbers that will thrive on the acoustical leg-room the Royal Albert Hall affords: Bychkov doing Verdi's Requiem (Prom 13), McCreesh Elijah (Prom 58) and Gergiev Swan Lake (Prom 42). The two operatic rareties - William Tell (Prom 2) and Der Freischütz (Prom 73) - are very welcome.
Do not miss the Pittsburgh Symphony Orchestra playing under their electrifying new maestro Manfred Honeck (pictured right), who's been compared not undeservedly to the great Carlos Kleiber (Prom 69). Anne-Sophie Mutter joins them for the ravishingly high-wire Wolfgang Rihm violin concerto. The UK premiere of the Birtwistle violin concerto is another must of the contemporary spread (Prom 70). And for history-book reasons, you might want to catch the currently bankrupt Philadelphia Orchestra (Prom 72). This might be the last time you get to hear America's finest orchestra.
Edward Seckerson
Prom 4, 17 July: Havergal Brian's Gothic Symphony, BBC National Orchestra of Wales, c Martyn Brabbins There are good reasons why we don't hear more of Havergal Brian's music - but the Gothic Symphony No 1 in D minor is a hugely theatrical synthesis of everything he was and more. With moments which dwarf even Mahler's Eighth Symphony in gobsmacking excess, this Faustian extravaganza comes around once in a blue moon when the BBC can afford it.
Prom 21, 30 July: CBSO and Chorus, c Andris Nelsons (pictured below right by Chris Christodoulou) Quite a programme, quite a conductor. Midori plays Walton's dreamily romantic, Mediterranean-infused Violin Concerto, and the cantata drawn from Prokofiev's epic ice-breaking score for Eisenstein's Alexander Nevsky serves as a timely reminder of one composer's mighty influence on a whole generation of movie-music composers, Walton included.
Prom 30, 6 August: National Youth Orchestra of Great Britain, c Vladimir Jurowski Shakespeare's star-crossed lovers, Romeo and Juliet, will enjoy total identification from the young talent of the NYO in selections from Prokofiev's great ballet. But the first half of this Prom is yet more intriguing with the composer's grandson, Gabriel Prokofiev, crossing over into the youth culture of disco beats and remixes with his Concerto for Turntables and Orchestra. All that and teenage piano whiz Benjamin Grosvenor in Britten's heady Piano Concerto.
Prom 42, 15 August: Orchestra of the Mariinsky Theatre, c Valery Gergiev The greatest of all Swan Lake ballet scores - Tchaikovsky's - in the hands of an orchestra and conductor that are as close to source as it is possible to get.
Prom 44, 17 August: Philharmonia Orchestra, c Esa-Pekka Salonen More from Russia with love - and what a confection. The hypnotic young Georgian violinist Lisa Batiashvili plays the most searching and searing of all Russian violin concertos - Shostakovich No 1 in A minor - and the fairground magic of Stravinsky's Petrushka is heard back to back with Tchaikovsky's storming descent into the second circle of Hell with Francesca da Rimini. Anticipate some real heat from Salonen.
Prom 59, 29 August: Hooray for Hollywood, John Wilson Orchestra John Wilson's sensational orchestra has no equal on either side of the pond and his now yearly Prom date is always the first to sell out. This year we tap dance all the way from the birth of the talkies to the 1960s movie musical blockbusters. Along the way we pay tribute to RKO films and Fred and Ginger in loving recreations of Hollywood's golden-age orchestrations. Indecently gorgeous.
Alexandra Coghlan
Prom 28, 4 August:The Tallis Scholars, c Peter Phillips In Tomas Luis de Victoria's 400th-anniversary year it would be hard to find a better monument to this giant of the Spanish Renaissance (1558-1611) than the astringent beauty of his Lamentations and Requiem.
Prom 58, 28 August: Mendelssohn's Elijah, Gabrieli Consort and Players, c Paul McCreesh Paul McCreesh, the Gabrieli Consort and all their musical friends and relations such as Rosemary Joshua, Sarah Connolly, Robert Murray and Simon Keenlyside promise to make a massed musical spectacular out of Mendelssohn's choral-society staple.
Prom 55, 25 August: Handel's Rinaldo, Glyndebourne Festival Opera, Orchestra of the Age of Enlightenment, c Ottavio Dantone One of only two new productions from Glyndebourne this year, Rinaldo puts in a semi-staged appearance at the Proms. The OAE are directed by Ottavio Dantone, and Sandrine Piau and Sonia Prina star in Handel's rather stolid early work.
Proms Chamber Music 3, 1 August:Les Talens Lyriques, Christophe Rousset Under the vibrant direction of Christophe Rousset (pictured left), the ensemble offer up a Who's Who of French Baroque, including works by Rameau, Lully and Couperin.
Prom 62, 1 September: Israel Philharmonic Orchestra, c Zubin Mehta Zubin Mehta and the Israel Philharmonic are joined by Gil Shaham for Bruch's Violin Concerto, alongside Webern, Albéniz and Rimsky-Korsakov – fantasy programming at its best.
Graham Rickson
If, like me, you're far away from London, take comfort in the fact that each concert is broadcast live on Radio 3 and can also be listened to again on the BBC iPlayer. But it's always better to be there in person, and here are five things which I'll try to get to.
Prom 9, 21 July: Hallé, c Sir Mark Elder Sir Mark Elder's Hallé are in great form at the moment, and there's the chance to hear them on 21 July in a programme which includes Sibelius's Symphony No 7 and Janáček's Sinfonietta, a work perfectly suited to the RAH acoustic.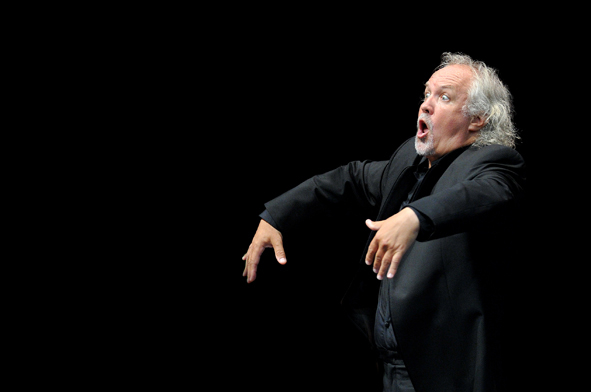 Prom 14, 25 July: Stuttgart Radio Symphony Orchestra, c Sir Roger Norrington I'd also recommend hearing Sir Roger Norrington's radical, vibrato-free approach to Mahler's Symphony No 9.
Prom 19, 29 July: BBC Symphony Orchestra, c Oliver Knussen Oliver Knussen conducts an eclectic selection of 20th-century works with the BBC Symphony Orchestra, including Honegger's noisy machine-age classic, Pacific 231.
Prom 26, 4 August BBC Scottish Symphony Orchestra, c Donald Runnicles Donald Runnicles (pictured above right by Chris Christodoulou) leads the BBC Scottish Symphony Orchestra with Lynn Harrell in Dutilleux's rarely heard cello concerto, Tout un monde lontain.
Prom 71, 7 September: BBC Big Band, c Jiggs Whigham Recent allegations about his personal life have left me feeling slightly queasy about Stan Kenton the man, but there's an opportunity to hear a selection of his brassy arrangements played by the BBC Big Band at a late evening.
Stephen Walsh
My first impression of this year's Proms was that someone had shot a gaping hole in the repertoire and filled it with gunge. No Haydn, Monteverdi or Schoenberg (apart from his orchestration of Brahms's G minor Piano Quartet), and almost no Schumann (one 13-minute piece), Berlioz (9 minutes), Schubert (no orchestral music, but the String Quintet as consolation), or Dvořák (only the Cello Concerto) - but instead Human Planets, World Routes, Horrible Histories, Spaghetti Westerns, Comedy Proms, Hoorays for Hollywood, and other choice emanations of our multicultural kids-go-free BBC.
But the good things stand out the more sharply.
Prom 2, 16 July: Rossini's Guillaume Tell,Orchestra and Chorus of the Academy of Santa Cecilia, c Antonio Pappano; Prom 10, 22 July: BBC Philharmonic, Juanjo Mena I shall at least start Rossini's Guillaume Tell (Prom 2, 16 July), a key work in operatic history that I've never heard live, and I'm intrigued by the French double-sandwich Prom (Prom 10, 22 July) with Debussy's wonderful Images in three slices as the bread – a very intelligent idea.
Prom 22, 31 July: BBC Philharmonic, c Gianandrea Noseda There's too much Rachmaninov overall (and, by the way, too much Prokofiev), but I shall miss the Rachmaninov under Noseda (pictured by Chris Christodoulou) with huge regret: entirely vocal works, including some rarities and framed by his beautiful cantatas Spring and The Bells.
Prom 67, 4 September:London Symphony Orchestra & Chorus, c Sir Colin Davis; Prom 68, 5 September: Pittsburgh Symphony Orchestra, c Manfred Honeck I'm torn between Beethoven's Missa solemnis under Colin Davis on4 September (Prom 67) and the Fourth Piano Concerto played by Hélène Grimaud the following night (Prom 68), but shall probably opt for the concerto because I want also to hear Walter Braunfels's Fantastic Appearances, a big orchestral work by one of the major lost talents of the Nazi era.
Prom 28, 4 August: The Tallis Scholars, c Peter Phillips Alas I shall miss the Tallis Scholars singing Victoria in the late Prom on 4 August. This is the only Renaissance polyphony in the whole series, and by one of the greatest geniuses of the age. Damn…!
Ismene Brown
Prom 8, 20 July: BBC Symphony Orchestra, c Jiří Bělohlávek I'm going on a grand foreign tour in these Proms, particularly to the edges of Europe. So while I'm strongly lured by Brahms with Bernard Haitink and Emanuel Ax (Proms 47 and 49, 19 and 20 August), I'm planning to travel a little further for my money. To former Czechoslovakia for the Dvořák/Smetana double (Prom 8) with cellist Jean-Guihen Queyras and Jiří Bělohlávek conducting the BBC Symphony Orchestra.
Prom 15, 26 July: London Philharmonic Orchestra & Choir, c Vladimir Jurowski And to Hungary on 26 July, for ever-stimulating Vladimir Jurowski's programme with the LPO and pianist Jean-Efflam Bavouzet of Kodály, Bartók and Liszt's Faust Symphony. (Jurowski pictured by Chris Christodoulou.)
Prom 33, 8 August: Royal Stockholm Philharmonic Orchestra, c Sakari Oramo After that, a fabulous Scandinavian dip on 8 August with the Royal Stockholm Philharmonic Orchestra under Sakari Oramo in Sibelius's Symphony No 6, Nielsen's Inextinguishable Symphony No 4, and the always-surprising warhorse that is Grieg's Piano Concerto, with young Alice Sara Ott.
Lunchtime Prom, 8 August: Khatia Buniatishvili A piano lunch on 8 August with two marvellous monuments: the astonishing Seventh Sonata of Prokofiev and Liszt's stirring Sonata in B minor, played by another rising young pianist, Khatia Buniatishvili, at the Cadogan Hall (one of several enticing lunchtime proms).
Prom 42, 15 August: Orchestra of the Mariinsky Theatre, c Valery Gergiev; Prom 52, 23 August: London Symphony Orchestra, c Valery Gergiev And two Russian dates with the capricious, unpredictable Gergiev - his complete Swan Lake on 15 August (Prom 42), with the Mariinsky Theatre Orchestra, which is likely to rinse my ears of dozens of indifferent theatrical performances by ballet orchestras. And on 23 August (Prom 52) with the LSO, two Prokofiev symphonies bookending a piece I don't know but want to hear, Dutilleux's violin concerto L'arbre des songes, played by Leonidas Kavakos.
Explore topics
Share this article