Classical CDs: Five-pointed stars, unspecified instrumentation and talented siblings |

reviews, news & interviews
Classical CDs: Five-pointed stars, unspecified instrumentation and talented siblings
Classical CDs: Five-pointed stars, unspecified instrumentation and talented siblings
Double lieder treats, Sarah Willis back in Cuba, Rachmaninoff transcriptions
Saturday, 10 September 2022
Rhythmic springiness: mezzo-soprano Anna Lucia Richter
Brahms Lieder Anna Lucia Richter (mezzo-soprano), Ammiel Bushakevitz (piano) (Pentatone)
Ein süßes Deingedenken: A Tender Memory of Thee – Lieder by Fanny and Felix Mendelssohn Kateryna Kasper (soprano), Dmitry Ablogin (piano) (TYXArt)
These two recitals of German Lieder, both of them gloriously and intelligently sung, offer really interesting contrasts. Anna Lucia Richter is the better-known singer of the two and more frequently recorded. Her new album consists mostly of better-known Brahms songs. She has fabulously clear diction, and her booklet essay demonstrates quite how deeply she has delved into the meaning of each song. There is, for example, some in-depth analysis of a suppressed theme of suicide in the von Platen poem "Wie rafft' ich mich auf". Richter and pianist Ammiel Bushakevitz are a regular duo, and their familiarity allows them wonderful rhythmic freedom. They have an instinctive way of knowing that they can pull back the tempo, take risks, and yet always land together. Their reading of "Dort in den Weiden" from the Volkslieder is astonishing in its rhythmic springiness and alertness, and the accelerando in the last stanza is not just mesmerizing, one can share the pair's sense of enjoyment too.
Richter likes to lean into syllables, just like a violinist making a particularly assertive downbow, as a way of defining the shape and the sense of a musical phrase. I did start to wonder, however if this 'Betonung' can sometimes go too far and distract the listener from the meaning, from the story being told, particularly in the first two stanzas of the quietly plaintive "Mädchenlied". No such reservations, however about the closing sleep-songs "Wiegenlied" and "Sandmännchen" which show her gentle and lyrical side unforgettably. Richter is well on her way to being one of the most interesting Lieder singers around.
Whereas the Anna Lucia Richter album documents Richter's remarkable, developing craft of interpretation, and serves as a prompt to go and hear her in recital, and as often as possible (!), the other album here is quite simply a gem in its own right. Ein süßes Deingedenken, the new double album of songs by the Mendelssohn siblings from Kateryna Kasper and Dmitry Ablogin gives pleasure and cause for thought on so many different levels. Here at Team Rickson we don't give stars, but I'll start the bidding on this one at five.
The thing which caught my attention immediately might appear a bit tangential: the very first sound one hears is an improvised fortepiano introduction to Felix's "Auf Flügeln des Gesanges", and it was the sound of the instrument being played by Dmitry Ablogin which had me grabbing for the booklet to find out more. The remarkable piano here is from 1835 and was made by Aloys Aegydius Biber. It has been residing since its restoration in 2015 in the main recital hall of the Frankfurt University of Music and Performing Arts (HfMDK), where this album was recorded. There are plenty of places to hear what a stupendous fortepianist Ablogin is: the stormy Brocken he conjures up in Felix's "Hexenlied" is spookily spellbinding, and he certainly earns his fee and more by dint of the sheer virtuosity and the quantity of notes in Fanny's "Anklänge". Soprano Kateryna Kasper's sense of how to shape a rising phrase, her way of giving the voice a floating and weightless quality as it rises is just wonderful; Fanny's "Achmed and Irza" is a great example of that. Her pacing of slow songs is remarkable, as in Fanny's "Harfner" song ('Wer sich der Einsamkeit ergibt'). Her dreamy to-die-for legato is on a level with Gundula Janowitz's in Fanny's "Vorwurf".
The album is superbly documented. For those who want to get nerdy and spend a quiet evening exploring the Hellwig-Unruh numbers of Fanny Mendelssohn compositions, they're all there. More importantly, the substantial programme essay examines the way the Mendelssohn siblings supported and influenced each other, with a lot of evidence from their letters to each other. Maybe it is not fanciful to see Fanny and Felix as one of the dream teams in the history of songwriting. This great double album certainly provides ample evidence for that assertion. - Sebastian Scotney
Ståle Kleiberg: Concertos Marianne Thorsen (violin), Fredrik Sjölin (cello) Elvin Ringstad (viola), Trondheim Symphony Orchestra/Peter Szilvay (2L)
Ståle Kleiberg's booklet essay argues that "music should not strive to be complicated", and that a work's expressive and emotional clout is more important than its structural ingenuity. Which might lead some to dismiss these three string concertos without having heard a note of Kleiberg's music. Two were inspired by paintings. The Violin Concerto No. 2 was written for the Norwegian artist Kjell Pahr-Iversen's 80th birthday in 2017, and his dense, colourful canvases initially seem at odds with the cool beauty of Kleiberg's music. This is an instantly appealing three-movement work, transparently scored and with a deeply moving slow finale, downbeat and radiant by turns. Marianne Thorsen's expressive playing is impressive. The 2019 Viola Concerto was prompted by the paintings making up Munch's Frieze of Life. There's a wider range of emotional expression on display here, the heartfelt middle movement set against a lively "Allegretto scherzando" with thematic links to the concerto's opening and a glowing final chord. It's an instantly appealing work, the denser scoring never overwhelming violist Elvin Ringstad.
1993's Dopo forms the first section of Kleiberg's "Holocaust Trilogy", a single movement cello concerto composed as a response to atrocities committed in the Balkan conflict, "a testament to the grief and pain of this bleak re-treading of earlier pathways." Peter Szilvay's warm-toned Trondheim Symphony Orchestra strings provide some comfort to cellist Fredrik Sjölin, especially commanding in the final minutes. As with the other two works, 'structural ingenuity' is a key feature of Dopo; its 16 minutes fly by without a wasted note. If you're in search of expressive, well-wrought contemporary music, look no further. This being a 2L disc, the recorded sound has incredible presence and warmth, a Blu-ray audio disc included for those with high-end equipment. Good sleeve art, too.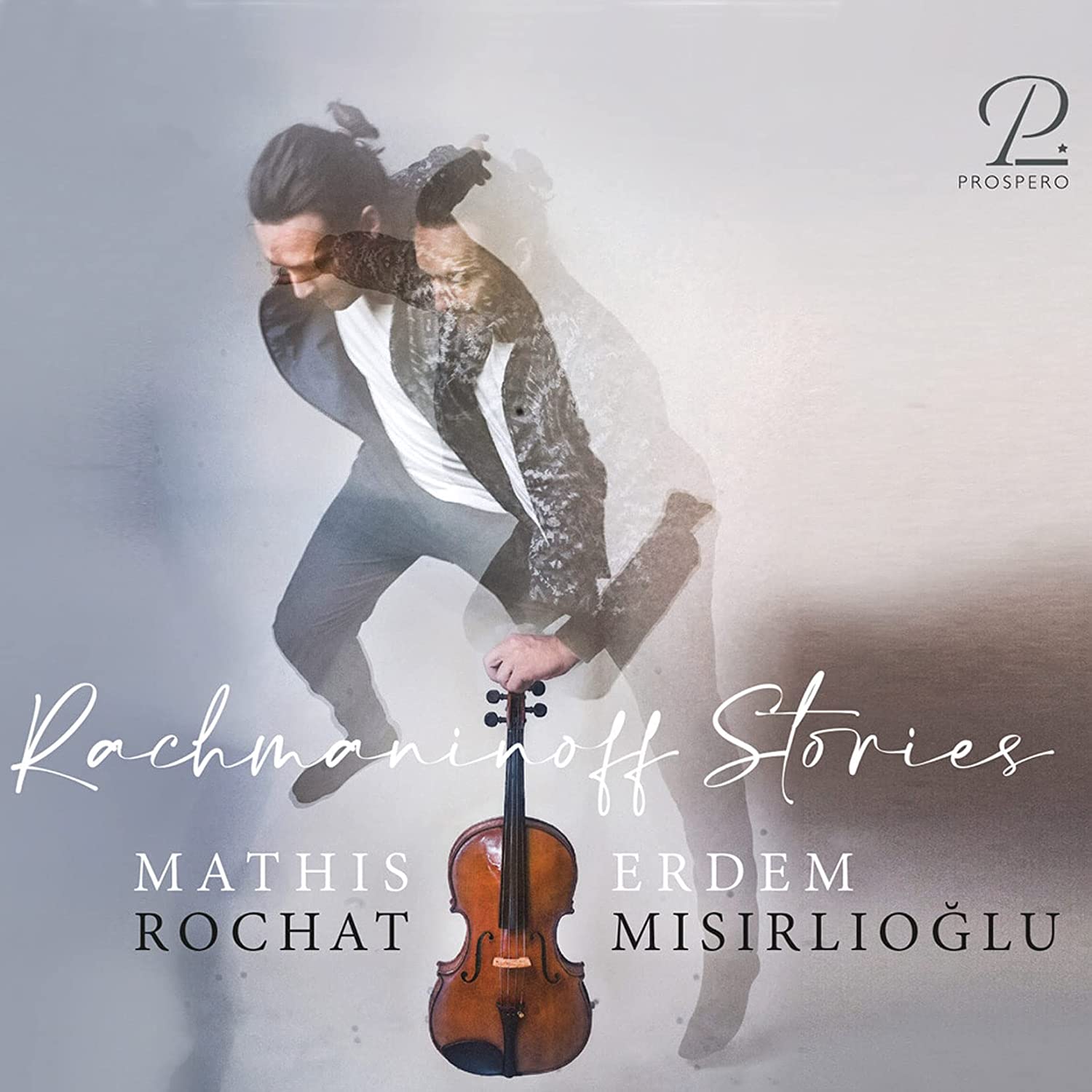 Rachmaninoff Stories Mathis Rochat (viola), Erdem Mısırlıoğlu (piano) (Prospero Classical)
"I love the viola! Like a violin, it can play brightly and radiantly, and like a cello dark and sonorous." The viola, cheekily described as "a questionable instrument" in this disc's booklet interview, needs advocates like Mathis Rochat. This collection of his Rachmaninoff (the spelling used here) transcriptions works very well indeed, Rochat seeking to highlight the composer's exuberance as much as his melancholy. We hear this in the second of the Op. 2 Pieces for Cello and Piano, a moody "Danse Orientale" with an exuberant central section. Better known is the Op. 19 sonata, sounding totally idiomatic on viola. Just occasionally one misses the original version's heft, though the faster passages in the finale lose nothing, Rochat's energy matched by pianist Erdem Mısırlıoğlu.
The shorter transcriptions are a delight. This Vocalise is eloquent and clear-eyed, and we get excerpts from the Op 21 and Op.38 sets of Romances. "Daisies" from the later set is a treat. Rochat's own Capriccio for viola solo on a theme of Rachmaninoff makes for an enjoyable and effective bonus.
Sean Shibe: Lost & Found (Pentatone)
One's always a tad nervous when a favourite artist gets signed up by a new label. Will the old magic still be there? Happily, guitarist Sean Shibe's latest, his first for Pentatone, is as good as the earlier Delphian releases; you suspect and hope that the production team have just let Shibe do his own thing. Lost & Found takes its title from two of Blake's Songs of Innocence, a collection of music "by outsiders, mystics and visionaries", most of it arranged by Shibe and played on electric guitar. Hildegard von Bingen, Messiaen and Moondog share disc space, along with Chick Corea and Bill Evans. Three of Corea's Children's Songs beguile in transcriptions by Forbes Henderson, Shibe's amplified instrument adding a layer of menace to No. 4 while giving No. 2 a spaced-out dreaminess. A sequence of miniatures by cloak-clad maverick Moondog is enthralling, the edginess of "Sea Horse" offset by the folksy beauty of "High on a Rocky Ledge", all the more affecting for being played straight.
The graphic score of "Venus/Zohreh" by the British-Iranian composer Shiva Feshareki is included in the booklet, the music's slow, ecstatic crescendo shown as a five-pointed star emerging from a tiny dot. We also see the manuscript of Julius Eastman's "Buddha", an ovoid piece for "unspecified instrumentation". Shibe's take on it glows and pulsates, a glorious cloud of amplified sound. Messiaen's early motet "O Sacrum Convivium!", described by its composer as "unsingable by a congregation" is deliciously unsettling as a solo instrumental, and Shibe's amplification makes a pair of chant melodies by von Bingen literally electrifying. Production values are impressive, with sumptuous sound and a beautifully designed booklet.
Mozart y Mambo: Cuban Dances Sarah Willis (horn) Havana Lyceum Orchestra/José Antonio Méndez Padrón (Alpha)
The passion and the dedication behind this "exciting, unique and, I admit, somewhat crazy project", as Sarah Willis has called it, are obvious. Willis herself is an extraordinarily effective and clear-sighted musical and cultural ambassador. Cuban Dances, the second album of Mozart y Mambo, stems from her work with the Havana Lyceum Orchestra, founded in 2007 by José Antonio Méndez Padrón, and is clearly fuelled by her fascination, respect and affection for Cuban music and musicians. Willis's energy and dedication are reciprocated. The punningly titled "Sarahbanda" with its trio of cajon/maracas, conga (a really top player, Adel Gonzalez), and timbales give all the rhythmic propulsion she could ever need. It is not just consistently joyful, there is also a sense of mission and purpose here: money is being raised to improve the instruments available to musicians in Cuba – there is even a QR code near the end of the brochure to donate to support the cause. The opening and closing works on the album are the first and second Mozart Horn Concertos, with Sarah Willis and the Havana Lyceum Orchestra. The standard of the orchestral playing is high, and particularly delicate and empathetic in the andante of Concerto No. 2. Sarah Willis has explained in the interview that she gave theartsdesk about this project that she feels happiest in a section rather than out front as soloist. Yes, there are other horn players who might be more strident, heroic, brassy, theatrical, soloistic. But what she gives is authority and clarity, a sense of direct expression and a wish to communicate the truth. Every bar just sounds so natural and so right.
In between the two Mozart concertos is Cuban Dances, which is in effect a six-movement horn concerto, and probably the first horn concerto to have been written on Cuban soil. Each of the movements was commissioned from a different under-35 composer during lockdown. They were given the brief to write an original melody based on a traditional dance rhythm from a different part of the island. There is certainly variety here, from the heady romance of Yunet Lombida's "Danzón de la medianoche" (midnight dance) to the teasing cross-rhythms of Ernesto Oliva's "Ay Comay". One of the aims here is to show off some of the breadth and the range of Cuban music; it has been well achieved. And yet, the deeper one digs into Cuban music, the more there is still to discover. The joyful path of discovery gives us a nod to the Buena Vista heritage here, with the appearance of one of the younger singers who was touring with them in their later incarnations, Carlos Calunga. Perhaps that idea could be taken further. And there are many more rhythmic traditions (by one estimate over seventy in Cuba) to be explored. The batá drums of the Santería tradition have not yet, as far as I am aware, made an appearance. Whatever happens, it is simply to be hoped that Mozart y Mambo will keep on going. It is a very worthwhile project, and the positive energy about it is a very good thing! - Sebastian Scotney
Richter likes to lean into syllables, just like a violinist making a particularly assertive downbow
Explore topics
Share this article