Classical CDs Weekly: Beethoven, Louis Frémaux, Les Passions de l'Ame |

reviews, news & interviews
Classical CDs Weekly: Beethoven, Louis Frémaux, Les Passions de l'Ame
Classical CDs Weekly: Beethoven, Louis Frémaux, Les Passions de l'Ame
Scintillating German symphonies, analogue treats from Birmingham, and a disc of baroque humour
Seriously funny: Meret Lüthi and Les Passions de l'Ame
Beethoven: Symphonies 1-9 Gewandhausorchester Leipzig/Herbert Blomstedt (Accentus)
Beethoven: Symphonies 1-9 Gewandhausorchester Leipzig/Herbert Blomstedt (Accentus)
There's already an excellent set of Beethoven symphonies conducted by Herbert Blomstedt with the Staatskapelle Dresden, recorded in the late 1970s. It's now on a budget label and can be picked up for a pittance. This new one, taped live between 2014 and 2017, is a tad pricier, but well worth the extra outlay. The playing of the Gewandhausorchester is indecently good: how refreshing to hear a full-size orchestra playing these pieces, the weight of sound thrilling in places. Blomstedt doesn't do anything radical; there's no straining for effect or tinkering with tempi or dynamics. He just plays what's written, brilliantly so. Timings are, on the whole, slightly swifter than on the Dresden set, Blomstedt broadly adhering to Beethoven's metronome markings. First and second violins face each other, allowing us to hear Beethoven's antiphonal exchanges. And, though you'd forgive the odd flub in performances conducted by someone who's nearly 90 years old, these immaculately polished readings bubble with electrifying energy. Sample this Eroica's thrilling opening, or the lead into the main section of No. 4's first movement, leaving shock waves in its wake.
No. 5 has grandeur in spades, the lead into the finale winningly done. More revelatory is Blomstedt's Pastoral, a work which can send me to sleep in the wrong hands. Not here: those extraordinary minimalist rustlings in the first movement's development are genuinely startling. The storm sequence is terrifying. The disc in the set I've returned to most contains Nos. 7 and 8, both rhythmically buoyant. And Blomstedt's Brucknerian credentials lend No. 9's opening a craggy grandeur, in an unindulgent reading crowned by superb choral singing and a decent quartet of soloists. Exceptionally good, and certainly the equal of Chailly's fine Decca set with the same orchestra. Accentus Music's sound has a bit more depth and body, though. Classy packaging too, Blomstedt's twinkly visage gazing out benignly from the sleeve.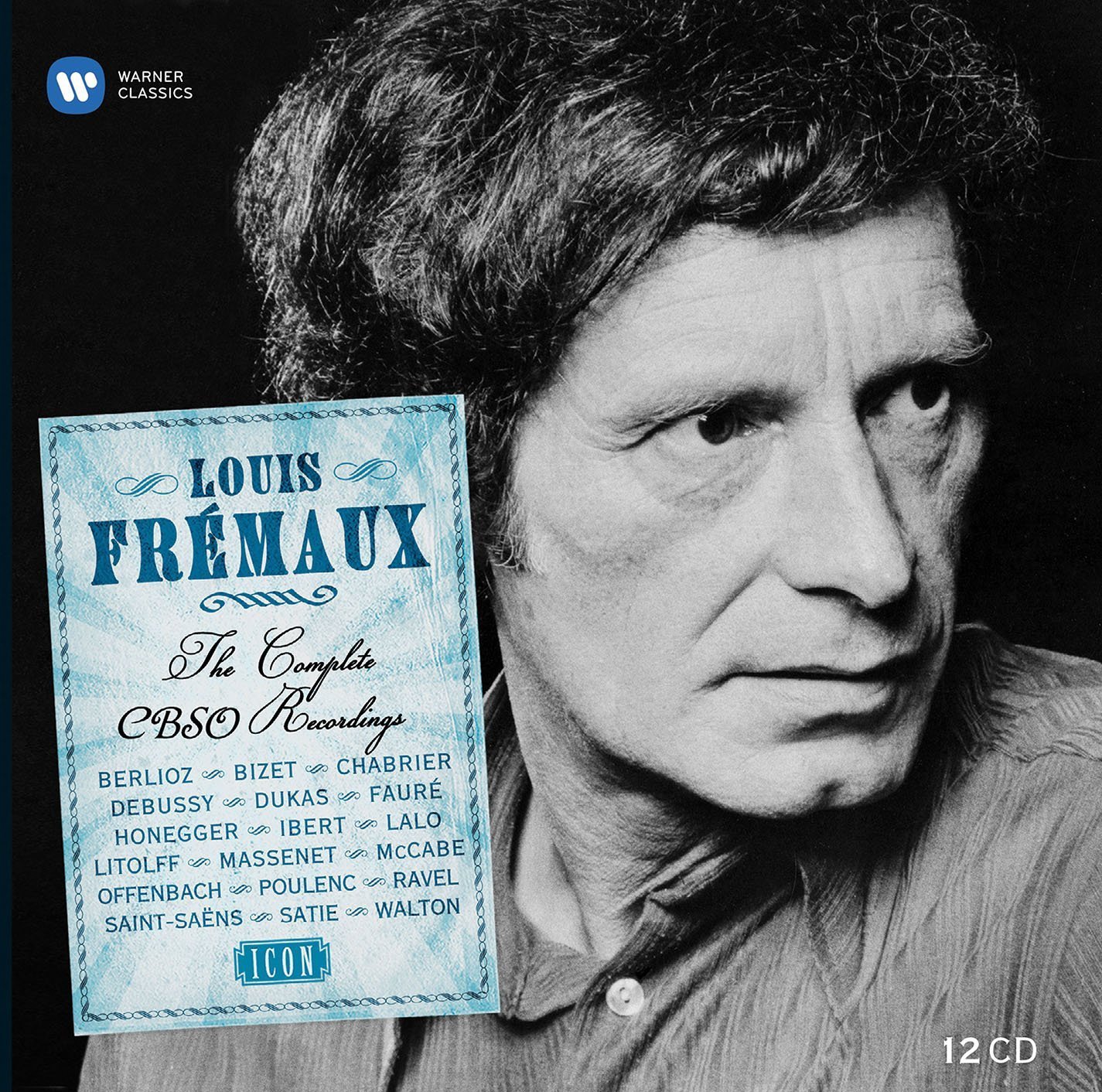 Louis Frémaux: The Complete CBSO Recordings (Warner Classics)
Louis Frémaux became Principal Conductor of the City of Birmingham Symphony Orchestra in 1969. He transformed the ensemble's reputation, a charismatic French conductor hired by management seeking "a man who would build up the orchestra". Which he soon began to do, securing an EMI record contract and quickly attracting new audiences. Frémaux recorded 16 LPs during his tenure. If you grew up during the 1970s, you probably heard quite a few of them: discs of Fauré's Requiem and Saint-Saëns' Symphony No. 3 were big sellers in the day and still sound good: the famous organ entry in the latter's last movement is overwhelming. Frémaux also prompted the creation of the CBSO Chorus, who acquit themselves brilliantly in a pioneering recording of Berlioz's vast Grande Messe des morts. There's a lot of French music in this set: earthy readings of Poulenc's Gloria and Les biches alongside a host of rarities. Like a wonderful suite from Massenet's ballet Le Cid, and Bizet's seldom-heard suite Roma. Honegger's rowdy Pacific 231 is another sonic spectacular (many of Frémaux's discs were recorded in quadrophonic sound) and there's an enticing Jacques Ibert anthology. His Divertissement gets an occasional airing, but works like the Louisville Concerto and Bostonia are real finds.
Frémaux had planned to tape Britten's War Requiem, a project realised with another conductor in the early 1980s. He did leave polished performances of Walton's Gloria and Te Deum – neither work a patch on Belshazzar's Feast, but good to hear, alongside fizzing readings of the two coronation marches. Walton's Bach-inspired ballet The Wise Virgins is fun, and there's an electrifying disc of music by the underrated pianist-composer John McCabe. Plus an enjoyable collection of popular arias sung by tenor David Hughes. And more besides: bits of Ravel, Debussy, Dukas and Lalo. The remasterings are consistently impressive, and we get succinct notes from theartsdesk's Richard Bratby. Frémaux left the orchestra abruptly in 1978. His young successor described the CBSO then as "the best French orchestra in the world". Simon Rattle continued to raise the orchestra's profile, but without Frémaux's labours the task would have been much more arduous. An excellent set – 12 generously filled discs in an attractive slimline box. Essential.
Schabernack: A treasure trove of musical jokes Les Passions de l'Ame/Meret Lüthi (Deutsche Harmonia Mundi)
The best musical jokes creep up on you by stealth. Think of the farting bassoons in Haydn's Symphony No. 93, or the chord which closes Ives's Symphony No 2. This disc of baroque music from Meret Lüthi's Swiss group Les Passions de l'Ame should invoke both wry smiles and belly laughs. Fux's Les Combattans is a tiny suite for two sparring violins and continuo, the fireworks interrupted by a peculiar, repetitive "Perpetuum mobile" movement, here underscored by gently rattling percussion. Schmelzer's Sonata Cu Cu is full of major and minor thirds representing cuckoo calls. The best effects are again provided by percussionist Peter Kuhnsch, whose creative embellishments are subtle but impeccably tasteful.
Much of this music is so delightful that the jokes are merely an added bonus: the little "Balletto 2" from Schmelzer's Arie con la Mattacina is the catchiest thing I've heard in months. A highlight is Biber's Battalia a 10. At one stage the violone (an early double bass) plays with a sheet of paper beneath its strings, the resultant rattling sounding like ominous drumbeats. The very best is saved until last: the brief "Pour le Coucou"' from an overture by Fux. Where the cuckoo's call is entrusted to a nose flute. One of these instruments entered my life unexpectedly a month or so ago. It's had a transformative effect – imagine an ocarina crossed with a Theremin. Buy this irresistible disc, then purchase a nose flute.
If you grew up during the 1970s, you probably heard many of these recordings
Explore topics
Share this article