Classical CDs Weekly: Eller, Musorgsky, Rachmaninov |

reviews, news & interviews
Classical CDs Weekly: Eller, Musorgsky, Rachmaninov
Classical CDs Weekly: Eller, Musorgsky, Rachmaninov
Estonian tone poems, plus orchestral and chamber music from Russia
Saturday, 08 February 2020
Soulful Rachmaninov from the Hermitage Trio
Heino Eller: Symphonic Poems – Night Calls, White Night, Twilight, Dawn Estonian National Symphony Orchestra/Olari Elts (Ondine)
Heino Eller was described as the 'Estonian Sibelius' in the first decades of the last century. Predictably, the career of this versatile composer, musicologist and teacher didn't thrive during the early years of Soviet Estonia, poor Eller being labelled a formalist. Forced to apologise for his compositional misdemeanours on state radio, his reputation only recovered in the decade before his death in 1970. There's some wonderful music on this disc. Night Calls dates from 1920-21, an extended sonata-form movement inspired by memories of a storm and betraying a fondness for Mussorgsky's Night on Bald Mountain. What sounds like an allusion to Mahler 7 in the opening bars must be coincidental, though it's still striking. There's a visceral storm sequence nine minutes in, a barrage of killer tunes and a meltingly attractive epilogue. Eller's impressive orchestral technique is striking, the technical confidence already apparent in the earlier tone poems Dawn and Twilight. The latter is the more conventional, a delectable orchestral song. There's more ambition in Dawn, with lovely use made of tuned percussion. Think Delius, with a bit more purpose and less waffle.
More memorable still is the symphonic suite White Night, a sequence of seven attractive short movements lasting nearly 30 minutes. Folk dances, nature worship and balmy nostalgia dominate, and there's a magical depiction of a roaring campfire at the suite's centre. It's entrancing, and we're lucky to be able to hear it at all. Eller believed that the score and parts had been lost when Tallin was bombed by the Soviets in 1944, until a score was discovered in the archives of Swedish Radio in time for a 1962 concert to celebrate Eller's 75th birthday. The conductor then was a young Neeme Järvi. A bewitching disc, wonderfully played and recorded.
Musorgsky/Ravel: Pictures at an Exhibition, Khachaturian: Music from Spartacus Royal Liverpool Philharmonic Orchestra/Vasily Petrenko (Onyx)
Ravel's version of Musorgsky's Pictures doesn't often do it for me, the over-refined, fussy orchestration often at odds with the earthiness of the piano original. It's not a whole lot of fun to perform either. Vasily Petrenko's new account is a success, though – big-boned, raw and crude in all the right places. It's the most Russian-sounding modern account I've heard on disc, with weighty brass, rich strings and plenty of oomph. The brasher moments are superb. Close your eyes and you can see Bydlo's cart getting close, and Schmuÿle's muted trumpet solo is well-characterised. Lower brass have terrific weight in the catacombs sequence, before we get to Baba-Yaga's hut. All very enjoyable, though you really need this CD for the couplings. Kabalevsky's exuberant Colas Breugnon overture really does sound like a Soviet take on Bernstein's Candide (though composed much earlier), and it's performed here with plenty of punch.
Four extracts from Khachaturian's Spartacus are neatly done. Yes, the once-ubiquitous Adagio is as cheesy as an unrefrigerated lump of Reblochon, but it's fantastic when played with uninhibited enthusiasm. If you're hooked, investigate the composer's ripe Decca account. Timothy Jackson's transcription of Rachmaninov's Zdes' khorosho is fabulous. And there's a rare opportunity to hear Rodion Shchedrin's unhinged Concerto for Orchestra No 1, occasionally referred to as Naughty Limericks. Nine minutes of sardonic silliness, it contains some terrific trombone solos. Plus wooden spoons and the sound of mouthpieces being slapped. The work's ending is superbly unsettling. A fabulous Russian music primer in a handy package, and good sleeve art too.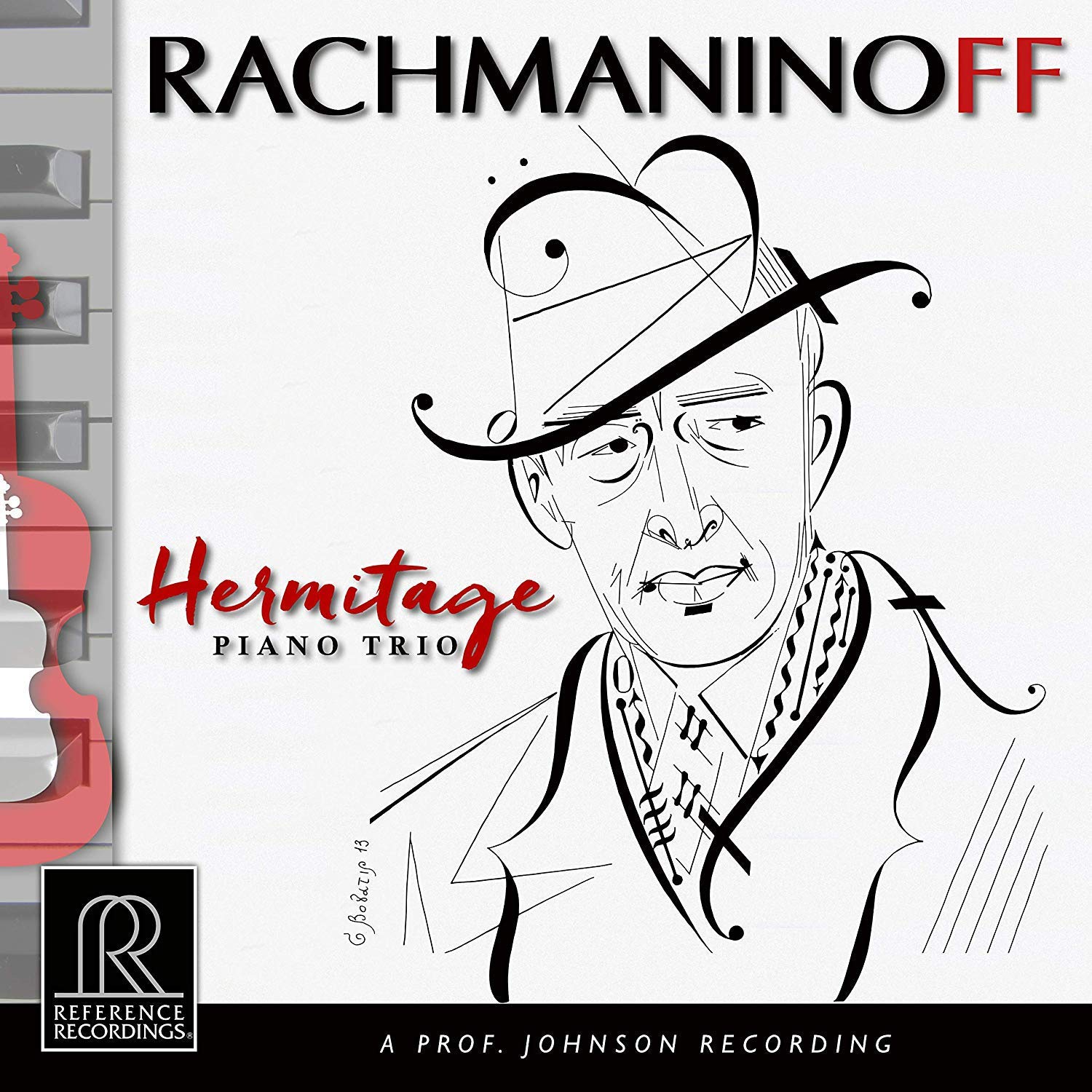 Rachmaninov: Music for Piano Trio Hermitage Piano Trio (Reference Recordings)
It's Rachmaninoff here, not Rachmaninov (though The Arts Desk preserves the -v spelling). That's what he called himself once in exile, and also how you'll find it spelt on his gravestone. The great Trio élégiaque No. 2 is an early work, its composition prompted by the death of Tchaikovsky in 1893, whose own Piano Trio served as a model. This is a huge 50 minute piece, though it always feels like chamber music and not a frustrated symphony. The composer's fingerprints are all in evidence; the first movement is full of tolling bells and long-breathed, chant-like themes. There are glimpses of sunlight in the huge central set of variations, but this is sombre music with a satisfyingly downbeat payoff.
This performance, from three Russian musicians, oozes soul. Cellist Sergey Antonov has a gloriously dark tone, and he's well matched with violinist Misha Keylin. And what a beautifully balanced recording too, pianist Ilya Kazantsev's Steinway captured with startling fidelity. This never once sounds like a contractual meeting between three starry soloists; it's clear that these musicians have lived with this music for years The earlier, single movement G minor Trio is another treat, and there's a glimmer of light relief at the close of the album in the shape of Julius Conus's piano trio arrangement of the Vocalise. It's lovely. Victor and Maria Ledin's booklet notes include a visually impressive chart outlining the labyrinthine connections between the piano trios by Tchaikovsky and Rachmaninov. And, as is always the case with Reference Recordings, the text is actually readable without recourse to a magnifying glass.
Nine minutes of sardonic silliness. Rodion Shchedrin's 'Naughty Limericks' contains some terrific trombone solos
Explore topics
Share this article