Classical CDs Weekly: Holst, Nielsen, Piatti, Tchaikovsky |

reviews, news & interviews
Classical CDs Weekly: Holst, Nielsen, Piatti, Tchaikovsky
Classical CDs Weekly: Holst, Nielsen, Piatti, Tchaikovsky
An accordion duo, operatic arias on solo cello and a fiery Russian symphony
Channelling Piatti: cellist Adrian Bradbury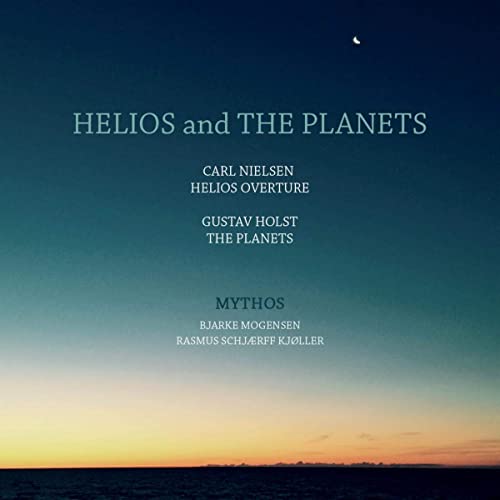 Holst: The Planets; Nielsen: Helios Overture Mythos (Bjarke Mogensen and Rasmus Schjaerff Kjøller, accordions) (Mythos)
Pairing Nielsen's Helios Overture with Holst's The Planets makes total sense, and one's surprised that it's not been done before. Nielsen's musical depiction of the sun, which "wanders its golden way" before sinking slowly back in the sea, never quite lives up to its magical opening and close, the central faster section wandering just a bit too much for comfort. It's still good to hear though, Bjarke Mogensen and Rasmus Schjaerff Kjøller's ingenious transcription for two accordions decluttering Nielsen's heavy scoring and letting the light pour in. This duo recorded an ear-stretching version of Stravinsky's Petrushka a decade ago, so you know you're in safe hands before you've started listening to their Holst. Mars's col legno string ostinato becomes an eerie clicking of keys, the original's punch never undersold.
With just two players, dovetailing Holst's cross rhythms becomes so much simpler. The offbeat chords accompanying Venus's smoochy second theme are perfectly placed here, and the close of Mercury is immaculate. Jupiter's jollier moments fit the accordion sound so well; this is celestial morris dancing. The central climax in Saturn is genuinely scary (and again, rhythmically perfect), and listen to the organ glissando in Uranus, every note audible. And while pedants might want a more mysterious, quiet close to Neptune, how good it is to hear the offstage choir's chords delivered perfectly in tune. Enormous fun, and captured in superb sound.
Alfredo Piatti: The Operatic Fantasies, Volumes 1 and 2 Adrian Bradbury (cello), Oliver Davies (piano) (Meridian)
Alfredo Piatti was one of the 19th century's star instrumentalists, a gifted cellist from Bergamo whose father led the orchestra of the local opera house. Alfredo enrolled at the Milan Conservatory when he was just ten, studying whilst playing professionally alongside his father, a close friend of Donizetti. He was especially popular in London, making his debut there in 1844 and spending much of his subsequent career in the city, though always returning to his villa on Lake Como each summer. Piatti's singing tone was often praised, a contemporary London critic writing that he "had obviously formed his cantabile playing on the singers of his own country." Operatic fantasies were in vogue in the mid-19th century, not least because they allowed audiences to enjoy popular operatic arias in an age before recordings. Twelve by Piatti are assembled on this pair of discs, performed by cellist Adrian Bradbury with all bar one accompanied by pianist Oliver Davies. Bradbury makes a superb job of channelling Piatti's vocal playing style. He's never too loud or overbearing, and Davies injects plenty of colour into the unfussy piano writing.
Piatti based most of his fantasies on bel canto arias. As you'd expect, there's a generous smattering of Bellini and Donizetti, including an enjoyably melodramatic Souvenir des Puritani using three arias from Bellini's opera. Several follow a similar template: slow, recitative-like opening followed by fast showiness. There are a couple of intriguing novelties, the most striking example being the Capriccio sopra una tema della Niobe, based on an opera by Giovanni Pacini. This is an unaccompanied work, allowing Bradbury to emote to the hilt and demonstrate his skills at rollo bowing, the cello imitating a timpani roll. And there's a quirkily inauthentic Impromptu based on an air from Purcell's The Indian Queen, Purcell's original theme just discernible. Warmly recorded and well annotated by Bradbury, these are enjoyable discs – though it would surely have made more sense to package them as a double CD set.
Tchaikovsky: Symphony No. 4; Leshnov: Double Concerto for Clarinet and Bassoon Pittsburgh Symphony Orchestra/Manfred Honeck (Reference Recordings)
Quick warning: the Pittsburgh brass are borderline oppressive in Tchaikovsky's opening fate motif, and it's all for the good; this symphony's initial bars should be scary if the journey from darkness to light is to feel convincing. Manfred Honeck's sleeve essay demonstrates just how much thought he's put into the smallest details, but the fastidiousness never derails the music's momentum. This is thrilling stuff – sample the Pittsburgh horns' exultant big tune at the end of the exposition, and how superbly Honeck negotiates the abrupt mood change when the fate motto returns. And the darkness he brings to the first subject's return just after the 12-minute mark, anticipating a similar moment in Tchaikovsky's 6th. There's no slowdown in the movement's final bars, just an emphatic slamming of the door. Superb playing from the orchestra's principal oboist gets Tchaikovsky's slow movement off to a good start, the flowing basic tempo another plus. The scherzo's "capricious arabesques" are brilliantly projected, replete with a raucous piccolo solo. Honeck's finale opens swiftly and boldly, and I'd not realised how the lower brass's version of the folk song includes the sound of clinking glasses. And despite the fate theme's doomy intrusion, Tchaikovsky's "simple, primal joy" is irresistible in this live performance, Honeck's final accelerando so effective you wonder why more conductors don't do it.
It's coupled with a novelty. Jonathan Leshnov's Double Concerto for Clarinet and Bassoon was written for Michael Rusinek and Nancy Goeres of the Pittsburgh Symphony and premiered last year. Unabashedly tonal and approachable, it's enormously enjoyable and beautifully written. Take the tiny central movement, bassoonist Goeres' Stravinskian athletics pitched against Rusinek's lyrical response. It's very funny and so, so effective, and Leshnov even manages to make the motoric finale's perfect cadence sound fresh. A charmer of a concerto, handsomely played. Engineering in both works is up to the expected standard. In other words, another winner.
This ingenious transcription lets the light pour in
Explore topics
Share this article