Delepelaire, RSNO, Søndergård, Usher Hall, Edinburgh review - festive and magical |

reviews, news & interviews
Delepelaire, RSNO, Søndergård, Usher Hall, Edinburgh review - festive and magical
Delepelaire, RSNO, Søndergård, Usher Hall, Edinburgh review - festive and magical
Back to a much-missed venue for an orchestral showcase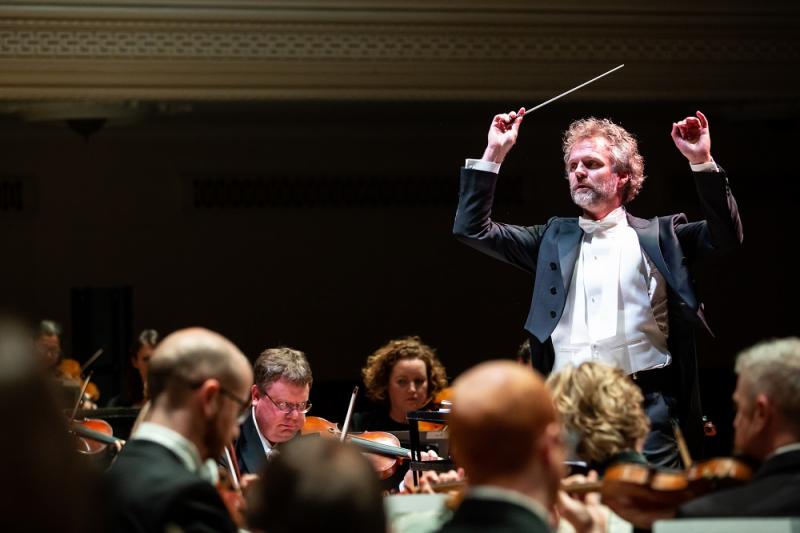 Thomas Søndergård conducting players of the Royal Scottish National Orchestra
"What a lovely sound that was!" declared Music Director Thomas Søndergård, bounding onto the podium of the Usher Hall. He was referring, of course, to the warm applause greeting the Royal Scottish National Orchestra on its first full outing in front of an Edinburgh audience in nigh on 18 months.
Readers in England might be faintly surprised that many weeks after a largely
unmasked
Prom season in London,
Scottish
audiences are only now creeping back into their familiar spaces, and in the case of the Usher, masks are still compulsory, with conspicuous social distancing reducing the capacity of the hall to about 50 per cent of its normal 2,200.
Such a thinly populated auditorium doesn't exactly generate the fizz of celebration (and this is douce Edinburgh, to be sure), but if it wasn't quite a return to full normality, no-one was complaining. Indeed there was a sense of determination that come what may this concert should be thoroughly enjoyed by all those lucky enough to get tickets – it has been sold out for weeks. The following evening it was repeated in Glasgow, this second performance also being accessible online, both live and subsequently as a recording available until January.
Søndergård explained that his dual themes for this season opener were "festive and magic". It certainly got off to an exuberant start with not one but two fanfares, the first a very short piece by Matthew Rooke, better known to many as the erstwhile music director of the Scottish Arts Council, though that's going back a bit. The Isle is Full of Noises!, written for this concert, celebrates the return to live music-making with what sounded like a vast orchestral pirouette, with a chattering moto perpetuo motif in the upper woodwind, orbited by big-tune fragments from the lower strings and brass. It's all over before you can blink, so the least you could say about it is that it did not overstay its welcome – I would have been happy to hear a bit more.
The piece that followed was given its UK premiere in 1962 by this orchestra in this hall with the composer in the audience: Shostakovich's Festive Overture is as joyfully shallow as anything this inscrutable composer ever wrote, noisy, witty, irrepressible, cocking a snook at orchestral pomposity. It was actually written in 1954, after the death of Stalin had brought an end to the "reign of terror", but only a hairsbreadth of nuance separates this piece from the outrageous comedy of Malcolm Arnold's A Grand Grand Overture written two years later. Stalin was dead, but the chilly hand of the Soviet apparatus was to remain in place for many years yet.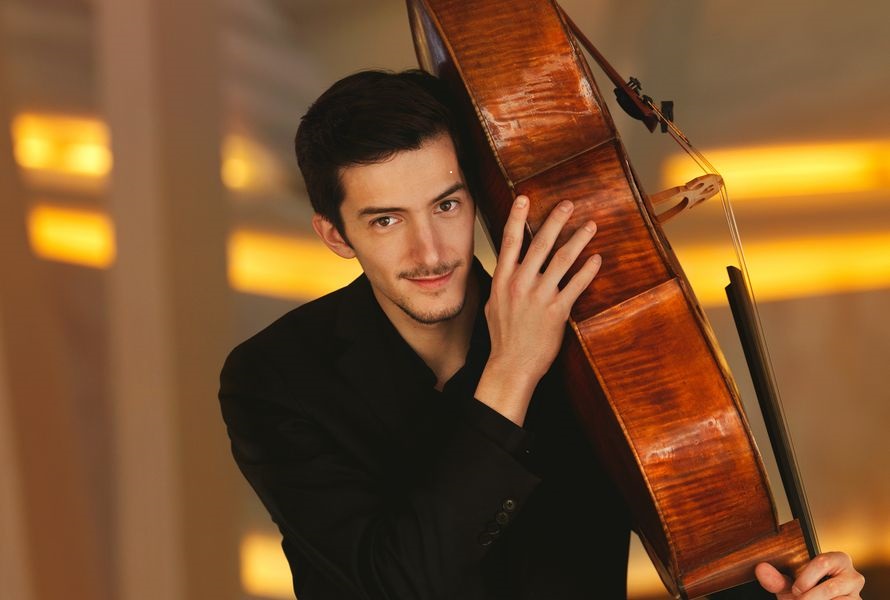 To introduce Tchaikovsky's Variations on a Rococo Theme at this point in the programme seems a bit like inviting your maiden aunt to join a stag party when you've just opened the last magnum of champagne. The mood switched abruptly from boisterous to reflective. The variations open as if politely interrupting a conversation, and continue in the same mildly inquisitive manner as they wind their way through a series of decorative transformations. A much-reduced orchestra was joined by the peerless cellist Bruno Delepelaire (pictured above), principal of the Berlin Philharmonic Orchestra, whose playing was exquisitely rich and sonorous, effortlessly rising above the orchestral backcloth. There was no trace of harshness, or anything more robust than perfectly poised lyricism, but I couldn't help feeling that what the event really called for at this juncture was something more akin to a pugnacious Prokofiev piano concerto.
The magic in Søndergård's programme came after the interval, with Stravinsky's complete ballet score for The Firebird – the suite, he points out, misses out the best bits. It is certainly a mesmerising, hallucinogenic score, with delicate textures and sparing use of the full orchestra – those chiefly familiar with the great declamation of the final movements, with overarching brass and tub-thumping percussion, would be surprised at how subtle and mysterious the previous half-hour can be. It's a real showcase, with notable solos for flute, horn, harp, viola, and bassoon, to name but a few, and it gave Søndergård an opportunity to shine a light on every section of the orchestra and demonstrate just how vibrant and responsive this band can be.
An important evening, then, but several steps short of momentous. We left satisfied, but not overwhelmed. As we swept out of the great double doors of the Usher into the cold night air, a member of staff beamed at us and said: "It's so wonderful to have you all back", which indeed it was.
'The Firebird' gave Søndergård an opportunity to shine a light on every section of the orchestra
rating
Explore topics
Share this article