Echo Vocal Ensemble, Midlands Arts Centre review - fresh and fun approach to choral singing |

reviews, news & interviews
Echo Vocal Ensemble, Midlands Arts Centre review - fresh and fun approach to choral singing
Echo Vocal Ensemble, Midlands Arts Centre review - fresh and fun approach to choral singing
This youthful ensemble concludes its UK tour with a sparkling performance
Echo Vocal Ensemble
After meeting on the Genesis Sixteen Young Artist Scheme, this vibrant vocal ensemble has been rapidly gaining momentum since their debut at St John's Smith Square in 2017. Under the direction of conductor Sarah Latto, the final concert in their UK tour was polished, poised and subtly powerful.
The concert had been planned to take place in the Midland Arts Centre's Hexagon Theatre, but a last minute change put it in a gallery space, surrounded by paintings that form visual artist Caroline Walker's
Women's Work
exhibition (which, if you're in the area, is well worth a visit on its own). It's a stunning space, though the acoustics are pretty unforgiving. Not that this choir needs a great deal of forgiveness, though a little bit of reverb, particularly during the opening, early works would not have gone amiss.
Latto (pictured below by Sarah Turton) is a brilliant conductor, clearly communicating with the singers throughout. She's also the only person on stage to perform of-book, displaying an innate knowledge and command of every piece. Opening with Hildegard von Bingen's "O Nobilissima Virditas", the individual vocal lines of the piece were clearly illuminated, while Clemens Non Papa's "Ego Flos Campi" had a tender, yet driven flow. Jumping forward a few centuries, the group's improvisation on ANOHNI's "Why did you separate me from the earth", from her 2016 album Hopelessness was particularly moving, with soloists from within the choir singing individual lines at random, before Latto rounded off the piece with an abrupt but effective finish.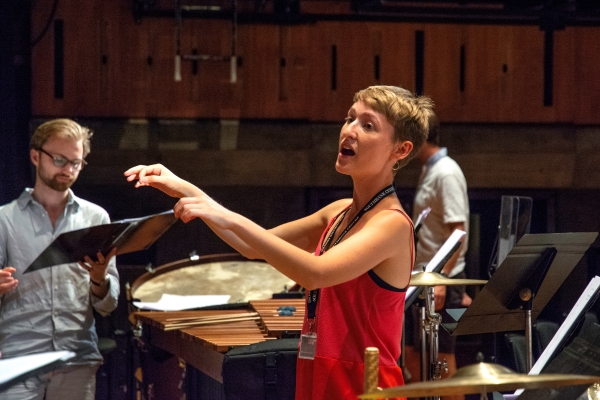 The overarching theme of the programme was the beauty of the natural world, and its precarious position due to the climate crisis. Back in 2019, the ensemble held a competition for emerging composers, asking them to write a piece for the group inspired by the opening lines of Alice Oswald's Dunt: a poem for a dried up river. It tells the tale of a Roman statue of a nymph, presiding over a dead spring, making vain attempts to conjure water. Last night we heard the joint winning pieces, as well as the two shortlisted works: four very different expressions of this potent text. Rory Wainwright Johnston's Summoning Dance is a song with no words; in fact, its opening is a vocal work with no singing! Percussive sounds and a series of kazoo-like "vvvvvvs" open the piece, before soprano Sam Cobb - co Artistic Director of the ensemble - comes in with a powerful wordless melody, the song of the water-nymph keening for her lost river. James Brady's Dunt: a poem for a dried up river had a powerful ostinato with jazz-tinged harmonies layered on top, while Janet Oates's Summoning made clever use of spoken word. It was Lillie Harris's already gone which spoke the greatest to me, her dense harmonic language a powerful force in communicating Oswald's poetry.

The ensemble displayed strong synchronicity, from the tender harmonic passages of Weir's "Verture", the jubilance of Britten's "Flower Songs" and the gently shimmering close harmonies of Liz Dilnot Johnston's "For Hester", a beautiful setting of a poem by Philip Larkin. Each singer is clearly an accomplished soloist, but a few more years of singing together as a choir could establish this group as a serious exponent of a capella vocal music. It's Latto though who is definitely one to watch. Her intricate yet understated conducting and demonstrable affinity with the music highlights her as a stand-out choral conductor.

Latto's demonstrable affinity with the music highlights her as a stand-out choral conductor
rating
Explore topics
Share this article