Goode, BBC Philharmonic, Gernon, Bridgewater Hall, Manchester review – making beautiful music |

reviews, news & interviews
Goode, BBC Philharmonic, Gernon, Bridgewater Hall, Manchester review – making beautiful music
Goode, BBC Philharmonic, Gernon, Bridgewater Hall, Manchester review – making beautiful music
Big programme for a youthful principal guest conductor, plus a pianist's wisdom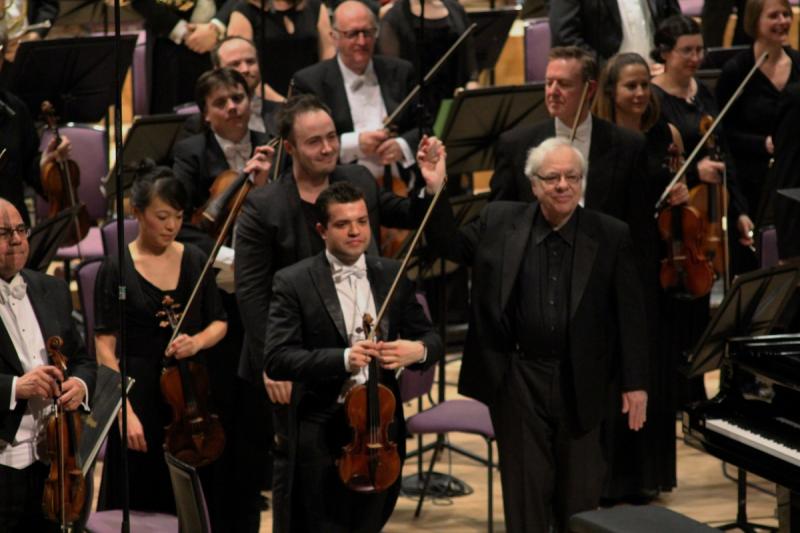 Ben Gernon and Richard Goode take their bows after the Mozart concerto
Just over a year since his Bridgewater Hall début, Ben Gernon appeared with the BBC Philharmonic there again – this time well into his role as their Principal Guest Conductor, yet his first concert with them there since officially taking up the position.
A lot has happened in his career in those 13 months, both with the Philharmonic and elsewhere, and his website now boasts many more laudatory quotes beside the one from me a year ago, that he "knows how to give his musicians the freedom to do what they do best".
But that's still one of the main impressions of the way he works with the orchestra. He gives them what they need, no less and no more, and musicians of the calibre of the BBC Philharmonic (led, on this occasion, by George Tudorache) respond to that with playing of remarkable spirit and lovely tone. I don't know how he does it, but, beyond helping them to shape their phrases simply and attractively, it's as if he silently tells them – the strings in particular – they are going to make beautiful music together … and they do.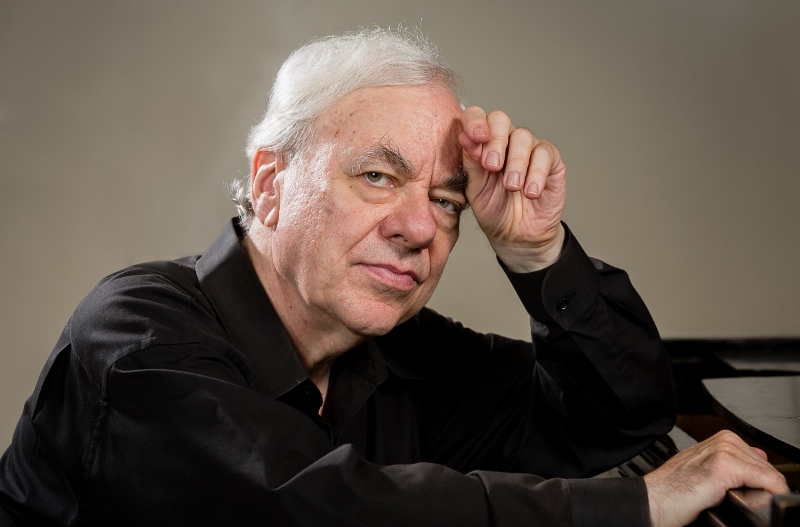 It was a big programme for a young conductor, beginning with a UK premiere, continuing with a deep and subtle Mozart piano concerto, and ending with Mahler's first symphony. Soloist in the Mozart Piano Concerto No. 20 in D minor was Richard Goode (pictured left), whose wisdom of years complemented Gernon's accompanimental skills very effectively. His playing is even, mostly restrained, using the resources of the concert grand piano sparingly but eloquently, but with enough weight and drama for Beethoven's cadenzas to seem thoroughly in keeping with the concerto's sound world, though just a little showy and (in the case of the finale) like a little Romantic concerto, and nobly done.
Ben Gernon did not rush the opening, but kept it gentle, mysterious and tense, making a clear contrast with its first big outburst, and keeping an alternation of assertion and foreboding in what followed. The Romanza middle movement had a sense of late 18th century "sensibility", Richard Goode's playing charmingly faux-naif but implying deep feeling, and in perfect proportion in each repetition of the opening. In the finale there was lightness of step, but tension rarely departed, even in the touches of light relief that Mozart, wisely, gave it.
The UK premiere was of Anna Clyne's The Midnight Hour, written three years ago for l'Orchestre National d'Île-de-France during her residency with them. It's not a typical nocturne: it starts with a bang, ends with a bang (on bass drum), and in between is mainly fast and furious. But it's very accessible music, with recognisable chords, repetition of coherent units within its themes, reprises of some important sections, and the instrumentational ability to make even a straight unison sound thrilling. It's also at times quite filmic in style, with a big tune in string octaves, folksy woodwind solos, and a slow, sentimental role for two trumpets, either side of the stage, with very traditional harmonies to accompany them. It's also got some effective brass and woodwind chorus writing, which Ben Gernon balanced with skill.
So to Mahler's First Symphony. This may not have been one of the most monumental readings ever, but it reminded you – often dramatically – that the symphony is a young composer's work, one who was even a bit younger, when he wrote most of it, than the youthful conductor we saw presenting it. Gernon (pictured right) captured the sense of anticipation in its opening, his accelerations were energetic and in-yer-face, contrasting with tenderness in the string playing. But momentum was sustained, along with clear, near-raucous, nature painting in the open-air passages.
Gernon brought some stridency to the climax of the first movement, and weight of sound to the lively second. The surreal third movement (with Frère Jacques in the minor mode) was finely balanced, so that each voice could be heard singing its part in the canon, and there was an admirably sleazy swing to the klezmer music sections.
The finale began almost hysterically but soon presented a glowing vision of a better world, Gernon's grip on the rhythms also giving coherence to the most crowded textures and clarity to the structure. The final peroration firmly kept its head, and the BBC Philharmonic's sonic brilliance was its outstanding quality.
The symphony is a young composer's work, one even a bit younger than the conductor presenting it
rating
Share this article