Hallé, Elder, Bridgewater Hall, Manchester review – pictorial, dramatic power |

reviews, news & interviews
Hallé, Elder, Bridgewater Hall, Manchester review – pictorial, dramatic power
Hallé, Elder, Bridgewater Hall, Manchester review – pictorial, dramatic power
Mancunian players excel on home ground in Elgar and Strauss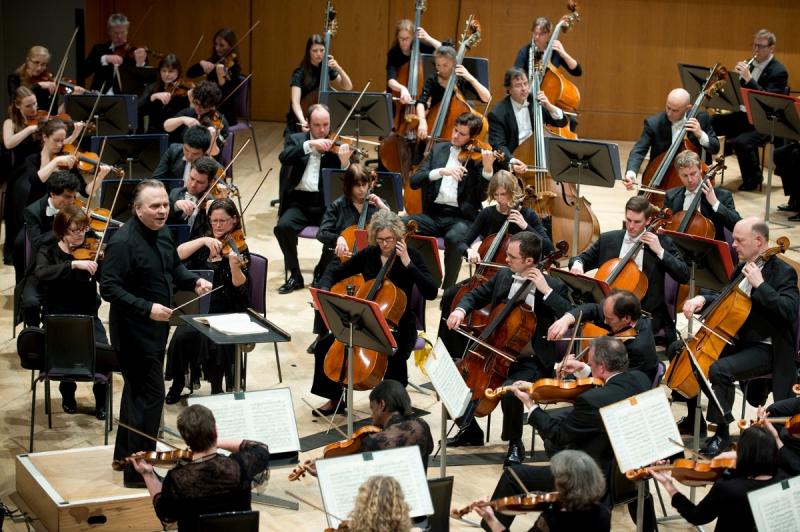 Elder and the Hallé in action
Sir Mark Elder's first concert in the Hallé Thursday series for 2018-19 was on clearly mapped Hallé territory – Richard Strauss and Elgar. They have a reputation, and a tradition, of playing these composers' music very well.
They've already recorded Elgar's Second Symphony and, judging by the microphones around the platform, they're doing the same right now with Strauss's Don Quixote.
The soloists were their own principals, cellist Nicholas Trygstad (pictured below) and viola player Timothy Pooley. Though it won't be discernible in any purely audio document of the occasion, they and their colleagues sharing the characters of the doleful knight and his squire, wore colour-coded shirts for easy identification by the audience. There was a surtitle screen, too, to help us keep abreast of events in the story as depicted in Strauss's introduction and variations.
That was good music education, but in many ways the pictorial and dramatic power coming over in purely musical terms was enough to lead us through. Elder revels in the orchestral sound effects supplied generously in this score (sheep bleating via flutter-tongued brass instruments, pizzicato water droplets, a wind machine and so on), and even more so in the delicacy of the hero's lucid interludes and the sweetness of his romantic dreams.
From near the beginning, as Stéphane Rancourt's oboe solo was heard against the purest whispered tone from back-desk violins, the fantasy world of Cervantes' tale was subtly created, and the textures accompanying the protagonists' musical representatives were gloriously clear. There was a brief moment of slight intonational uncertainty, but the orchestral brass were in magnificent fettle. Variations Three and Five were also outstanding for richness of tone in all departments, mellow brass included, with lovely string playing under soloist-leader Lyn Fletcher and perfectly blended woodwind chords, and the battle scene was virtuosically played. Trygstad and Pooley shone in their solo roles, showing both technical mastery and expressive power.
In Elder's hands, Elgar's Second Symphony begins where the First left off, with the tread of a thousand marching feet. The vigour and strength of its opening, with the pace of the main theme slightly broadening at its return, was deeply impressive, and there was gloriously ethereal string playing in the middle of the movement and a loving caress at the beginning of the music's reprise. In many ways the Larghetto second movement was the emotional core of the performance, its rapt feeling casting a spell over the hall, its structure building to a peak of intensity, and its final fade-out mesmerizing.
The third movement – a Rondo in form but a scherzo in function – revealed a multi-faceted quality: nostalgic and doom-laden, exuberant and grim. There's a real window into Elgar's complex psychology here, and Elder does not miss a whit of it. And the intoxicating main theme of the finale had just enough of a swing to make it beguiling as well as noble and positive. Its rhythmic qualities were emphasized as the movement continued, to build to a climax of surging waves of melody propelled by stirrings of volcanic emotion, with a benediction in the final, long-sustained chord.