Les Arts Florissants, Christie, Agnew, Barbican review – splendid Baroque knees-up |

reviews, news & interviews
Les Arts Florissants, Christie, Agnew, Barbican review – splendid Baroque knees-up
Les Arts Florissants, Christie, Agnew, Barbican review – splendid Baroque knees-up
A birthday bash to relish from the French period superstars
Tuesday, 10 December 2019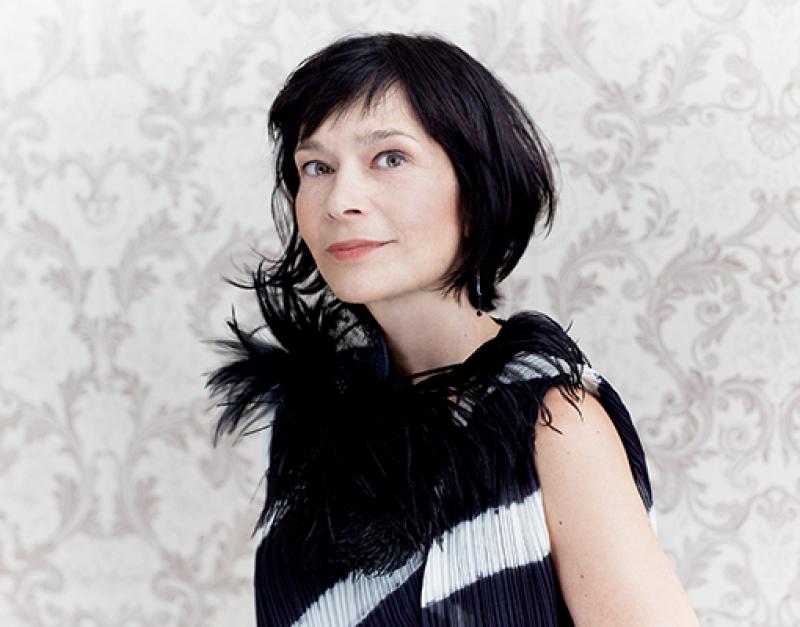 Comedy and virtuosity: Sandrine Piau
"How many times have you heard the conductor sing?" asked William Christie after the final number, but before the two encores, of Sunday night's 40th birthday celebration for his ensemble Les Arts Florissants. Well, lovers of old recordings know that you sometimes get plenty of impromptu vocalisation from the likes of Bernstein and Barbirolli.
But what the august founder of the Baroque super-group (and super-chorus) meant on this occasion was the bravura performance of his co-conductor, and assistant director, Paul Agnew. In several of the pieces he led at the Barbican, Agnew would turn round on the podium and let rip with the tenor part as if he (like his fellow-soloists) had merely been idling at the edge of the stage until his moments of glory arrived.
Agnew's multi-tasking role added to the fun of a festive evening that marked four decades of achievement from the French period specialists – and their American-born begetter (pictured below) – with lashings of what we'll have to call (cliché alert) joie de vivre. For Les Arts Florissants spread enjoyment as well as enlightenment in abundance as they presented their "Baroque Odyssey". A tour through the historic heartlands of their repertoire, it began more or less on this side of the Channel – with chunks from Purcell and Handel – before crossing La Manche for extracts from Lully, Charpentier and Rameau in the second half. The packed programme came across as sort of Baroque music-hall, or courtly cabaret, with vocalists and players (not to mention singing conductors) determined to make this big-birthday bash a proper party, not a solemn rite.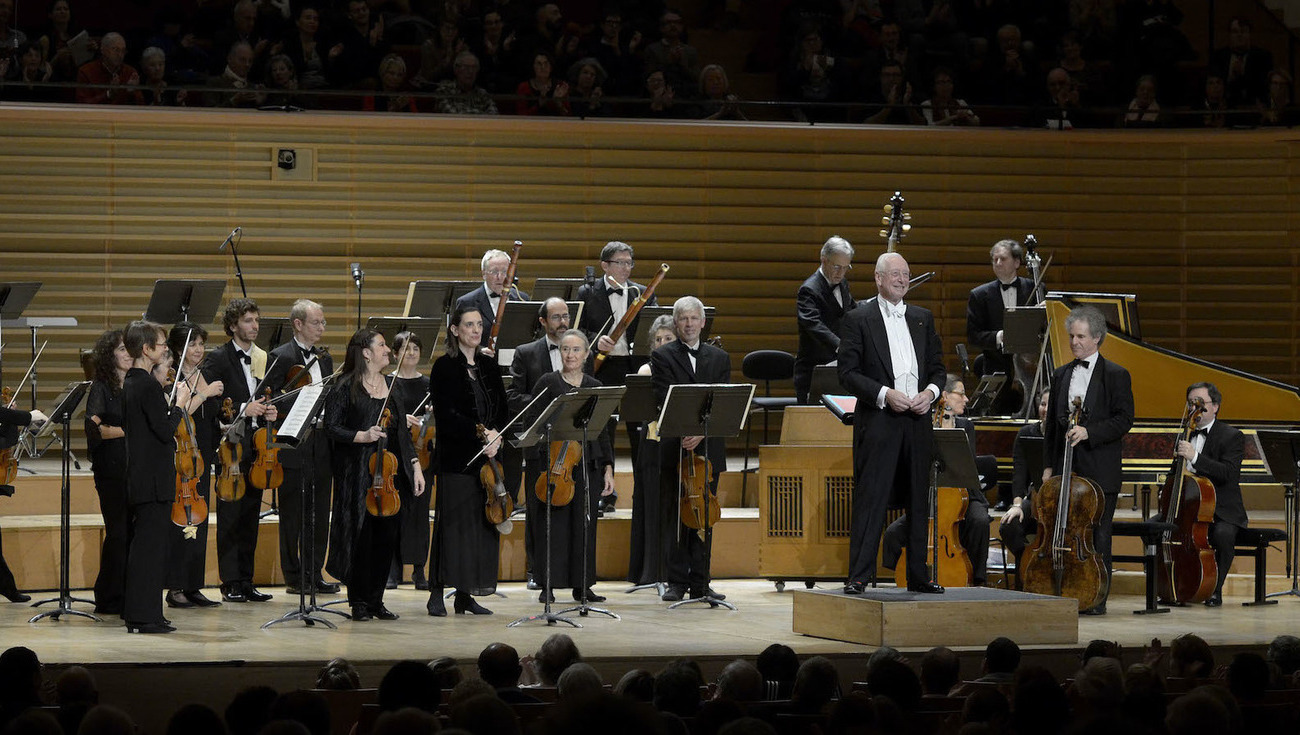 Not everything (to put it gently) has obviously improved since 1979. Thanks to outfits such as this one, though, the overall performance – and appreciation – of pre-1750 European art music really has shot up a level or three. Christie, Agnew and their forces reminded us that sheer exuberance and uninhibited delight in the material has changed the climate quite as much as the scholarly pursuit of "authenticity". We began, a little scrappily, with not one but three intros: a fanfare and drum-roll from Handel's Atalanta (ta-ra to percussionist Marie-Ange Petit), followed by a lithe, swift and unpompous "Zadok the Priest" – perhaps a French Republican riposte to our own dear Coronation rituals. But then we also had some too-brief snippets from Purcell's Ode for St Cecilia's Day: just enough to whet, but hardly to satisfy, the appetite.

Back to Handel for a selection from the operas that let the soloists dazzle. Sandrine Piau (main picture) kicked off with Tornami a vagheggiar from Alcina, her coloratura runs in the finest fettle and her acting skills calibrated for the opera house rather than the recital hall. All the soloists, in fact, strode or prowled around the stage, fully in character rather than belting from the spot. Counter-tenor Christophe Dumaux made a hearty meal of the mad scene from Orlando, but the voice lacked for nothing in power or subtlety – even when singing on his knees for Vaghe pupille. Pieces from L'Allegro displayed the French band and choir's command of Handel's more folksy English-language idioms, with tender, rustic woodwinds warbling the Shakespearean "wood-notes wild" of the Milton settings while Maud Gnidzaz (one of the chorus) stepped up for a fresh and winning solo role. Scherza infida from Ariodante took us to one of the evening's absolute peaks. Mezzo-soprano Lea Desandre, with a soulful bassoon behind her, delivered the aria with startling dramatic force and a quite ravishing beauty of tone. Desandre (pictured below by Julien Benhamou) came up through Christie's own academy for young singers, Le Jardin des Voix: further proof of the riches he has showered on French, and European, music-making.
The first half closed with pieces from Purcell's Fairy Queen and King Arthur. The evening's male-voice quartet – Agnew along with Dumaux, tenor (and baritone) Marc Mauillon, and bass-baritone Lisandro Abadie – relished their party-pieces, as did the stylish natural trumpets of Les Arts Florissants. Piau's merry Sing while we trip it had a skipping, danceable wit, while her lovely Now the night is chased away flowed with lyric grace. Not for the first or last time during the evening, the accompaniment of Thomas Dunford's plangent theorbo not only enhanced the vocal line but spoke beautifully in its own right as well.
The French second half of the concert returned to the once-neglected (or simply mangled) music from the reigns of Louis XIV and XV that Christie originally set out to revive. Charpentier's chamber opera Les Arts Florissants (from which he took the group's name) supplied Piau with a succulent arioso number, while the chorus mastered the rhythmic shifts and surprises of Amour du ciel at de la terre. As a conductor, Christie can seem oddly languid and nonchalant until he swoops in like some patrician raptor to extract a breath-halting change of pace, tone or volume. There's a rhythmic excitement to his direction, a taut alertness that mingles powerfully with the aristocratic suavity of much of this repertoire. But the rediscovery of lost treasures also lies at the core of his enterprise – and in Honoré d'Ambruis's Le doux silence de nos bois, an air from 1685 that beautifully offset Marc Mauillon's melancholy vocal line against the ground of Dunford's theorbo, we had exactly that.
After a brief burst of Lully, with the recorders in top form and Agnew again joining the other male singers for a serenade from Atys, we moved to Rameau's operas, and a super-sized final act. Desandre's aria from his Fêtes d'Hébé, and Mauillon's, from Hippolyte at Aricie, confirmed their excellence, while sections from Platée – Rameau's only comic opera – saw Agnew matching his podium projection with some athletic conducting, as Piau melded comedy and virtuosity in the effervescent Formons les plus brilliant concerts.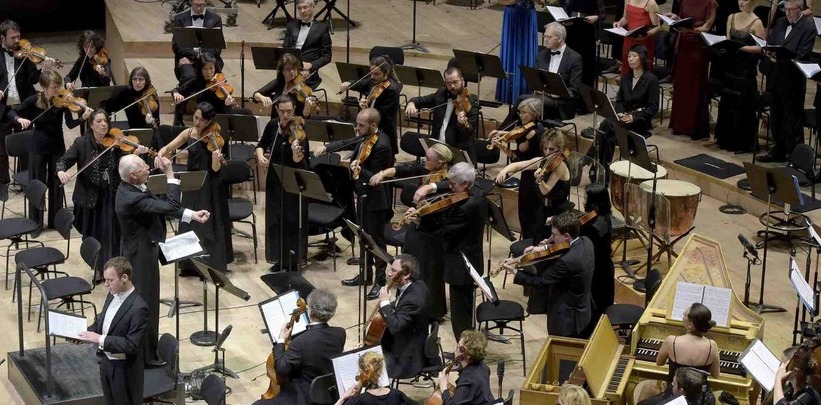 By now Les Arts Florissants were certainly making the most sparkling sounds, as their strings and woods cultivated every corner of Rameau's vivid descriptive music. The pace slowed, though, for a finale consisting of extended segments from his exotic fantasia from 1735, Les Indes Galantes. The ensemble managed the spectacular sonic scene-painting here – earthquake and volcano included – consistently well. Piau, Mauillon and the commanding bass-baritone Abadie gave the fatal love-triangle of conquistador, Peruvian high priest and Inca princess genuine tension and turbulence. But arguably these extracts overstayed their welcome; and the final jig-like dance, with the soloists sashaying across the stage, did not arrive too soon. This, though, was a lavish and delectable buffet of signature dishes from Christie and his friends. It closed, every voice and instrument gathered together, with the sweet bonbon of their second encore – the farewell anthem of Tendre amour from Les Indes Galantes. Here's to the next four decades.