Mutter, Vengerov, Argerich, Oxford Philharmonic, Papadopoulos, Barbican review - a birthday banquet |

reviews, news & interviews
Mutter, Vengerov, Argerich, Oxford Philharmonic, Papadopoulos, Barbican review - a birthday banquet
Mutter, Vengerov, Argerich, Oxford Philharmonic, Papadopoulos, Barbican review - a birthday banquet
A young orchestra celebrates with stellar friends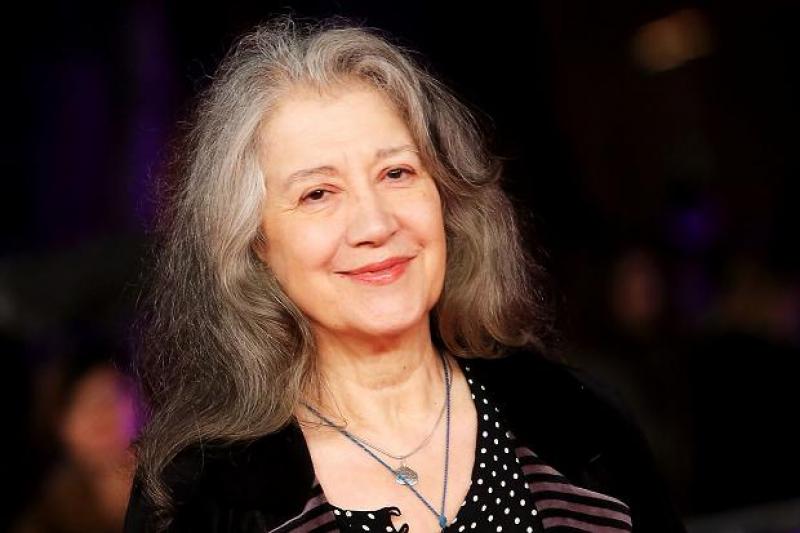 Ecstatic, eccentric: Martha Argerich
When three of the planet's starriest soloists take the time to celebrate the anniversary of a young, non-metropolitan orchestra, it may seem perverse to leave the hall entranced most by the one work in which the illustrious trio played no part.
Of course it was grand, and gratifying, to see
Anne-Sophie Mutter
, Maxim Vengerov and Martha Argerich – yes, Martha Argerich – turn out yesterday for the 20th birthday party of the Oxford Philharmonic at the Barbican.
Marios Papadopoulos
, who founded the ensemble and conducted it last night, has fashioned an outfit that deserves to command that stellar level of endorsement for its big day.
All the same, it was their concluding performance of Beethoven's Third, Eroica, Symphony – big-boned, high-coloured, slightly old-world but deeply satisfying – that reminded us why we had gathered for this jamboree in the first place. Oxford, where the Philharmonic not only acts as the university's orchestra-in-residence but works in hospitals, special schools and a range of other non-standard venues, can be very proud of them.
This 'Eroica' unashamedly belonged to the 19th century
Their party served up a trilogy of festive treats. To begin with, Mutter and Vengerov danced through Bach's Concerto for Two Violins. Or rather, she danced while he stood foursquare and stationary, a Russian rock around which her more supple and expressive playing flowed. Naturally, his tone was glorious, but this stark contrast of performing styles – she all bright and skipping interaction with the (standing) nearby strings, he reserved, serene and immobile as a fiddling Tsar – made for a piquant double-act. To my ears, the pair really gelled only as Mutter (pictured below) took charge of the gorgeous singing lines in the slow movement, her vibrato ravishingly sweet without sickliness. The duo barrelled through the finale at a scorching pace and with a fierce attack; at last, they seemed to play from the same interpretative sheet.
At 77, Martha Argerich still invariably carries a frisson of excitement, even danger, with her whenever she takes the stage. The Argentinian-born pianist has delivered Schumann's Piano Concerto so often that, with another performer, you might fear that she would be tempted to slip into a repetitive routine. Not in the slightest. No stranger to eccentric shaping and pacing herself (though not so much last night), Argerich relishes the knotty oddness of this piece. She always makes us hear the restless originality of Schumann as he tests the concerto conventions to the edge of total fracture – and beyond. Sometimes with lavish rubato, she highlighted the edgy dialogue of the first movement between skittish exuberance and dreamy introspection. Argerich, peerlessly, does both. She sparkled, as always, in the movement's exhilarating cadenza, but the sheer fervour of her playing never compromises the underlying lucidity of her vision. In the wandering lyricism of the second-movement intermezzo she captured the unstable, enigmatic inwardness of this elusive music. The final rondo, meanwhile, galloped onwards with dash and panache. Avoiding any grande dame solemnity or Romantic schmaltz, Argerich still delights in drawing out the playful and mercurial side of Schumann. The idiosyncrasies, even wilfulness, in her high-tension pianism answer to a strangeness in the music that other interpreters can often smooth over and so betray.
After the interval, the Eroica gave Papadopoulos and his orchestra the chance to fill a glittering showcase for their achievements so far. They responded with a luxuriant and glossy reading in the grand manner. Recent, fashionable Eroicas tend to sound lean and lithe, whipping Beethoven back into the classical 18th century at a fair old lick, for all his revolutionary innovations. Unafraid of relaxed tempi, Papadopoulos crafted a more lavish and burnished sound; one that unashamedly belonged to the 19th century. He swept the orchestra across broad dynamic spans, moulding some glorious old-school crescendos. The warm, firm strings served him splendidly and, in the second-movement funeral march, the woodwinds impressively came into their own. Solo oboe Clara Dent, so crucial in this work, merits a special shout.
At moments, the funeral march did drag a little (the performance clocked in at 49 minutes; on the leisurely side for these days). A bracing scherzo then paved the way for a finale in which Papadopoulos joltingly revived the band's pulse and led it through Beethoven's crazy, dancing suite of variations with a driving, swinging rhythmic attack. You will hear bolder, more probing, more cerebral performances, but in this one the Oxford Philharmonic set out their stall with genuine flair and stocked it with a range of savoury delights. Then, to finish the banquet with a platter of sweeties, Papadopoulos led the band through a series of pastiche stylings of "Happy Birthday", from Strauss (J) to Elgar by way of Mahler and Wagner. Naughty, but nice.