Osborne, Hallé, Elder, Bridgewater Hall, Manchester review - an eclectic mix |

reviews, news & interviews
Osborne, Hallé, Elder, Bridgewater Hall, Manchester review - an eclectic mix
Osborne, Hallé, Elder, Bridgewater Hall, Manchester review - an eclectic mix
Glory in conclusion of Manchester's Vaughan Williams symphonies cycle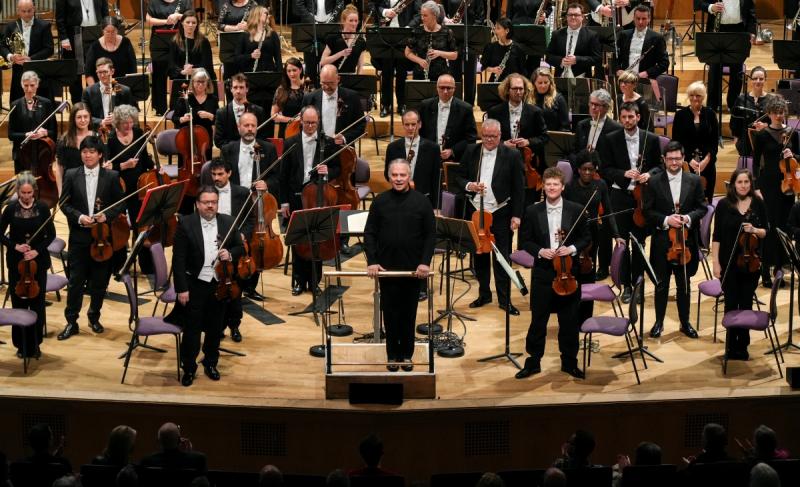 Glorious Mark: Sir Mark Elder with the Hallé acknowledge applause
The Mancunian tribute to Ralph Vaughan Williams – a symphonic cycle shared by the BBC Philharmonic and Hallé – reached its conclusion with the Eighth Symphony last night.
But, unlike most concerts in the RVW150 sequence, in this one (the final performance in the Hallé Thursday concerts series of 2021-22), Sir Mark Elder added an eclectic mix of other
composers'
work to the evening. Value for money, without a doubt (
main picture:
Sir Mark Elder with the Hallé).
First up was Stravinsky. The Concerto for piano and wind instruments is a challenge to the ensemble as much as its soloist, and there was much earnest warming-up, essential to a well tuned and blended wind ensemble, on stage before the start. The music itself, completed in 1924, reflects the rediscovery of north European Baroque textures and techniques of its time, full of counterpoint and sequence, and at times sounding rather akin to the "sewing machine" regularities some have discerned even in J S Bach himself.
But this is Stravinsky, and nothing is ever what you might expect. Steven Osborne (pictured left), virtuoso pianist and an outstanding product of Manchester musical education, made his modest entry on the scene as the wind players completed a somewhat nervous slow ritornello, but soon began to earn his spurs: the slow central movement, with its thick chords, emerged as a kind of defiant musical iconoclasm dissolving into Chopin-esque delicacy, which he delivered in equal measures. The final quick movement returns to the game playing of the first, as both soloist and ensemble were bursting with energy and enjoying the sheer fun of its jazzy interlude and spirit of send-up.
Richard Strauss's Till Eulenspiegels Lustige Streiche followed, taking us back to the last decade of the 1890s and bringing on full "large orchestra" configuration. Repertoire work it may be, but Sir Mark brought many delights, with lilting rhythms and athletic crescendi contrasting with the gentle string sound the Hallé is famed for (led by Alex Robson, who contributed distinguished solos here and in other items in the programme).
Elena Langer's Suite from her 2016 opera, Figaro Gets a Divorce, has plenty of the spirit of send-up and pastiche, too, as the piece reflects the 20th century Europe Stravinsky knew first-hand. It also gave the strings of the orchestra a chance to shine, with sustained, velvety tone in its opening night-music and lush and thrilling sounds to follow. It's theatre music taken out of the theatre, but Sir Mark always keeps the sense of drama in such scores and had no need to apologise for its original and atmospheric effects.
And so to Vaughan Williams. John Barbirolli, the Hallé's principal conductor from 1943 and conductor laureate until his death, had asked Vaughan Williams to write a symphony for him to premiere during his days heading the New York Philharmonic in the 1930s (I've seen the cable), and he finally got his wish after 20-odd years in 1956, with the Eighth Symphony, dedicated to him as "Glorious John". VW was in his 80s by then and wasn't looking to break any major barriers in his style, but he was still exploring new orchestral sounds and found forms within a four-movement conventional pattern to make a coherent music without a single "proper" sonata structure.
Those of us who remember Glorious John in the flesh can well recall the sight of the throbbing left thumb and the richness of string tone it engendered when we hear the lovely melodic and chordal writing Vaughan Williams gave him in this work, and the inside movements – one for wind alone, one for strings alone – make it something of a demonstration piece for orchestra, too. With two harps to enrich the tapestry, Sir Mark and today's Hallé were able to weave some glory of their own.

Those of us who remember Glorious John in the flesh can well recall the sight of the throbbing left thumb and the richness of string tone it engendered
rating
Share this article