Paris Chapters, Barbier Serrano, Finegan, Ling, Bloomsbury Festival review - beguiling journey around Irishmen abroad |

reviews, news & interviews
Paris Chapters, Barbier Serrano, Finegan, Ling, Bloomsbury Festival review - beguiling journey around Irishmen abroad
Paris Chapters, Barbier Serrano, Finegan, Ling, Bloomsbury Festival review - beguiling journey around Irishmen abroad
French soprano and Irish saxophonist excel in new works and popular charmers
Tianqi Ling, Clara Barbier Serrano and Robert Finegan in the library of the Institut Français
Young French soprano Clara Barbier Serrano has everything it takes to shine in an overcrowded singers' world, including vivacious communicative skills – I witnessed those for the first time last Tuesday, when she performed at the Oxford International Song Festival without the score in front of her – attention to detail and a knack of forging unusual programmes beyond the usual song-recital round, commissions included.
This often mesmerising event in the City Literary Institute's recital room towards the end of the Bloomsbury Festival harnessed the talents of a fellow former student at the Royal College of Music, brilliant Irish saxophonist Robert Finegan, with pianist Tianqi Ling in support, and took as its theme Irish writers in Paris.
That was chiefly the business of the four new works. Yeats's "Stream and Sun at Glendalough" rippled and shone especially in composer Denise Ondishko's fluid writing for piano. Finegan took centre stage as both player and presenter in Ken Edge's tribute to Beckett, "I, of whom I know nothing" – a Satiesque mix of melancholy and vaudeville, totally appropriate to the chosen genius. Serrano and Finegan duetted with miraculous tonal blend, doing justice to Lise Borel's careful writing for Oscar Wilde's "Le Jardin des Tuileries". Best of all, at least in terms of perfect match with the text, was Rhona Clarke's setting of lines from a chapter of Joyce's Ulysses, "Sirensong". We needed to know something about these composers, but the festival had not provided biographies, though Barbier Serrano had made a printed list of works for distribution.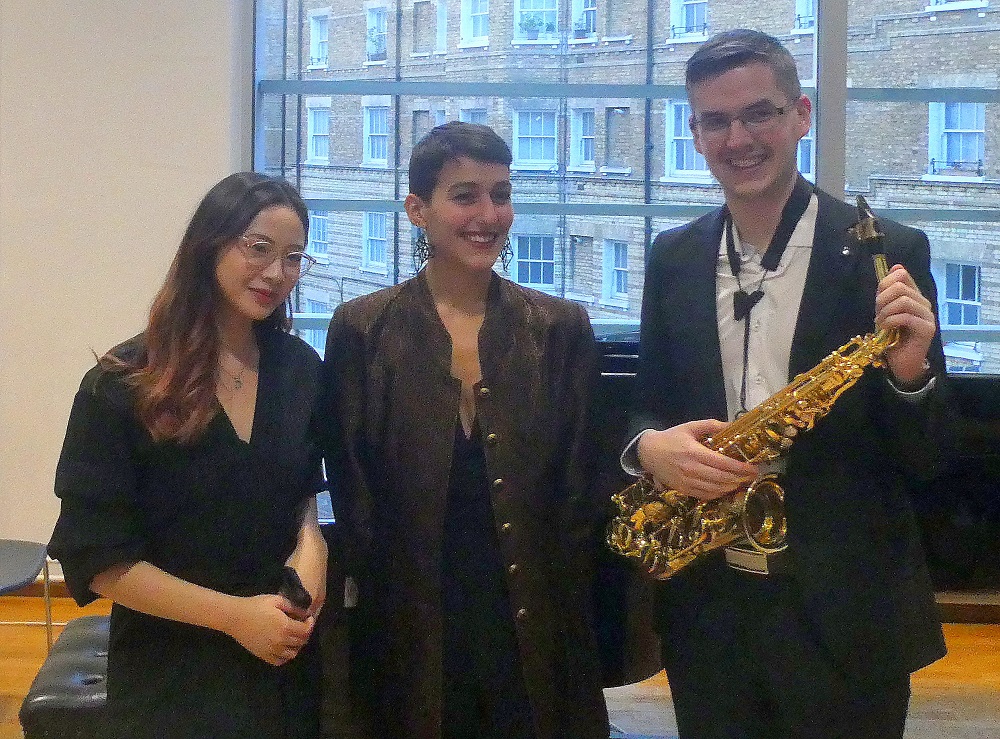 Here all the words could be caught from Barbier Serrano as well as the beauty of tone. The room's acoustic has a tendency to swallow them up – the only thing that disappears in the ominously-named Room 101 – and that clearly wasn't the soprano's fault, since she's as diction-clear in English as she is in French. The only other drawback was Ling's unclear sense of rhythm in some of the earlier stages, but she seemed to have mastered the new pieces well. And there was so much more: delicious Poulenc/Apollinaire – "Voyage à Paris" and the languorous hymn to smoking, not writing, "Hotel" – complemented by pigeons flying around the flats through the big window – as well as perfect Britten folksong arrangement (Yeats and French traditional), exquisite sounds from Finegan in Ondishko's transcription of Nadia Boulanger's Cello Piece No. 1, classical perfection from voice and instrument in "Love's old sweet song" (aka "Just a song at twilight"), and a sparkling conclusion homaging Josephine Baker with "J'ai deux amours".
Given the performers' charm in presentation, the selection, which they launched at the Institut Français, could be expanded to a full two-parter, with even more text and possibly more commissions. The Wigmore Hall would be the perfect place for it. And by coincidence I saw that same evening that Chelsea Opera Group, performing Un ballo in maschera at the Cadogan Hall, have scheduled Delibes' gorgeous Lakmé for next February. They don't have a soprano yet. Barbier Serrano would be the perfect choice…
Below: Clara Barbier Serrano sings 'Sous le ciel de Paris' at the Eiffel Tower