Remembering Mariss Jansons (1943-2019) |

reviews, news & interviews
Remembering Mariss Jansons (1943-2019)
Remembering Mariss Jansons (1943-2019)
The great Latvian conductor has died at the age of 76, but he leaves a powerful legacy
Wednesday, 04 December 2019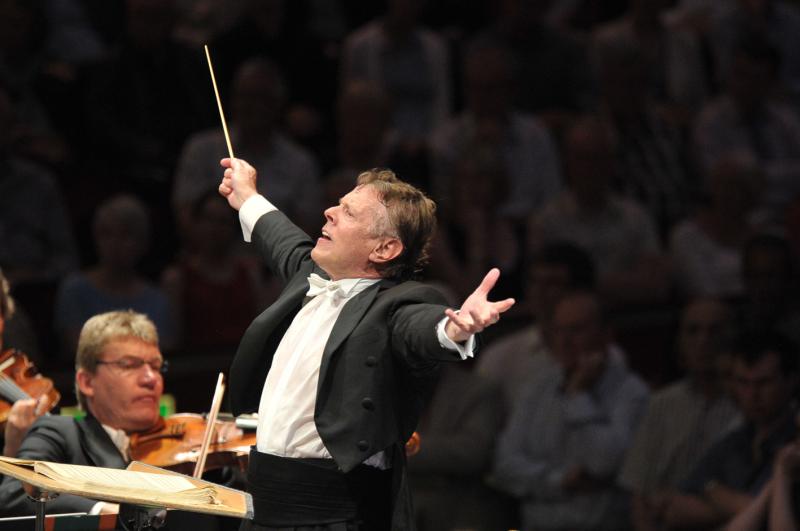 Mariss Jansons conducting at the BBC Proms
He was indeed "one of the greats" among conductors, as theartsdesk's Gavin Dixon put it in reviewing Mariss Jansons' January visit to the Barbican, and remains so by virtue of his recordings.
Affable and natural in person, though not hugely revealing of his work or the music he loved, at least when I interviewed him in a snowy and newly-renamed St Petersburg during sessions for
Rachmaninov
's Third Symphony and
Symphonic Dances
, he kept a steady and sometimes inspirational hand.
Mastering orchestral colour was his supreme skill, with symphonic shaping a good second; thorough preparation was a hallmark of every performance. His relatively limited concert repertoire, which he repeated often, focused on tonal glories. Born in wartime, Soviet-occupied Riga to another distinguished conductor, Arvid Jansons, and the singer Iraida Jansons, his training was Leningrad-based - like the great Estonian Neeme Järvi, he studied there with Nikolay Rabinovich - and his first post in the west, like Järvi's, was with one of the second-rank orchestras (Karajan wanted him as assistant at the Berlin Philharmonic, but he never even got to hear of the offer).
Like Järvi in Gothenburg, he raised the orchestra in question, the Oslo Philharmonic, to world-class status. Comparing versions of Musorgsky's Pictures at an Exhibition for BBC Radio 3's Building a Library, I chose Jansons' Oslo recording of the Ravel orchestration: here was the ultimate genius in sound fully realised by another master, this time in the conducting sphere. Here's a much later performance with the Bavarian Radio Symphony Orchestra, of which he took charge in 2003.
Jansons left Oslo in 2002 after arguments with city authorities over the hall's poor acoustics; conversely he was holding on to his Munich post to see the orchestra through to the completion of a new hall in 2024. Another of the top league, the Royal Concertgebouw Orchestra, posed no problems with either venue or players; he carried on the Mahler tradition with deeper and darker sounds than those favoured by his predecessor, Riccardo Chailly. Personally I found the Mahler symphonies I heard him conduct live fall a little short in volcanic intensity; though he could certainly convey brilliant joy in the pell-mell celebrations of the Seventh's sun-drenched finale.
The same was true of his Tchaikovsky "Pathetique" - a dazzling march-scherzo, for which he would always allow applause at the end, followed by a less than lacerating lament-finale, at least at the Proms. Unquestionably, though, he did find his own way with Rachmaninov's orchestral works, and the Symphonic Dances recorded at the time of our meeting in 199 remain among the best, both spring-heeled and well-earthed where necessary.
As a former Soviet citizen, Jansons had a good long-term relationship with what was the Leningrad Philharmonic when he first took up a post there in 1985; their recording together of Shostakovich's ostensible hymn to the city's suffering and resilience, the Seventh Symphony, was an early triumph. He also brought a lighter, brighter, faster approach to the Fifth, a difficult work to justify at heavier tempi. The concert hall was his realm but he made two remarkable ventures into the Amsterdam opera house with his Concertgebouw, proving a superb man of the theatre in Shostakovich's Lady Macbeth of Msensk and Tchaikovsky's Queen of Spades. The sound recording is perhaps preferable to the DVD of Stefan Herheim's composer-centric production, but three clips from that give a good idea of the mastery.
The heart condition which had once felled Jansons on the podium - unlike his father, he survived the experience - seemed under control until his death on 30 November, which took friends by surprise. He's gone too soon, especially given the celebrated longevity of conducting careers, but his world is in good hands: Yannick Nézet-Séguin, who took over his Proms concerts with the Bavarian Radio Symphony Orchestra this summer, is as fine an interpreter as Andris Nelsons, the fellow-Latvian who was his only pupil. And we have the legacy to listen to and watch.
Mastering orchestral colour was Jansons' supreme skill, with symphonic shaping a close second
Explore topics
Share this article