Songs of Wars I Have Seen, RSNO, Dunedin Consort, Slorach, Queen's Hall, Edinburgh review - moving portrayal of wartime diaries |

reviews, news & interviews
Songs of Wars I Have Seen, RSNO, Dunedin Consort, Slorach, Queen's Hall, Edinburgh review - moving portrayal of wartime diaries
Songs of Wars I Have Seen, RSNO, Dunedin Consort, Slorach, Queen's Hall, Edinburgh review - moving portrayal of wartime diaries
Heiner Goebbels' singular take on World War Two has poignant contemporary relevance
Ellie Slorach conducts players from the Royal Scottish National Orchestra and Dunedin Consort in 'Songs of War I Have Seen'
Songs of Wars I Have Seen is an hour-long through=composed work by contemporary German composer Heiner Goebbels which combines the music of 17th century composer Matthew Locke, the text from the wartime diaries of American Jewish writer Gertude Stein and Goebbels's own ingenious musical and dramatic ideas.
First commissioned by the Southbank Centre and premiered in 2007, the work in this Scottish outing is a collaboration between the Royal Scottish National Orchestra and Baroque ensemble Dunedin Consort, with players from both on stage. The composer's direction is that women are at the front and men at the back. Whether deliberate or not, all Dunedin Consort's players for this performance were women, so there was a distinct divide between period and modern instruments as well.
Like a lot of writing from that time, Stein's diaries capture as much of the mundanity and funny quirks of wartime living as well as her thoughts on the atrocities happening around her. In the post concert discussion, Goebbels mentioned his mother's comment that he'd never lived through a war, and that's probably true for most of the audience too. While in the UK we read of war in Russia, Ukraine, Syria, Israel and Gaza, the majority of Brits have zero lived experience of being in a war zone. It's hard to comprehend the absurd awfulness of it all; perhaps by talking of things to which most of us can relate - the taste of honey, neighbourhood gossip, the state of one's footwear - we can garner more affinity with the uglier, scarier experiences of someone living through a war.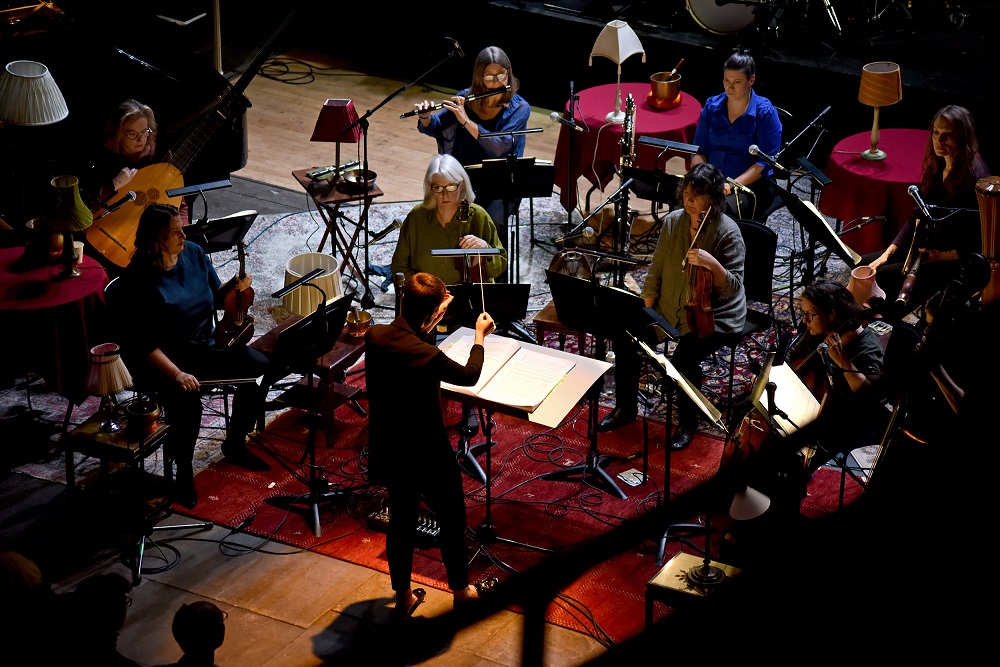 This juxtaposition is evident in the music too. Goebbels's writing is descriptive, evocative and even playful at times, while the interludes from Locke give a more sombre backdrop. The piece's narrative is passed around the female performers, each reading a different excerpt and giving a different insight into Stein's thoughts and life, with cleverly notated rhythm. Many of Stein's musings are on cultural and national distinctiveness and difference, which made hearing such a breadth of accents from those on stage all the more heartening.
The musical execution of this moving and expressive work was very fine indeed, with tight synchronicity from all players under Ellie Slorach's artful conducting. Vibrant brass flutter tonguing and bowed percussion gave potent musical effects, alongside myriad recorded sounds including radio interference and overhead air traffic. Christopher Hart's trumpet solo in one of the final movements - almost an ambient, jazz infused Last Post - was particularly haunting with a subtle reverb effect cleverly executed by the skilled sound engineer who really deserves a programme credit and doesn't seem to have one.
Though most of its subject matter is from World War Two, this work is troublingly relevant today. Perhaps a piece such as this, which encourages personal contemplation rather than dictating a narrative, can be, in some small way, a tool to encourage a deeper human understanding.
Goebbels's writing is descriptive, evocative and even playful at times, while the interludes from Locke give a more sombre backdrop
rating
Explore topics
Share this article