Voces8 Live from London Christmas online review – seasonal favourites and new discoveries |

reviews, news & interviews
Voces8 Live from London Christmas online review – seasonal favourites and new discoveries
Voces8 Live from London Christmas online review – seasonal favourites and new discoveries
A typically varied festival offers everything from seasonal kitsch to baroque pantomime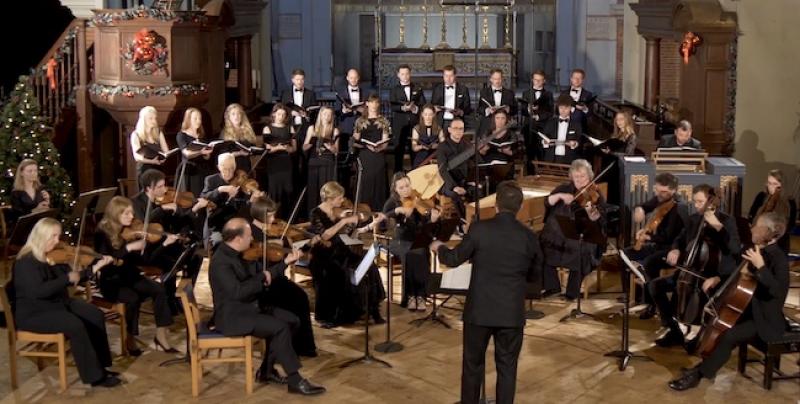 Voces8 performing 'Messiah' in the Live from London Christmas Festival 2021
The Voces8 online festivals – which were born of a need to keep the show on the road during at the beginning of the pandemic – have rapidly become a fixture of the musical landscape, setting the bar for online presentation of choral music and broadening the reach of all the groups involved.
And if in this fifth festival some features have become familiar – Apollo5, I Fagiolini and the King's Singers – there are also some American
novelties
this time round. Award-winning group The Crossing offered a reflection on moving on from Covid and the St Olaf Christmas concert was a first taste in this country of what is a festive staple over there.
But amid the focus on modern carols, or modern arrangements of carols, on offer in the Voces8 (pictured below) and King's Singers' programmes, the highlights for me were the palate-cleansing Renaissance sequence presented by Stile Antico and the predictably unpredictable I Fagiolini. Where there was plenty of schmaltz elsewhere – and for sure there is no better time for schmaltz than Christmas – these two found different ways to refresh the festive repertoire.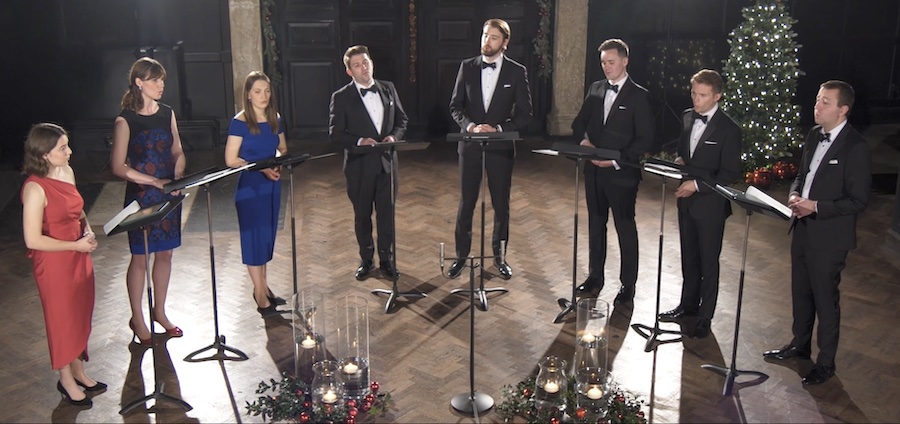 Stile Antico presented a sequence of Renaissance music and poetry. The music ranged from the simple strophic carols to extended polyphonic outpourings, such as the glorious musical sculpture by John Sheppard that finished things off.
The music fit the Christmas narrative, but also followed a satisfying musical thread. Peter Philips's Hodie nobis offered panels of harmonic colour, like a stained-glass window, where Byrd's Rorate caeli was invigorating in its lively rhythmic delineation. In Josquin's Ave Maria, the singers found serenity with a hint of austerity in this most modern sounding of very old composer. It was compelling listening.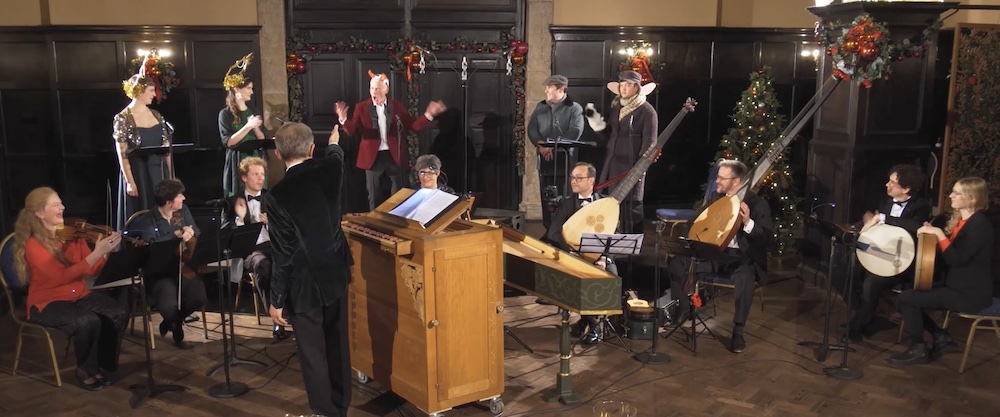 Where Stile Antico provided a savoury menu of rich flavours, all drawn from the same cuisine, I Fagiolini (pictured above) were more Heston Blumenthal. A mixed starter of Bach and Monteverdi was followed by their main course, a little-known dramatic cantata by the Napolitan baroque composer Cristoforo Caresana. Director Robert Hollingworth justifiably described La Tarantella as a pantomime, and it clearly appealed to both his musical sensibility and his sense of the absurd. Crammed with musical and visual jokes, it had something of Blackadder about it, in its postmodern awareness of its own essential silliness.
The music-making, though, was anything but silly. Led with vim and verve by Brecon Baroque (led by Rachel Podger), augmented by guitar and theorbo (Eligio Quinteiro and Arngeir Hauksson), the icing on the cake was the sizzling percussion of Louise Duggan and Zands Duggan. Charles Gibbs as the Devil (cue hissing and booing) had an infernal charisma, while the haloed Angels (late stand-in Elspeth Piggott and Ana Beard-Fernandez) were sprightly and well-matched in sound.
The dessert was a furious Salamancan villancico which in which the insistent rhythms drove Lucifer "into the abyss, landing with an almighty crash". Coloured by castanets and guitars, with vocal whoops and swoops and a circulating harmony, it made a rousing end to Christmas Eve.
By contrast, in their own programme, Voces8 presented traditional carols, some lavishly accompanied by orchestra, of which Adrian Peacock's Venite, Gaudete! was the standout. Sister group Apollo5's (pictured above) programme was a tad more inventive, particularly Dobrinka Tabakova's brilliant opener Good-will to men, and peace on earth, which nodded to medieval music while being metrically rooted firmly in the present day. Toby Young's The Owl also offered some variety of pacing amid the slower pieces, and Jacob Handl terrific Omnes de Saba venient introduced me to another composer I am glad to know.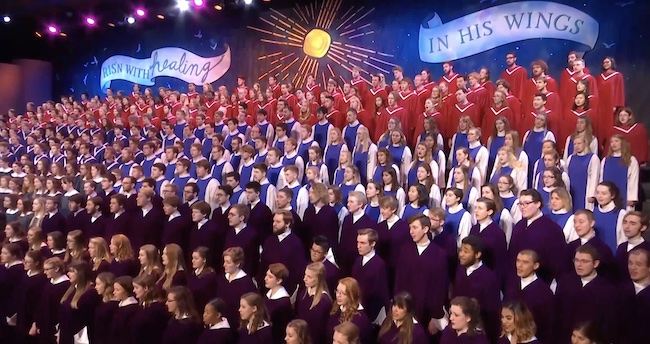 Of the American guests, The Crossing's Returning was a heartfelt journey through their lockdown experience, from virtual-choir recordings to a tentative return to a kind of normality. Movements from the mass by James Primrosch, a recently deceased collaborator with the choir, were excellent, in particular the muscular and harmonically dense "Gloria". Less enjoyable were the kitschy piano and cello noodlings that linked the choral items.
There was also plenty of kitsch on offer from St Olaf, the Minnesota college whose traditional Christmas Festival started in 1912, pre-dating King's Cambridge, and has only failed to happen twice in that time, in the pandemic years of 1918 and 2020. The massed choir of several hundred singers (pictured above) gave a rollocking account of the first movement of Bernstein's Chichester Psalms, commandingly conducted by the Anton Armstrong. André Thomas's bluesy Gloria made good use of the massed choirs and had a joyful Christmas spirit, if not a great deal of subtlety. Unfortunately the sound production wasn't as good as the items recorded in London – acknowledging that recording 500 performers is clearly more challenging than a chamber consort – so these big items lacked the wow-factor that they really rely on.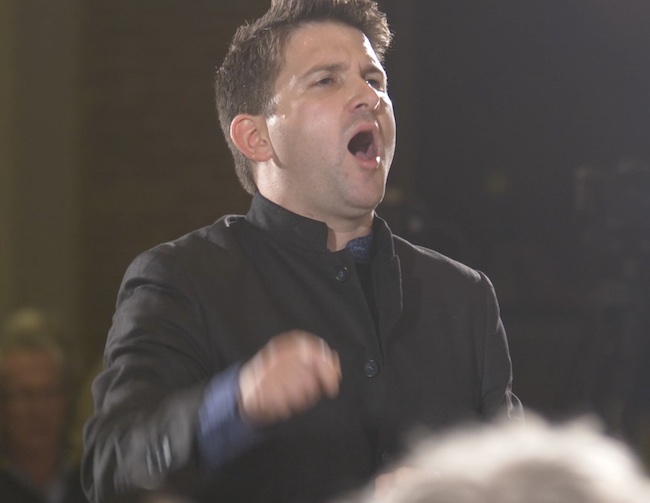 There are always plenty of Messiahs around at this time of year, but this one, with Voces8's artistic director Barnaby Smith (pictured above) conducting with obvious enjoyment, was up there with the best. The vigorous engine room of the whole thing was the continuo - Steven Devine (keyboards) and David Miller (theorbo) – and the soloists all impressed, particularly the rich and meaty timbre of alto Bethany Horak-Hallett. The small chorus had a lithe flexibility, persuasively advocating performing Baroque choral works with limited forces.
Lastly, I must give a mention to the young artists given a platform in the festival. Barnsley Youth Choir are a miracle, and sang with commitment and involvement in the music. The London Youth Choir were also a pleasure to hear as were, from the US, the Hartt Voices. But the delightful performance by the Year 2 class from Daubeney Primary School (led by Mr O'Flynn) topped them all, inspiring the biggest Christmas "aah" possible.
Crammed with musical and visual jokes, it had something of 'Blackadder' about it, in its postmodern awareness of its own silliness
rating
Explore topics
Share this article