'We wanted to emphasise the "ordinariness" of people affected by torture': Sally Beamish on her new work for Ex Cathedra |

reviews, news & interviews
'We wanted to emphasise the "ordinariness" of people affected by torture': Sally Beamish on her new work for Ex Cathedra
'We wanted to emphasise the "ordinariness" of people affected by torture': Sally Beamish on her new work for Ex Cathedra
The composer and viola-player on her collaboration with writer husband Peter Thomson
Saturday, 12 November 2022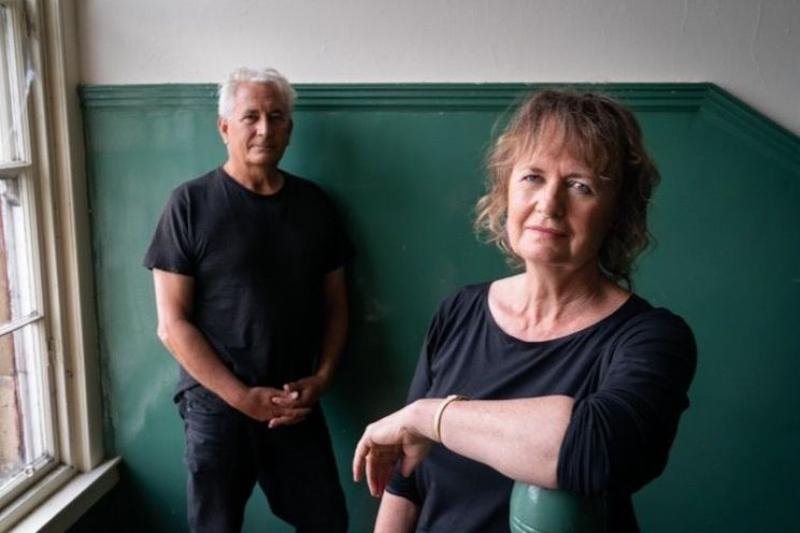 Peter Thomson and Sally Beamish
I was first approached by Quaker Concern for the Abolition of Torture (Q-CAT) in 2016 with the idea of a creating a piece of music to raise awareness of torture – its use worldwide, and the terrible damage it does both to victim and to perpetrator.
They had thought of asking me as I am a Quaker myself. I have written several pieces in the past which express views and concerns shared by Quakers – for instance my violin concerto, based on Remarque's All Quiet on the Western Front, which is a passionate expression of my pacifist beliefs. Knotgrass Elegy, written for the Proms in 2001 with poet Donald Goodbrand Saunders, was a response to my own family's personal experience of poisoning by farm chemicals, and a lament for the loss of species caused by modern farming methods.
But this new idea was challenging to say the least. The initial suggestion was that I would compile some existing poems and writings, and build a message that would express comfort and hope, while exploring the universal tragedy of torture.
I suggested that I could involve my husband, writer Peter Thomson, as dramaturg – but as Peter and I explored the many suggested poems, we came to the realisation that this had to be a new text with its own dramatic trajectory. Peter undertook the task.
He decided that the piece would be in the form of a dialogue, giving voice to both tortured and torturers. We agreed to divide the text and music into two choirs representing victims and the oppressors to explore the idea of how fear for oneself, or for one's family and friends, can lead to behaviour unthinkable in ordinary circumstances and how cruelty is hardwired into us and can manifest itself under threat.
The text throws light on the damage - physical, mental and spiritual - not only to the tortured and their families, but also the perpetrators, those who gives the orders, those in power who authorise it and collude in its use, and members of society in any country that condones its use.
We wanted to emphasise the "ordinariness" of people affected by torture, and the fact that, given certain circumstances, anyone might find themselves on either side of this human tragedy. Towards the end of the work, the two choirs swap places.
Peter uses simple language, and I followed suit with the music. I have used a basic keyboard, rather than a piano, which gives the score a rather banal - even slightly mechanical - feel. Peter felt it was important to let the torturers speak, and justify their actions. I also wanted to try to understand what mental states might possibly allow them to do such deliberate damage to other human beings. We hope the piece has both an intellectual and visceral impact, and that, in its small way, creates a greater understanding of this harrowing subject.
This extract of the libretto gives an idea of Peter's approach – the sardonic language of the torturer dehumanising the victim:
Just look at them
Hooded, shackled, naked, starving
Don't feel sorry for them
They're not the victims
These little people
These silly people
These wrong-headed people,
Little people fighting for their hopeless causes
Fighting for their twisted faiths,
Their stupid creeds,
Dumb ideologies.
You need correction.
Peter's first drafts had a historical perspective, since we know that torture has been used in all cultures and in all ages; but then he refocused the text on the "now" of torture, and researched current torture methods.
Our approach deepened when we had the opportunity to meet former journalist John McCarthy about his harrowing experience in the 1980s in Beirut where he was held hostage for 5 years. One key insight he provided was that humour was, in a strange way, both a shield and a kind of act of defiance. We have incorporated this observation into the piece.
I was aware that music is used in torture - often at an almost unbearable volume level. The heavy metal track I notated was pre-recorded by guitarist Arthur Dick and is used in stark and shocking contrast to the generally gentle, measured language of the piece.
Unusually, A Knock on the Door was commissioned without performers, or a possible premiere, in place. After very positive experiences of working with the excellent choir Ex Cathedra, I approached its director Jeffrey Skidmore, and was delighted that he showed interest in the piece at an early stage (Ex Cathedra in Birmingham Town Hall pictured left by James Ashby). The idea is that this work could be performed by community and amateur choirs, and following the professional premiere on 13th November (Remembrance Sunday) by Ex Cathedra, with Jeffrey Skidmore directing, we are hoping that choirs will feel drawn to take on the work themselves.
It has been observed that the majority of good intelligence is obtained by building up rapport with a suspect, whereas information extracted under torture is unreliable and inadmissible in British courts of law and in some other jurisdictions. The creation of this work is intended to draw attention to its continued use.
Peter grew up in Iran, and is all too aware of the censorship of creativity that can blight a society. He mentions the young singer Shervin Hajipour, who was recently imprisoned in the current protests sweeping the country. We are fortunate indeed to be at liberty freely to express our concerns through music, text and performance.
The heavy metal track I notated is used in stark and shocking contrast to the generally gentle, measured language of the piece
Explore topics
Share this article