West-Eastern Divan Ensemble, Michael Barenboim, QEH review - enchantment and conviviality |

reviews, news & interviews
West-Eastern Divan Ensemble, Michael Barenboim, QEH review - enchantment and conviviality
West-Eastern Divan Ensemble, Michael Barenboim, QEH review - enchantment and conviviality
In fearful times, a precious enclave of musical grace
States of harmony: the WEDE players in Mendelssohn's Quintet
What a month, and what a day, for Michael Barenboim to bring the West-Eastern Divan Ensemble to London.
Created in 1999 by Daniel Barenboim and Edward Said, the original West-Eastern Divan Orchestra has always impressed because it gathers
Israeli
, Arab and other regional musicians together not in some soppy, sentimental hope that music will miraculously heal the rifts and wounds of history – but in the belief that working in harmony on a great shared task can, potentially, open minds and hearts to others' lives and stories. The project aspires to build bridges not through pious rhetoric but, in the most creative way, by
changing the subject
.
First spun off from the main orchestra in 2019, and led by the co-founder's violinist son, the chamber ensemble came to the Queen Elizabeth Hall on Saturday with a programme that – intentionally or not – defied the times in its grace, charm and elegant conviviality. For two enchanted hours, the WEDE players lightened our darkness and held our fears at bay.
At the concert's heart stood two works of consummate congeniality: Mendelssohn's 1845 string quintet in B flat, and Beethoven's septet in E flat for strings and woodwinds – a piece so popular in its day that the composer, typically, came to detest it. Cleverly, Barenboim junior intercut these supremely sociable pleasures with three winning late miniatures by Elliott Carter, all written shortly before or even after the American master's 100th birthday in 2008. Imagine Mozart composing in 1856 as a contemporary of Wagner, or even a centenarian Schubert coexisting with young Schoenberg in 1897… The compressed sound-world of these witty fragments nicely complemented the major pillars of the gig, and emphatically proved that musical good humour did not die with tonal orthodoxy.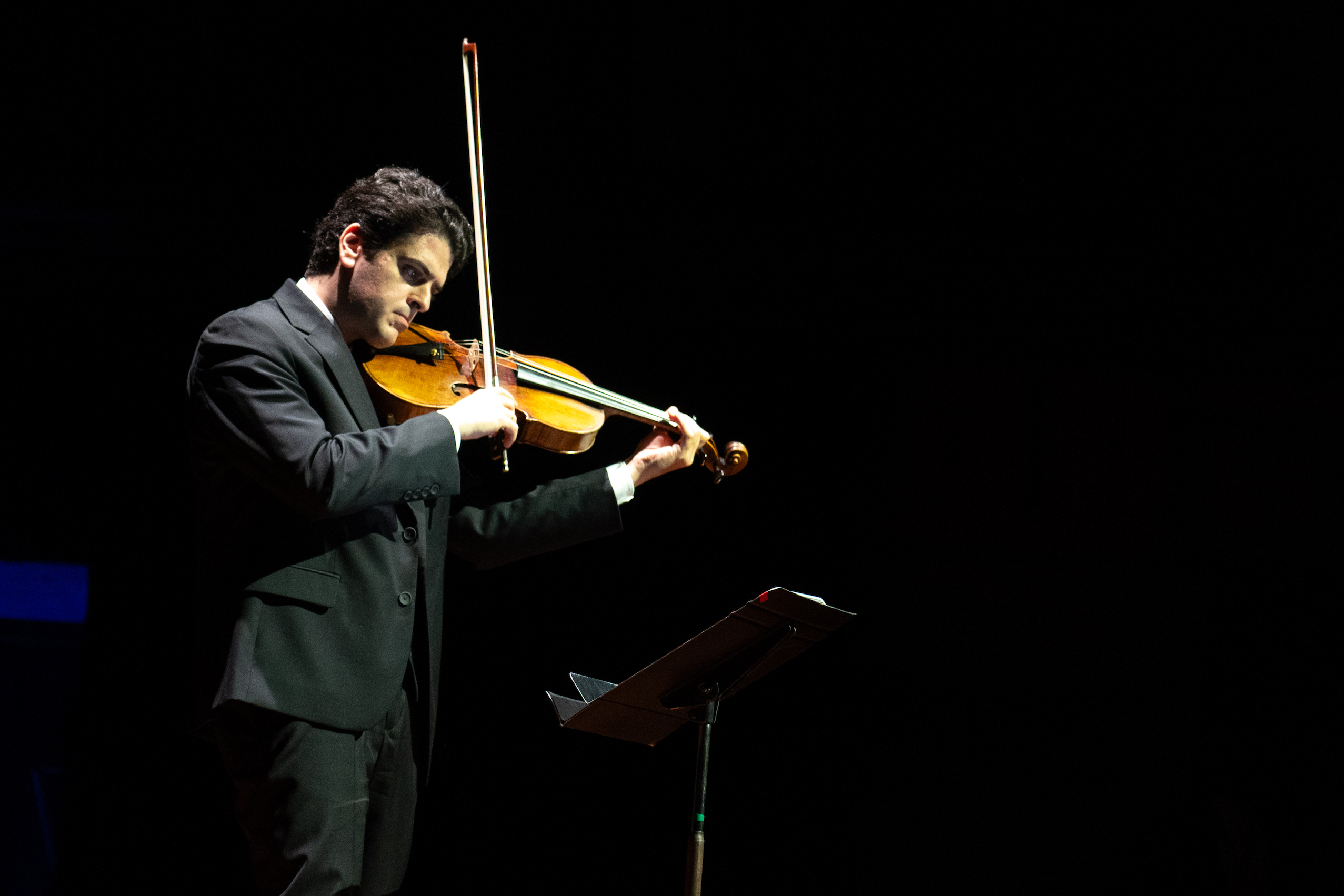 As an hors d'oeuvre, Barenboim himself (pictured above) took up the viola for Carter's solo "Figment IV": an almost Bach-like journey from meditative solemnity to glittering exuberance within a few packed minutes. The Mendelssohn quintet – with Barenboim as first violin, partnered by Hisham Khoury, with violists Miriam Manasherov and Sindy Mohamed, and cellist Assif Binness – featured fine-grained and mutually responsive ensemble playing, its presiding mood of light-footed agility deepened by flashes of virtuosic passion.
As he did throughout the evening, Barenboim led with a gusto tempered by refinement, and a lovely cantabile violin voice. The work's extra viola, and the weight and depth it brings, lends much of the writing the atmosphere of a pocket-sized concerto for violin and string band. The WEDE players negotiated its textural and emotional shifts with an effervescent togetherness. The highlight, however, came in the gorgeous, operatic adagio, with the yearning, stricken beauty of Barenboim's violin offset by the plangent warmth of the viola and cello parts. The heter-sketer bustle and brilliance of the finale – Mendelssohn even thought it too superficial – solaced and uplifted us, Barenboim's sparkling passagework dancing freely against his colleagues' robust backdrop. After which, Carter's "Au Quai" for bassoon and viola, with Barenboim joined by Mor Biron, rounded off the first half in a tenderly amusing Laurel-and-Hardy dialogue of romance against earthiness. As in the best double-acts, Biron's comic, deflationary bassoon claimed its lyrical moments of transcendence too.
Before the Beethoven Septet, Assif Binness and Barenboim made Carter's "Duettone" for violin and cello into a dramatic conversazione between equals, with piquant cello pizzicato challenging drone-like figures on the violin. Then, in the Septet itself, we heard the flair and force of this ensemble's brand of cooperation come to the fore across its instrumental range. From first to last, pride of place went to clarinettist Daniel Gurfinkel, silkily nimble in his merrily rivalrous to-and-fro with and against Barenboim's dashing, skipping violin. If the violin played charismatic leader, the clarinet was ever eager to to vie for the neatest tunes and the most dazzling runs.
Nor were these two the sole stars: Binness's cello, Biron's bassoon and Ben Goldscheider's deftly characterful horn made their presence pleasurably felt – especially, for Goldscheider, in Beethoven's variations on a Rhenish boatman's song, "Ach Schiffer, lieber Schiffer". Here, as elsewhere, Manasherov and Mohamed's violas (pictured below) enriched the sonic palette with a warm assurance. And, in the scherzo, David Santos Luque's bass grabbed its own place in the sun. In the finale, Barenboim's airborne cadenza set the seal on a performance that – here and in the Mendelssohn – edged towards foreboding and disturbance only to find refuge in a genial collegiality.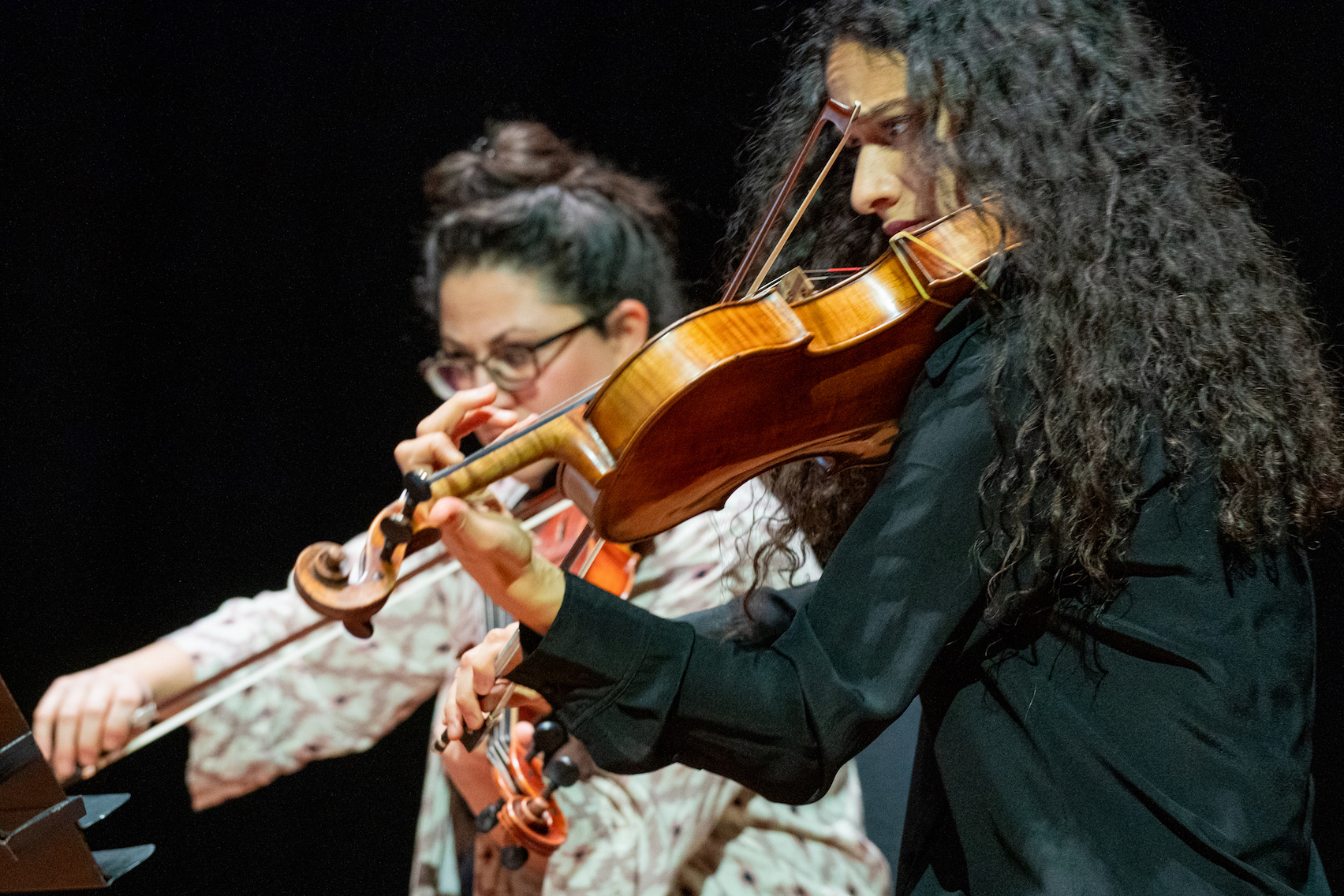 Jubilant togetherness banished the spectre of tragedy – and WEDE lifted our spirits further with a stylishly joyous encore of the third-movement allegro from Schubert's Octet. In both of the big chamber works, the QEH audience applauded between movements with a vehemence that purists might have scorned. But they did so out of affection and admiration for the WEDE players and the fragile dreams they represent. In our little temporary enclave of grace and goodwill, these emissaries from a happier world deserved all the love they got.
The performance edged towards foreboding and disturbance only to find refuge in a genial collegiality
rating
Share this article