Anne Edmonds, Soho Theatre |

reviews, news & interviews
Anne Edmonds, Soho Theatre
Anne Edmonds, Soho Theatre
Australian character comic's suburban fantasy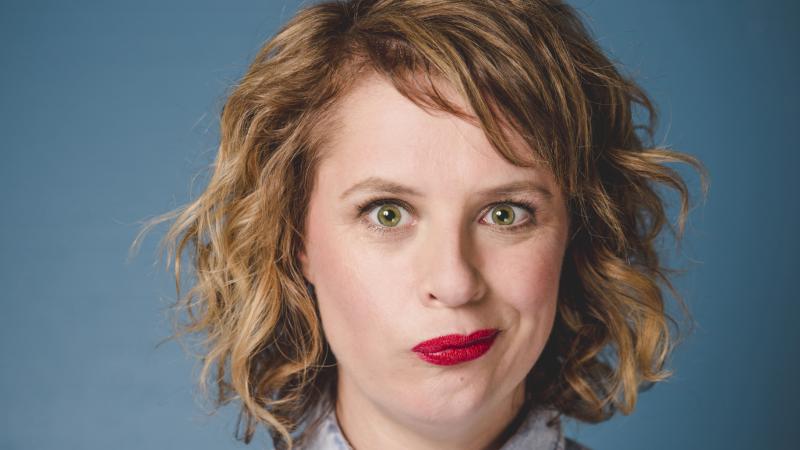 Anne Edmonds conjures her characters with a range of voices and conversational tics
When Anne Edmonds comes on stage I notice a banjo sitting ominously in a corner. She is full of Australian bonhomie and energy, instantly connecting with the audience, and our first impression is that she's a likeable chatterbox, telling anecdotes without punchlines - and she begins with a lengthy one about spewing copiously on a New Year's Day flight in front of her parents some years ago.
But as You Know What I'm Like progresses, and she dips and out of stories about suburban life (something also charted in fellow Aussie Sam Simmons's latest show), we see Edmonds weaving together a tale of quietly desperate lives as she imagines a world peopled by mothers who don't love their children, women who hate their friends and a supermarket full of annoying nutters.
Edmonds has lots of targets for her humour, such as smug atheists and too-laidback Buddhists, while sports management graduates - "It's like a three-year first-aid course" - come in for a particularly good kicking. Yet this is all done in such a winning way that even her worst insults never feel gratuitous or cruel.
Edmonds' fantasy other life, she tells us, would be as an "express therapist", where she would give people a five-minute pep talk whether they wanted it or not, and here is the nub of the show. Happiness is a wonderful thing, she says, but sadness has its own secret world, and one that she unlocks in her storytelling, invoking all the characters she conjures with a range of voices and conversational tics.
Some of the inflections may be lost on a London audience unfamiliar with Australian suburban accents (although fans of Jane Turner and Gina Riley's wonderful Kath & Kim will pick up on some of this), and one or two sounded rather samey to my ears.
Edmonds finishes with a couple of songs (with that banjo), one of them so dark and funny that it's worthy of Tom Lehrer, and it's the highlight of the show. She has a good ear for inane gibber, can write memorably funny lines and has a pleasing cheeriness, but it's when she connects with her dark side that Edmonds really shines.
Happiness is a wonderful thing, but sadness has its own secret world
rating
Explore topics
Share this article