Comedy podcasts round-up 2: from home and abroad |

reviews, news & interviews
Comedy podcasts round-up 2: from home and abroad
Comedy podcasts round-up 2: from home and abroad
Lively chat, masterful spoofing and behind-the-scenes fun
Wednesday, 06 January 2021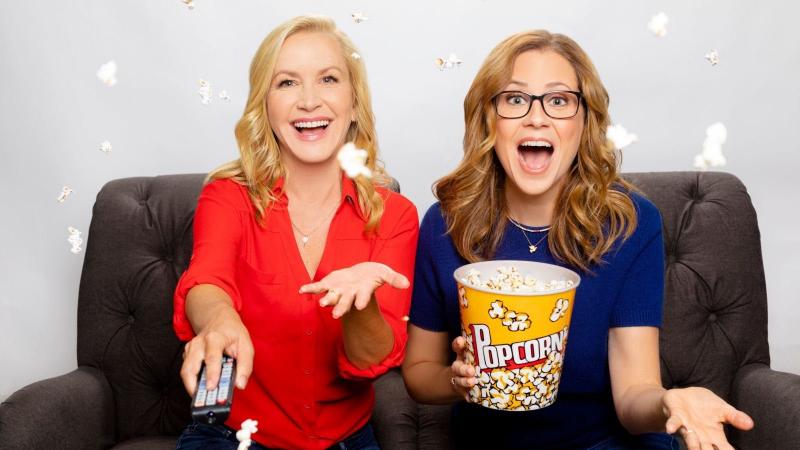 Angela Kinsey (left) and Jenna Fischer are your guides to the US version of The Office
We're still some way off being able to see live performances in actual clubs and theatres, but here are some more comedy podcasts to keep your laughter quotient healthy in the meanwhile.
Available on all podcast platforms unless stated.
Office Ladies
What a super idea this is: best friends and former co-stars on the US version of The Office, Jenna Fischer (who played Pam, one half of the "will they, won't they" office romance with Jim) and Angela Kinsey (Angela, the office stickler for rules and cat obsessive), give the gen on the hit workplace comedy. In each podcast episode they recap an episode of the show and chat with guests, and share behind-the-scenes anecdotes. It's fascinating to hear the story behind something that seems inconsequential – the choice of a prop, say – and to realise the care that goes into making a gag that takes up a tiny amount of screen time but which will now be so much funnier when you rewatch the series. Which you will.
Menkind
Comic Mark Watson and former Great British Bake Off contestant Michael Chakraverty examine masculinity. That sounds a bit serious – and sometimes it is – but there's a lot of fun, too, as they ask questions such as what does it mean to be a man in the modern world, how useful are the traditional expectations and tropes of manhood in Western society, as well as talking about hairy armpits, gender fluidity and Madonna. Guests include former spin doctor and mental-health activist Alastair Campbell and Olympic diver Tom Daley.
Lockdown Parenting Hell
Comedy pals Josh Widdicombe and Rob Beckett, both fathers of young children, bring together famous friends and fellow parents to share the highs and lows (quite a lot of the latter) of being a parent during lockdown. If you're a tormented, overburdened parent struggling with another round of entertaining your kids and/or home-schooling them, then some of the advice – from guests including Katherine Ryan, Jonathan Ross, Robbie Williams and Ayda Field – may help you through. If you're a non-parent then you will breathe a sigh of relief this is not your life.
The Breakup Monologues
Comedian and writer Rosie Wilby has accidentally found herself becoming a relationship guru. It follows her many years of research into the psychology of love and relationships for her trilogy of comedy shows The Science of Sex, Is Monogamy Dead? and The Conscious Uncoupling, and this podcast is the natural result. Her guests – including Richard Herring, Katy Brand and Dolly Alderton – tell their break-up stories and by turns they're funny, sad and enlightening. And, an added bonus for the broken-hearted, you can always find one tale to console yourself with the thought "at least that didn't happen to me".
Kim Noble: Futile Attempts
Kim Noble won the best newcomer Perrier Award in 2000 (with Stuart Silver) and continues his esoteric comedy in this new podcast. His work – which examines death, sexuality, gender and religion with sometimes discomfiting levels of honesty – isn't always an easy listen, but it's a challenge worth meeting. The podcast is a mix of hidden-mic recordings (to which Noble provides a voice-over narrative), phone calls to Kevin Costner's agent and conversations with his mum. Julian Barratt appears as God and Adam Buxton as himself as Noble tries to find the meaning of life.
2 Dope Queens
This podcast has been around for a while (and has now ceased) but it's well worth searching out. Phoebe Robinson and Jessica Williams are two very funny women who happen to be best friends. They also hosted this live podcast comedy show in Brooklyn, in which they performed stand-up, chatted with guests and riffed on everything from sex and romance, to race, careers, New York life, Billy Joel and the "real-life shit" that happens to them. They signed off the podcast in style, too, with Michelle Obama as their special guest, and if this series whets your appetite you can find Robinson and Williams on HBO.
Apple Podcasts
Pappy's Flatshare
Pappy's – a madcap troupe of sketch comics that comprises Ben Clark, Matthew Crosby and Tom Parry – kept themselves busy during lockdown with a series of podcasts set in the pretend flat they share. There are three podcasts on rotation: the live Flatshare Slamdown panel show, which is silly games with comedy guests; Beef Brothers Cold Cuts, where they and a guest give advice on fans' beefs about flat sharing, whether it's someone dropping their towels on the floor or being a film snob; and House Meeting, which is the three guys riffing on whatever comes to mind.
acast
The Oast House
The format, recorded at Alan Partridge's Norfolk oast house, allows the former North Norfolk Digital DJ to talk to us unhindered by the broadcast regulations that have continually blighted his career, and his utterly mad internal monologue is vocalised without the filter of a producer's mute button. By now, nearly 30 years after Steve Coogan invented him, we all know Partridge's extensive list of pet peeves but Coogan's great skill is that while listeners are ticking off their own mental list of what will next send Partridge into a rage, he also surprises us by (occasionally weird) new revelations. A master at his craft.
Audible
Mark Thomas's Lockdown Check-up
This podcast was commissioned by the Wellcome Collection and in it the comic describes how at the beginning of the first lockdown he moved in with his 84-year-old mother, who is self-isolating in her small flat. A former nurse, she is fiercely independent and doesn't see why she needs looking after by her adult son. Through their conversations, and in Thomas's revealing interviews with frontline NHS staff, he discovers how our health service is coping with the continuing pandemic. It acts as a sort of companion piece to his passionate and polemical 2018 live show Our NHS @ 70.
wellcomecollection.org/series/XwROKRQAAGwR-YMk
Locked Together
This podcast eavesdrops on comics – some double acts or writing partners, others just mates – to hear how they have coped with being apart during lockdown. Among the very funny twosomes are Sarah Millican and Jason Manford, Dawn French and Jennifer Saunders, and Catastrophe co-creators Rob Delaney and Sharon Horgan. The affection (amid much ribbing) jumps out of your headphones, and there are some refreshing new insights into how comedy friendships and writing partnerships work.
Audible